Loose lips sink ships – but not in Africa: The simply outrageous things its leaders said
<![CDATA[By   Chanda Adebola* From non-stealing theft, useless university courses and renditions of Marie Antoinettism, few were lost for words in 2014.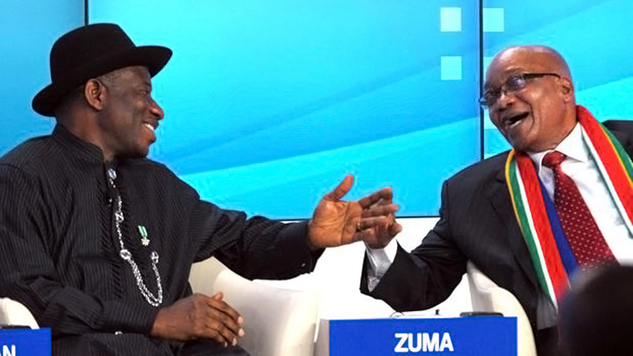 THEY are driven, they are on autopilot, they are visionaries, they are scoundrels. But they are still ours, African leaders. They also have a penchant for foot-in-mouth disease which they seem to pick up when they see a microphone. We look at some of the year's bloopers of those who did not remain on message.
1: The former Nigerian central bank governor, Lamido Sanusi, early in the year claimed that $20 billion had not been accounted for by the country's state-run oil corporation the NNPC.  Depending on what day it was the figure oscillated to sometimes reach $40 billion, but it is the lower figure that was later referenced by president Goodluck Jonathan. This was what he had to say at a fire-fighting presidential 
media chat
: "If you steal 20 billion dollars today, in Nigeria, whether one person or a group of people, steals $20 billion, America will know as soon as soon as thieves put the money there [in America?]…the world is so open, where will you hide $20 billion?"
2: Goodluck Jonathan was not giving up yet: "Over 70% of what are called corruption (cases), even by EFCC [Economic and Financial Crimes Commission] and other anti-corruption agencies, is not corruption, but common stealing," he said at a presidential media chat in May, chiding Nigerians, even "educated" ones, for mixing up the two terms. The jury is 
still out
over the difference.
3: The land redistribution policy of the Zimbabwe government in the early 2000s is often blamed for the country's steep economic downward spiral. Many Zimbabweans struggle for their daily sustenance, but some are more inured than others. First Lady Grace Mugabe, often drily referred to as the "First Shopper" or "Gucci Grace" for lavish luxury expenditure while on overseas trips, and like France's infamous Marie Antoinette, could not understand why her dairy business was not doing well. "I manufacture yoghurt but no one buys it," she told party cadres at a rally in Harare in October. "You can't even find a person who can buy a packet of milk." Remarkable that she doesn't know why that is.
4: Ordinary South Africans are given to impromptu strikes as they wait for manna to fall two decades following the end of apartheid. Hardly a week goes by without picketing of some sort. Perhaps the ruling African National Congress (ANC) should look inwards if it is to get a lid on these disruptions, going by this quote from President Jacob Zuma in January:
" We want to eradicate all mud schools. We are already doing so. We are not in a hurry because no one is going to rule but the ANC," the gaffe-prone president said, while at the official opening of a former mud school. 
5: Zuma does not do things singly: On a state visit to Beijing this month he said that China's growing influence in Africa would allow the continent to free itself from western manacles. "The emergence of China as a power among others gives or offers an opportunity to African countries to be able to free themselves from the shackles that are really colonially designed," Zuma told an audience of students at Tsinghua University in Beijing. He  added that Chinese sailors may have visited South Africa before European explorers. Historical records have not yet settled this. Predictably, f
ew reactions
were complimentary.
6: Uganda president Yoweri Museveni is another leader who is no stranger to the frequent blooper or the overly colourful phrase, including in August, when he termed arts-based courses in his country as "very useless" compared to science-oriented ones. 
"You ask these arts students what they can solve and they tell you, "'for us we only think'. Think about what?"
7. General Museveni also managed to outrage even the war-scarred South Sudanese, with Uganda troops deployed to the country at the height of the current civil war, saying that he would rather "hang himself" should his country's security situation reach South Sudan's level where the United Nations is a major player. Wags wonder why,  given that his government struggled for over 20 years to contain an insurgency in its northern region, he hadn't hanged himself a long time back.
8:  Yet another perennial offender is The Gambia's Yahya Jammeh. Few are surprised anymore by his views, but he still raised the hackles of many in February when he said homosexuals are "vermins" who he would treat like "malaria-causing mosquitoes". LGBT people are "detrimental to human existence," he added, nothing that the acronym stood for Leprosy, Gonorrhea, Bacteria and Tuberculosis.
In the meantime he quietly signed a new law that criminalises "aggravated homosexuality."
9: At times, it was not a single outrageous comment but a whole speech. South Africa's Julius Malema long lost the ability to shock the collective, but 
his reply
to president Jacob Zuma's State of the Nation address in June was full of gems. The speech was "uninspiring", the president extremely scared of white people, not to mention a liar, and his leadership mediocre. The Economic Freedom Fighters leader called for land expropriation, repeated his pet theme of nationalisation, and offered a raft of economic solutions, many of them radical. It was vintage Malema.
10.  Sometimes they did not have to say it—they  simply did it. Held hostage by a national football team that threatened a boycott of a World Cup match amid other off-field shenanigans, Ghana president John Mahama 
okayed the airlifting
 of $3 million to Brazil to assuage the stars' injured financial feelings. The backlash back home, where the economy has been in dire straits, was predictable.
* Source
mgafrica
]]>