Kiss of approval:Could Muhammadu Buhari be Nigeria's next president?
<![CDATA[[caption id="attachment_14754" align="alignleft" width="300"]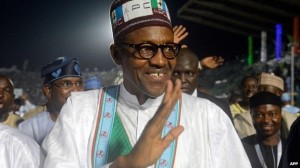 Nigeria's former military ruler Muhammadu Buhari, 71, is not a quitter[/caption]
Nigeria's former military ruler Muhammadu Buhari, 71, is not a quitter
Defeated in the last three elections, he has returned to contest the highest office. Mr Buhari will face incumbent President Goodluck Jonathan, who is from the southern Niger Delta region, for a second time at the polls in February. It looks set to be a close race as on this occasion the Muslim northerner has been chosen as the candidate for the All Progressives Congress (APC) party, formed last year after four opposition parties merged. The APC has also been attracting heavyweight defectors from the People's Democratic Party (PDP), which has dominated the political scene since the end of military rule in 1999. Mr Buhari has always been popular among the poor of the north (known as the "talakawa" in the north's Hausa language). Now some feel his military background and his disciplinarian credentials are just what the whole country needs to get to grips with the Islamist insurgency in the north. A Muslim from Daura in Katsina State, who has given his support to Sharia in the north, Mr Buhari has previously had to deny allegations that he has a radical Islamist agenda. This proved a problem for him in the 2003 polls – he failed to secure much support among Christians in the south, where he was viewed with some suspicion. But having escaped an attack on his convoy in Kaduna in July, which bore all the hallmarks of a Boko Haram assassination attempt, he has promised to end the insurgency within months if elected. He has blamed President Jonathan's weakness for its escalation and has refused overtures to participate in talks with the radical militant group. [caption id="attachment_14755" align="alignright" width="300"]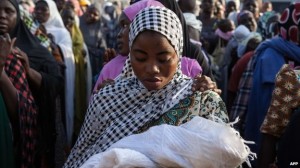 More than three million people have been displaced in the north-east during the five-year Islamist insurgency[/caption] His tough stance as a military commander in 1983 – when some Nigerian islands were annexed in Lake Chad by Chadian soldiers – is still remembered in the north-east, now the militants' stronghold, after he blockaded the area and drove off the invaders.
'War Against Indiscipline'
He ruled Nigeria from January 1984 until August 1985, taking charge after a military coup in December 1983. It is a period remembered for a strict campaign against indiscipline and corruption, and for its human rights abuses. ]]>