Kenyan Player's Dream Is Fulfilled, but It May Not Be Over Yet
By ROB HUGHES*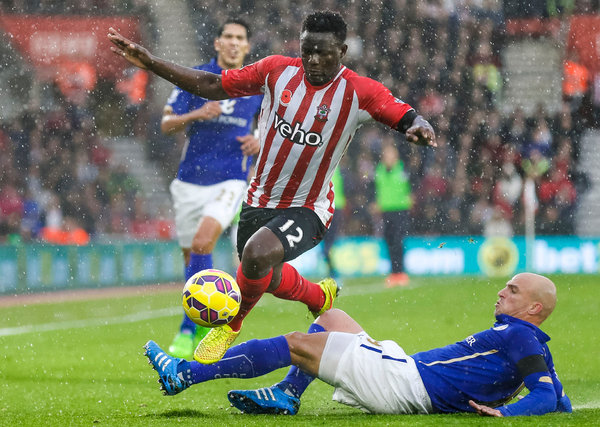 LONDON — Growing up in Kenya, Victor Wanyama had posters of Manchester United players beside his bed. He watched English league games on the big screen in an old movie theater in Nairobi and was inspired by the skills of Paul Scholes and by the fire of Roy Keane.
During the past week and a half, Wanyama has played against Manchester City, Arsenal and Manchester United, but his team, Southampton, has lost to them all.
United admits it stole a win Monday in Southampton after Robin van Persie turned a poor team performance into a 2-1 victory when he poached two goals out of just three shots on goal.
But then, Wanyama, 23, is getting accustomed to injustice in England. He lives comfortably in the city of Winchester, but while he was away playing a Premier League game two weeks ago, intruders broke into his home and stole jewelry, televisions and other valuables before driving off in his Land Rover.
He doesn't feel sorry for himself. Wanyama is one of those players who visibly exudes pleasure from just competing at the top level in Europe.
Southampton is suffering while Morgan Schneiderlin, its midfield general, is out injured. Without him, and without the vast resources that other clubs have, Southampton has had to pack the team with young players, and suddenly Wanyama must try to be Scholes and Keane rolled into one.
He isn't that good or that experienced yet.
Wanyama first played for the Kenyan national team when he was 15, went abroad to join his older brother, McDonald, at a Swedish club and later joined Glasgow Celtic, where he scored against Barcelona in a Champions League group match at age 21. All those experiences have been mighty stepping stones on the road toward Premier League riches.
Wanyama comes from a family steeped in sports. His father Noah played soccer for Kenya, while his mother, Mildred, played netball. His sister Mercy plays basketball, his big brother McDonald now is employed in Italy by Parma, and two other brothers play soccer in Kenya.
So you lose to the club of your boyhood dreams. You take a lesson from Yaya Touré, whose size and strength and adaptability inspired Wanyama and who appeared alongside him in a public-service announcement against big-game poaching in Africa.
With a coach like Ronald Koeman, the Dutchman who played the same position as Wanyama (defensive midfielder) and who scored the winning goal in a Champions League final, there will be no letting up on the Southampton players. The recent setbacks arrested their thrilling start to the season, and there is work to be done if they are to get back on track.
But that is life in a league of financial inequality. Lose six players, and United can bring in six more. But if Southampton loses that many, it will do what it does better than almost anyone else: Promote teenagers into the lineup, give them an opportunity to play, and then improve them on the training fields with the harsh lessons from the previous few weeks.
"We lost against City because City was better than we are," Koeman said on television this week. "But we didn't lose to Arsenal or to Manchester United because they were better. I just told the boys in the dressing room we haven't lost against United, we lost to ourselves tonight. We have to learn from that."
United's coach, also Dutch, agreed. "I think Southampton played better than Manchester United," said Louis van Gaal. "We were the lucky guy." The lucky guys are on a roll of five consecutive victories, moving their team to third in the league.
It isn't just luck. It lies in the ability of van Persie to prey on errors and to steal goals. Southampton has pretty good players, but United has a world-class predator.
So this is turning into a salutary month in the life of Wanyama. He is a strapping young man, 6-foot-2 and built like an ox, but he is still learning how far his skill, and just as importantly his attitude, might take him.
While working his way up through Swedish and Belgian soccer in his teens, Wanyama would not say that he aspired to be somewhere else. He lapped up the thrills of playing for Celtic in the Champions League, but at the same time dreamed of playing in England.
Push him, and he might admit that the end of his journey would be one day to put on that red jersey of Manchester United. Because that would be the dream of many children, the same dream that boys in Africa, Asia and the Americas nurture.
This is where soccer is special. It provides, despite all that happens from the top down with FIFA, the most popular aspiration on earth. It provides the possible dream.
Scoring goals is not really part of Wanyama's duties. His job is first and foremost to defend in midfield and to anchor the team, but, yes, his instinct is to go forward when the possibility arises.
Wanyama struck a breathtaking strike from 40 meters against Hull City earlier this season. He is the first Kenyan to score in the Premier League, and the 91st different nationality to do so. The dream is nothing without application, and you can bet that Koeman is addressing that right now.
*Source nytimes