Eyes on Rwanda over plans to allow Kagame to seek third term in office
<![CDATA[
[caption id="attachment_14806" align="alignleft" width="595"]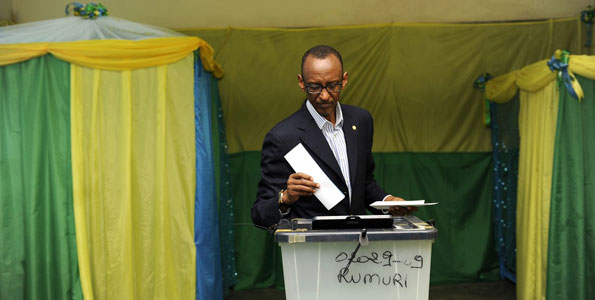 Rwandan President Paul Kagame votes during the parliamentary elections in September 2013. PHOTO | FILE[/caption] Rwanda is under the spotlight as it approaches the crucial presidential election in 2017, with some Western countries sending signals that they are opposed to plans that would allow President Paul Kagame to seek a third term.
According to the Rwandan Constitution, President Kagame cannot stand again after his second term in office ends in 2017. By that time, President Kagame, who is the chairman of the ruling party Rwanda Patriotic Front, will have been in power for 14 years. While no country is yet to publicly communicate its position, some are sending signals that they are against an amendment of the Constitution that would allow President Kagame to seek re-election.
The latest country to officially criticise plans to amend the Constitution is France, which recently made its position clear during the 15th Francophonie Summit in Dakar, Senegal, at which Rwanda was represented by Foreign Minister Louis Mushikiwabo.
During the summit, French President François Hollande said that African leaders need to embrace democracy and hold free and fair elections in their respective countries. He warned that the revolutions in countries like Tunisia and Burkina Faso should be a lesson to leaders who want to monopolise power.
His comments provoked a strong reaction from Rwanda. Speaking to French television France 24, Ms Mushikiwabo said that Mr Hollande's lectures were "inappropriate" and "patronising."
"It is inappropriate for the president to come for the Francophonie not to have a dialogue with his fellow heads of state but to give them orders on what to do in their respective countries. Something is not right here. Who decides the political future of Africans? I don't think it is Paris…. The French president can give his advise, just like we can advise but to say, 'I am here in Dakar to tell Africans that….' is not right at all," Ms Mushikiwabo said.
France is not the only country focusing on the issue. Sources indicate that the US recently dispatched two separate teams of political experts to study the situation in the country.
Moreover, on October 16, US Assistant Secretary of State for African Affairs Linda Thomas-Greenfield expressed concern that several African countries are planning to remove term limits soon or in future, something she said threatens democracy. Without mentioning countries, Ms Greenfield said that a study known as the Afrobarometer carried out on the continent shows that most people are not in favour of scrapping term limits.
"Presidential term limits are fundamental to people's demand for democracy. According to opinion polls, 74 per cent of Africans, or three quarters of the men and women living on the continent, do not want their presidents to serve more than two consecutive terms in office," Ms Greenfield said.
The Afrobarometer is the gold standard for independent opinion polls in Africa. And in an open letter addressed to the government on the occasion of Human Rights Day, heads of missions of European Union countries to Rwanda, who constitute the biggest development donors, said that Kigali needs to allow greater political participation to fully entrench democracy.
"As we continue to support Rwanda's ambitious development and growth targets, we encourage the development of a vibrant and vocal civil society," the envoys said in a statement.
With just over two years left for Rwanda to go to the presidential polls, debate as to whether the Constitution will be amended to allow President Kagame another term in office remains taboo within the ruling party. But in recent months during the citizen outreach programmes, while President Kagame has downplayed  requests from locals to seek a third term saying "it is not yet time" to discuss the matter, he has maintained the Constitution is not written in stone.
And while political parties allied to the ruling RPF-Inkotanyi are not opposed to changing the Constitution, recently the Democratic Green Party of Rwanda which is also a member of the coalition, opposed the move. In a statement, the party said: "The Democratic Green Party of Rwanda believes that the current two-term limit of seven years each is more than enough for a leader to
implement his/her manifesto."
Frank Hab
ineza, the Green's head in Rwanda, said there is a plan to advance proposals to amend the Constitution by three political parties — Ideal Democratic Party, Parti Sociale-Imberakuri and the Party for Solidarity and Progress.
"We have strong reasons to believe that the proposal will gain momentum because three political parties, two of which are in coalition with RPF, made a public request early October to amend the Constitution and lift the term limits," he said. *Source theeastafrican
]]>