Buhari-Jonathan contest for Nigerian presidency
<![CDATA[By Aderogba Obisesan*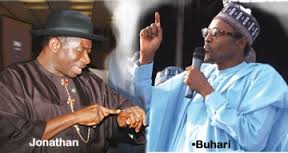 Lagos (AFP) – Former military ruler Muhammadu Buhari will face Goodluck Jonathan in Nigeria's presidential election next year, with security to the forefront after scores were killed in renewed deadly violence.
In a bloody sign of the task ahead, at least 31 people were killed in a double bombing at a market in the central city of Jos on Thursday, emergency services said.
And in the northern city of Kano, a senior security source said a 13-year-old girl wearing a suicide vest was arrested on Wednesday, the latest example of Boko Haram Islamists sending out women suicide bombers.
The security source said the girl was part of the "suicide team" that had attacked a Kano textile market that same day. That attack, carried out by two female suicide bombers, left four people dead.
Amid the onslaught, Nigeria's main opposition All Progressives Congress (APC) primary chose Buhari as its presidential candidate for next year's election.
President Jonathan meanwhile was endorsed unopposed by his ruling Peoples Democratic Party (PDP) at a meeting in the capital, Abuja, on Wednesday night.
At the event, the head of state said the security situation in Nigeria's far northeast, which has borne the brunt of the Islamist violence, was "improving a little".
The military has reported successes against the militants in recent days but its ability to protect civilians in all parts of the country has been repeatedly called into question.
https://www.youtube.com/watch?v=uA9Ea_ChI18&list=UUKnyVIW5QvfnsXddsjFKx4A
Also on Wednesday, 11 people were killed in a suspected Boko Haram raid on Gajiganna, in Borno state, where the militants have seized towns as part of their quest for a hardline Islamic state.
– A new broom? –
Buhari, who seized power from civilian president Shehu Shagari in 1983 and was himself ousted in a military coup in 1985, is widely seen as a better bet to tackle the five-year insurgency.
In his acceptance speech Thursday, the 71-year-old criticised the government for failing to locate and rescue the 219 schoolgirls held hostage by Boko Haram since mid-April.
"I stand before you today to ask that you join me in a common cause," he told delegates
"I will resolve to make things better for Nigeria," he said, calling for unity in the religiously divided nation, which is split between a Muslim-majority north and mostly Christian south.
[caption id="attachment_14736" align="alignright" width="300"]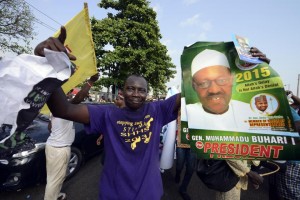 A party supporter holds a poster of the opposition All Progressives Congress presidential aspirant Mohammadu Buhari, at the party's presidential primary in Lagos on December 11, 2014 (AFP Photo/Pius Utomi Ekpei)[/caption]
Jonathan and his ruling Peoples Democratic Party's perceived inability — some say unwillingness — to tackle insecurity has been a key plank of the APC campaign.
It has also centred on what the party asserts is the administration's failure to address endemic corruption and impunity in high office.
Buhari gained a reputation while in power for having no truck with corruption and some see a return to his methods — although criticised at the time by human rights groups — as long overdue.
He was presented with a ceremonial broom after his victory, which national chairman John Oyegun said he should use "to sweep away all the evils that have bedevilled this country".
– 'Sweat and toil' –
Before Wednesday's all-night vote in Lagos, the man famous for his "War Against Indiscipline" put integrity at the heart of his campaign as he promised not to rule Nigeria but to govern democratically.
"I am not a rich person," Buhari told a cheering crowd.
"I can't give you a pocketful of dollars or naira to purchase your support. Even if I could, I would not do so. The fate of this nation is not up for sale.
[caption id="attachment_14738" align="alignleft" width="300"]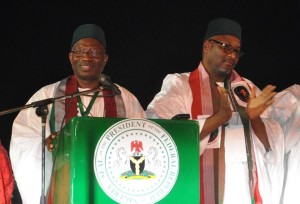 Nigeria's president Goodluck Jonathan (L) delivers a speech next to PDP National Chairman Adamu Muazu, after winning a presidential primary in Abuja, on December 11, 2014 (AFP Photo/Olamikan Gbemiga)[/caption]
"What I will give you, and this nation is all of my strength, commitment, sweat and toil in the service of the people. What I can give you is my all."
Buhari won the presidential primary with 3,430 votes. A total of 6,008 votes were cast out of 7,214 registered delegates. There were 16 invalid votes.
The February 14, 2015 presidential vote is expected to be the opposition alliance's best chance of seizing power since Nigeria returned to civilian rule in 1999.
Last time round in 2011, Jonathan secured nearly 22.5 million votes or nearly 59 percent of the ballots cast.
Buhari, who also lost the 2003 and 2007 elections, scored 12.2 million votes in the last polls but could benefit from the APC's better funding and organisation next year.
*Source
AFP/Yahoo
]]>