Zimbabwe's Zanu-PF blocks Joyce Mujuru leadership bid
<![CDATA[[caption id="attachment_14394" align="alignleft" width="300"]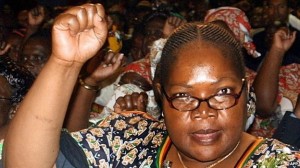 Joyce Mujuru was once a staunch ally of Mr Mugabe[/caption]
Zimbabwe's Vice-President Joyce Mujuru has been barred by the ruling Zanu-PF party from serving on its powerful central committee, state media reports.
She had failed to win nomination after being linked to a plot to oust President Robert Mugabe,
The Herald newspaper reports
. Mrs Mujuru's fall from grace damages her chances of one day succeeding the 90-year-old, correspondents say. Zanu-PF is due to hold its elective congress next month. Mr Mugabe has said he does not intend to quit. Mrs Mujuru was a close comrade of Mr Mugabe, but the two have have since fallen-out. First Lady Grace Mugabe, who has recently entered politics, has led a sustained campaign against Mrs Mujuru, accusing her of being "demonic".
'Boost for rival'
Last week, Mrs Mujuru said she had ordered her lawyers to restore her "political standing" after being falsely accused by state-owned media of treason and corruption. Wonder Mashange, the acting Zanu-PF chairman in Mrs Mujuru's home province of Mashonaland Central, said the party had decided to "defend" Mr Mugabe by rejecting Mrs Mujuru's bid for a seat on the central committee, The Herald reports. "We agreed that any member of the party who is accused of assassinating the president – we are not going to accept his or her CV [curriculum vitae]," he is quoted as saying. Mrs Mujuru has not commented on the decision. BBC Zimbabwe analyst Stanley Kwenda says a complex power-struggle is raging within Zanu-PF, as Mr Mugabe plays his opponents against each other and consolidates his grip over the party and government. Mr Mugabe may favour another leader for the post of Zanu-PF vice-president, while keeping Mrs Mujuru as vice-president of the country, he says. [caption id="attachment_14395" align="alignright" width="300"]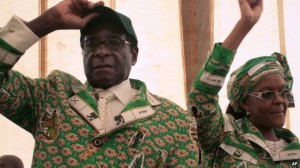 Mrs Mugabe joined her husband in politics earlier this year – and plans to lead the Zanu-PF women's wing[/caption] Even though Mrs Mujuru's bid to be elected to the central committee has been thwarted, Mr Mugabe still has the power to appoint her to serve on the powerful leadership body, our analyst says. Mr Mugabe may decide to do this to show her that he remains the boss, he says. Either way, Mrs Mujuru's political star has waned, while that of her rival, Justice Minister Emmerson Mnangagwa, has risen, he adds. Both Mrs Mujuru and Mr Mnangagwa have long been seen as possible successors to Mr Mugabe. Mrs Mugabe's surprise entry into politics this year, and her nomination to lead Zanu-PF's women's wing, has also fuelled speculation that she could be planning to take over from her husband one day. Mr Mugabe has governed Zimbabwe since independence in 1980. Mrs Mujuru took part in the 1970s guerrilla war against white-minority rule when her nom de guerre was Teurai Ropa (Spill Blood). She married Solomon Mujuru, the former army chief seen as Zimbabwe's king-maker in 1977. He died in a fire at his farm in 2011. *Source
BBC
]]>