Zimbabwe ruling party suspends officials seen as Mugabe critics
<![CDATA[By Cris Chinaka* [caption id="attachment_14124" align="alignleft" width="300"]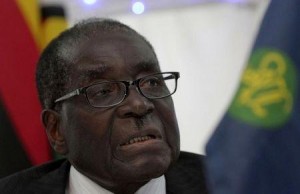 Zimbabwe President Robert Mugabe speaks at the 34th Southern African Development Conference (SADC) summit in Victoria Falls, August 18, 2014. REUTERS/Philimon Bulawayo[/caption] HARARE (Reuters) – Zimbabwe's ruling ZANU-PF party suspended several senior officials aligned to Vice-President Joice Mujuru on Friday, weakening her position in an fierce battle to succeed ageing President Robert Mugabe.
A ZANU-PF politburo meeting, chaired by Mugabe, suspended National party spokesman Rugare Gumbo, expelled war veterans leader Jabulani Sibanda and endorsed the suspension of half the party's provincial chairmen, citing "disciplinary issues".
"All these decisions taken by the politburo are with immediate effect," ZANU-PF national chairman Simon Khaya Moyo told reporters, without giving details.
The suspended politicians were seen as Mugabe critics and have been accused by Mujuru's rivals, including Mugabe's wife Grace, of plotting a challenge to Africa's oldest leader at a congress set for next month.
The 90-year-old, who has ruled the southern African country since independence from Britain in 1980, has been nominated by all the party's 10 provinces to retain his post as party president at a congress due in the first week of December.
Mujuru became Mugabe's deputy 10 years ago and denies plotting against him, but political observers say her denials appear only to have fueled a campaign in state media to discredit her with reports of extortion and abuse of office. Mujuru and Justice Minister Emmerson Mnangagwa are seen as Mugabe's most likely successors when he leaves the political stage, experts say.
"It's fair to say at this stage that the suspensions … from the Mujuru camp have weakened her quite significantly," said Eldred Masunungure, a political science lecturer at the University of Zimbabwe.
Mujuru, a former guerrilla known as "Spill Blood" during the 1970s independence war, and Mnangagwa, generally called "The Crocodile," have both served in Mugabe's cabinet since 1980.
Mugabe won another five-year term last year in a vote condemned by the opposition as a fraud and questioned by the West.
He is eligible for a final term in 2018 but constant rumors about failing health have fanned an often vicious battle to succeed him within his ruling ZANU-PF party.
He has dismissed fears that Zimbabwe could descend into political chaos if he died in office.
(Editing by Joe Brock and Sonya Hepinstall)
*Source
yahoo/reuters
]]>