Zimbabwe opposition slams S.Africa govt for blocking election report
<![CDATA[[caption id="attachment_14296" align="alignleft" width="300"]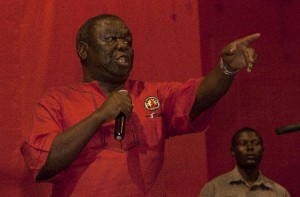 Morgan Tsvangirai, the newly elected president for the Movement for Democratic Change, speaks during the party's elective congress on November 1, 2014 in Harare, Zimbabwe (AFP Photo/Jekesai Njikizana)[/caption]
Harare (AFP) – Zimbabwe's main opposition leader Morgan Tsvangirai on Wednesday condemned the South African government for trying to keep secret a damning report on the 2002 election he lost to Robert Mugabe, which found that the vote was neither free nor fair.
The findings from two South African judges, who monitored the elections, were made public on November 14 only after the South African Mail & Guardian weekly won a lawsuit seeking the 27-page document's release, the newspaper reported.
"We are deeply appalled by it (the delay) and we unreservedly deplore what was done by the South African government to try to sweep this report under the carpet," Tsvangirai, the Movement for Democratic Change (MDC) leader, said in a statement.
"The dictates of good neighbourliness would have meant that we must not sweep under the carpet dirty reports about each other." The judges noted that due to "cumulative substantial departures from international standards of free and fair elections found in Zimbabwe during the pre-election period, these elections, in our view, cannot be considered free and fair."
The opposition had raised concerns about violence, delays in issuance of the voters roll and limiting voting stations in urban centres in MDC strongholds in the 2002 vote.
Tsvangirai has lost twice to Mugabe since the 2002 polls but has maintained that elections in the southern African country are not free and fair. He won the first round of the 2008 elections but lost in the second round after pulling out of the race citing deadly violence which killed about 300 people.
"The report is a testament to what we in the MDC and some countries in the region and the broader international community have always maintained, that Zimbabwe has never held a free and fair election," Tsvangirai said.
Tsvangirai lost again to Mugabe in last year's election and accused the 90-year-old veteran leader of rigging the polls although the Southern African Development Community (SADC) said the polls were free.
That election ended a shaky power-sharing government by Mugabe and Tsvangira
*Source
AFP
]]>