Zambia's President Scott suspended as ruling party leader
<![CDATA[By Chris Mfula* [caption id="attachment_14338" align="alignleft" width="450"]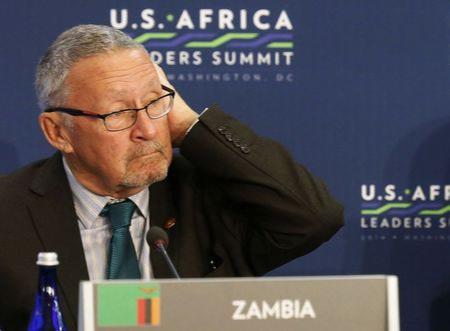 Zambia's Vice President Guy Scott listens as U.S. President Barack Obama speaks at the first Leaders' Session of the U.S.-Africa Leaders Summit at the State Department in Washington in this August 6, 2014 file photo. REUTERS/Larry Downing/Files[/caption]
LUSAKA (Reuters) – Zambia's ruling Patriotic Front (PF) said on Friday it had suspended President Guy Scott as acting head of the party for "unconstitutional conduct", in the latest twist of a bitter power struggle ahead of a January election.
Underlining divisions within the PF, its new secretary-general swiftly branded as null and void the party's decision to suspend Scott, who became Africa's first white head of state in 20 years when Michael Sata died last month.
Scott remains a member of the PF and Zambia's interim president. He is not eligible to stand in the Jan. 20 presidential vote because his parents were British. "The central committee of the PF has decided to suspend Dr. Guy Scott as acting president of the party for unconstitutional conduct and for abrogating the party constitution," PF central committee member Malozo Sichone told a media briefing. State-owned ZNBC radio later quoted PF secretary-general Bridget Atanga as saying the suspension was invalid and illegal because only the acting president of the party has the power to convene a meeting of the central committee. The PF is split over the contest to replace Scott, with supporters of frontrunner and former secretary general Edgar Lungu saying the 53-member central committee should pick the party's candidate.
Other aspirants, and Scott too, want a vote by a general conference, made up of thousands of delegates. Scott had been due to meet the central committee this week to decide on the selection process.
Questions about political stability in Africa's second-largest copper producer grew when Scott fired Lungu as PF secretary-general on Nov. 3 without explaining why. Scott reinstated him a day later after Lungu's dismissal triggered street protests.
Sata, who was nicknamed "King Cobra" because of his sharp tongue, died in a London hospital from an undisclosed illness last month at the age of 77. He had been president of Zambia since 2011.
Sata's son Mulenga Sata, who is mayor of Lusaka, and his widow Christine Kaseba are among 10 candidates who have said they will run for the PF presidential ticket.
*Source
Yahoo/Reuters
]]>