Zambians pay respects to late president Sata
<![CDATA[
Lusaka (AFP) – Zambians formed long lines on Sunday to pay last respects to their late president, Michael Sata, who died in London last week aged 77 while undergoing treatment for an undisclosed illness.
[caption id="attachment_13672" align="alignleft" width="960"]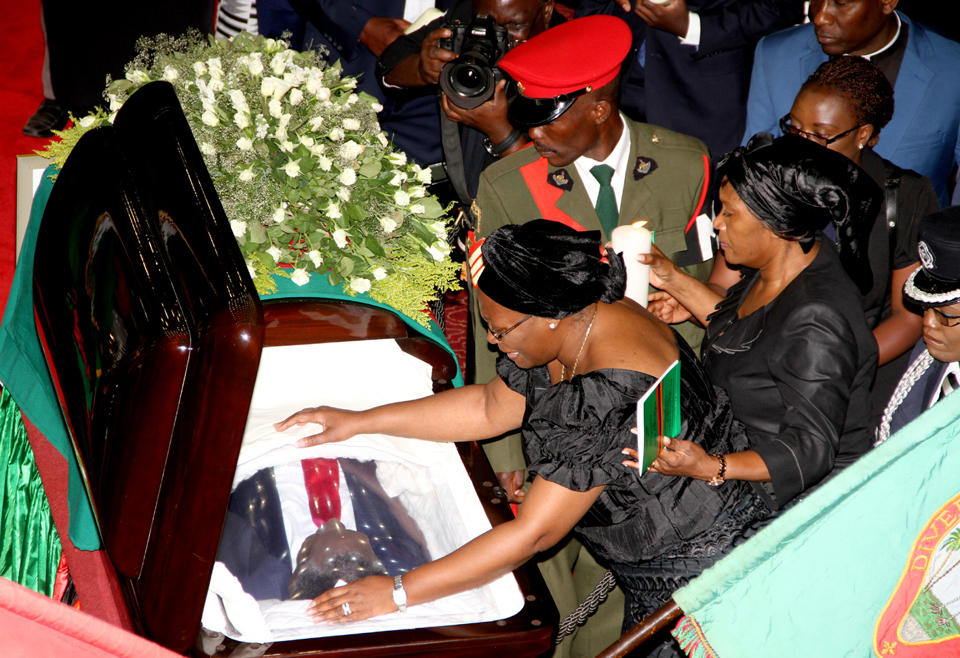 First Lady Dr Christine Kaseba views the body of Zambia's late president Michael Sata at Mulungushi International Conference Center in Lusaka on November 2, 2014. Sata died in London on October 28, 2014 (AFP Photo/Chibala Zulu)[/caption]
Sata's body, which was repatriated on Saturday, is to lie in state for a week in the capital Lusaka until a November 11 funeral in a graveyard reserved for heads of state.
Sata's widow Christine, along with other family members and officials, were among the first to view his body in the Mulungushi International Conference Centre. The doors were then opened to the public.
Vice President Guy Scott has taken over as acting president until an election is held within 90 days. Scott — born of Scottish parents and Africa's first white leader since South Africa's apartheid era — cannot run because Zambia's constitution bars candidates of direct foreign lineage.
Sata, a former trade union leader nicknamed "King Cobra" for his acerbic broadsides, had denied persistent rumours in the last few months of his reign that he was gravely ill. His detractors portrayed him as an authoritarian populist, while his admirers — many ordinary Zambians among them — remember him as a dynamic figure with the country's best interests at heart.
"Our president was a selfless man who wanted the best for this country, he sacrificed a lot for this country," one grieving citizen, Mary Tembo, told AFP after viewing Sata's casket.
Jean Ndayisenga, a Rwandan refugee living in Zambia for 17 years, said Sata would be remembered for giving refugees permanent resident permits. He said no previous Zambian presidents had ever given refugees such status.
"For sure we are going to miss the president. We only hope the one who will take over will follow his steps," he said.
*Source
AFP
]]>