Term's up for many African leaders, but will they go?
<![CDATA[
[caption id="attachment_14023" align="alignleft" width="720"]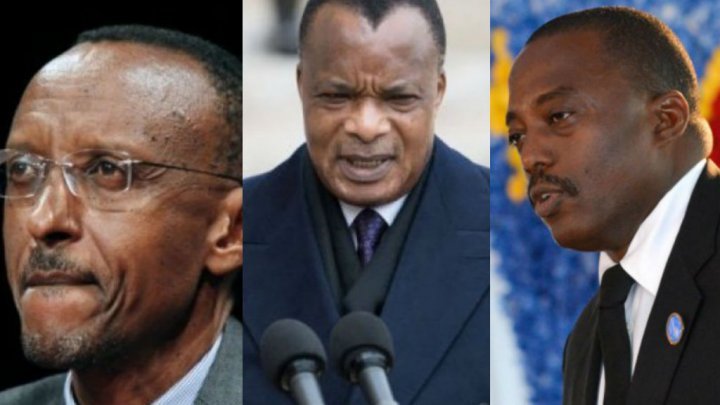 AFP | Left to right: Paul Kagame, Denis Sassou Nguesso and Joseph Kabila[/caption] Following the October 31
ouster of Burkina Faso's Blaise Compaoré
, the spotlight has fallen on several African leaders suspected of plotting constitutional amendments to extend their years in power beyond the mandated two terms. Compaoré was forced to resign and
flee to neighbouring Ivory Coast
after thousands took to the streets across the country to protest a controversial parliamentary vote that would have extended his 27 years in power. The Burkinabe strongman's ouster was closely monitored in several African nations, where leaders have publicly expressed their intentions to seek re-election despite the legal term limits. Leaders such as Joseph Kabila of Democratic Republic of Congo (DRC), Denis Sassou Nguesso of the Republic of the Congo (also known as "Congo – Brazzaville"), Benin's Thomas Boni Yayi and Rwanda's Paul Kagame are accused of trying to revise their countries' constitutions in order to stay in power. The recent seismic changes in Burkina Faso have underscored a growing impatience – particularly among the younger generation – with leaders unwilling to stick to constitutional term limits.
Democratic Republic of Congo (DRC)
When he assumed the presidency at the age of 30 in January 2001 after the death of his father, Joseph Kabila was hailed as the world's youngest head of state. More than a decade later, there are widespread fears Kabila will extend his term in office by massaging the rules. At the heart of the debate lies Article 220 of the Congolese constitution, which limits the president to two successive five-year terms. Kabila himself was elected in 2006 and 2011, which means his second term is due to expire in 2016. Officially, Kabila's aides have tried to calm fears by asserting the government does not want to amend Article 220. But many experts and ordinary Congolese fear the president will take an indirect route to extending his stay in office. In September, the country's national assembly speaker stated that parliament would have to take a decision on changing the voting system from direct to indirect suffrage for provincial elections, which implies a constitutional modification. He indicated that the modification of any articles, including
Article 220
, should be decided by referendum. The moves to amend the constitution on a technicality raised eyebrows in Congolese opposition circles as well as the international community. During a visit to the Congolese capital of Kinshasa in May,
US Secretary of State John Kerry
called on Kabila to respect the country's constitution and not run for a third term. "He's a young man with an enormous amount of time to be able to continue to contribute to his country," Kerry told reporters after meeting with Kabila. "And I'm quite confident that he will weigh all of those issues as he makes a decision about the future." It's a decision that's being awaited with some trepidation in a country that has seen a series of bloody conflicts over the past two decades and risks further upheavals on its fragile path to democracy.
Congo – Brazzaville
In 2016, President Denis Sassou Nguesso also ends his second term in office. Under the constitution, the president can be reelected only once and must be under the age of 70 years. At 72, Sassou Nguesso has passed the age limit. Over the past few months, Sassou Nguesso's aides have been making moves to try to amend the constitution. In an August 2014 interview with FRANCE 24's sister radio station,
RFI (Radio France International)
, Sassou Nguesso admitted that the debate on changing the constitution was not driven by "a president's desire for power" but "for the country and its institutions". To settle the debate, the ruling PCT (Congolese Labour Party) has proposed holding a referendum to revise the constitution. But opponents firmly reject the move.
Burundi
With just months to go before the June 2015 presidential election, this troubled East African country has already seen spiraling levels of violence with international human rights groups such as
Amnesty International
accusing the ruling party of waging a "relentless campaign of intimidation". The constitution does not allow the president to remain in power after two terms. But President Pierre Nkurunziza has never hidden his intentions to run for a third term. In a historic vote in a country with a weak opposition, parliament rejected a draft revision to the constitution by one vote in March 2014. But few opposition figures and international observers believe the vote has dampened Nkurunziza's presidential ambitions. Some experts believe the president will achieve this by declaring he was not directly elected in his first term in office, since he was appointed under exceptional circumstances at the end of the country's brutal civil war.
Rwanda
The Rwandan constitution, adopted in 2003, limits the number of presidential terms to two seven-year terms. It therefore prohibits President Paul Kagame, already elected in 2003 and 2010, from standing for a third time. The head of state has never openly declared his desire to remain in power after his term expires in 2017. When confronted by journalists and observers, Kagame and his aides have been consistently evasive. Rwandan Interior Minister Musa Fazil Harerimana has told reporters, "We do not accept the idea of limiting the number of mandates because this is not democracy," before explaining, "Democracy is leaving the choice to the people." Kagame himself has
famously said
, "I do not know a single country where the constitution is immutable." The longstanding Rwandan leader, who has been in power since 2000, has received the support of three parties close to the government favouring the abolition of term limits. Politicians close to the president have called for a referendum to gauge public opinion. Kagame's opponents, most of them forced into exile, have no doubt about his intentions. They believe that when the time comes, Kagame and his allies will do whatever is politically convenient, regardless of the constitution, to ensure the president runs for a third term.
Benin
President Thomas Boni Yayi has promised he will not run for reelection when his second term expires in 2016. The problem is, few believe him. On September 24, the Law Commission of the country's parliament rejected a draft constitutional reform bill, which called for the creation of a court of auditors, but made no mention of terms in office. The opposition suspects Boni Yayi of wanting to amend the constitution to pave the way for another presidential election. Discontent has been mounting in this tiny West African nation for over a year with protesters regularly taking to the streets of the economic capital of Cotonu to demand the holding of long-delayed local elections. Local elections – last held in 2008, in which Boni Yayi suffered heavy losses – were due to be held in March 2013, but have been pushed back due to problems with voter registration. For over a year, protesters have dressed in red in what they say is a symbol of their anger over the continued delays as well as scepticism over the government's motives. The protesters have rallied around the slogan, "Don't touch my constitution" and they are convinced Boni Yayi is determined to stay in power after 2016. *Source 
france24
]]>