Tears as Zambia's Sata is laid to rest
<![CDATA[By Obert Simwanza* [caption id="attachment_14062" align="alignleft" width="300"]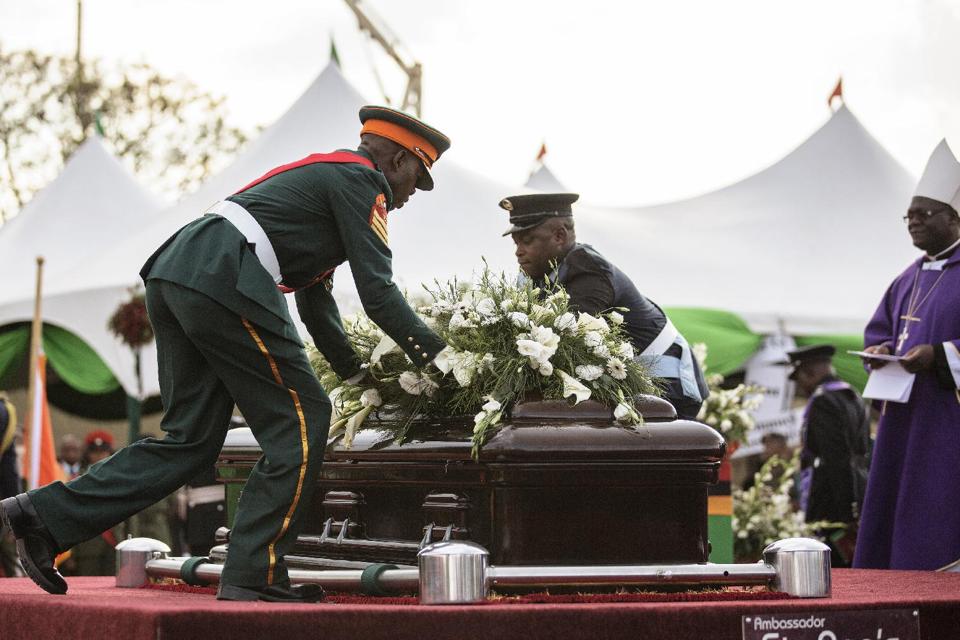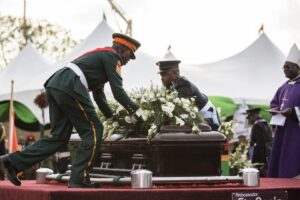 Zambian Armed Forces lay flowers on the casket of the late Zambian president ahead of lowering it into the grave during his state funeral on November 11, 2014 at Embassy Park in Lusaka (AFP Photo/Gianluigi Guercia)[/caption] Lusaka (AFP) – Zambia's president Michael Sata was buried Tuesday with full honours at a state funeral following his death at a London hospital two weeks ago.
Tens of thousands of Zambians and around a dozen African leaders turned out to bid farewell to the leader who was sent off with a 21-gun salute.
Sata's widow Christine and other mourners wept uncontrollably as the casket was lowered into the ground at Lusaka's exclusive graveyard for Zambian presidents.
Earlier mourners had packed the capital city's 50,000-seater Heroes Stadium for a farewell service.
One of Sata's sons Gerald, gave his father a moving send off, taking to the microphone to sing "Dance With My Father" by Luther Vandross.
Overtaken by emotion, mourners dressed in black or outfits bearing the late president's portrait, openly wept as Gerald Sata sang. Sata died at the age of 77 while undergoing treatment for an undisclosed illness at in London's private King Edward VII hospital.
Leader of the neighbouring Zimbabwe and Africa's oldest leader, 90-year-old Robert Mugabe paid tribute to "this African giant, courageous man" as Sata's body lay in a casket draped in a Zambian flag before burial.
"He was a great man indeed who sought to change the local arena for the better. Let's bow our heads and allow tears to drop," said Mugabe.
Sata is Zambia's second leader to die in office. In 2008, Levy Mwanawasa died in France after an illness.
Sata died only days after Zambia celebrated half a century of independence
[caption id="attachment_14063" align="alignright" width="300"]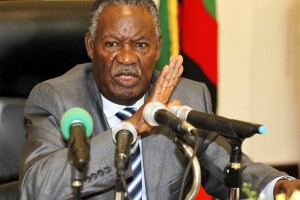 Zambian President Michael Sata came to power after winning the 2011 election on a promise to tackle corruption, lower taxes and create jobs (AFP Photo/Joseph Mwenda)[/caption]
Nicknamed "King Cobra" for his acerbic tongue, Sata been replaced by Vice President Guy Scott until an election is held within 90 days of his death.
Scott — born of British parents and Africa's first white leader since South Africa's apartheid era — cannot run because Zambia's constitution bars candidates of direct foreign lineage.
He pledged to organise democratic elections.
"You will get the president that you want. I will do it to the best of my ability because of what he (Sata) taught me," Scott said in a eulogy.
Sata came to power in 2011 elections on populist promises to transform the copper-rich country within 90 days by tackling corruption, lowering taxes and creating jobs.
But Sata's critics say that by the time he died the former policeman, trade unionist and taxidermist had transformed into an authoritarian populist as his anti-graft crusade targeted political adversaries.
He made it to the presidency after four attempts at the polls.
Sata who rose from cleaning railway platforms in London to the country's top job, died after serving three of his five year term.
The funeral was also attended by regional or representatives from as far afield as South Sudan to Ghana, Kenya to Madagascar and from nearly all the southern African countries.
*Source
AFP/Yahoo
]]>