What now after Nigeria's Boko Haram ceasefire fiasco?
<![CDATA[[caption id="attachment_13693" align="alignleft" width="624"]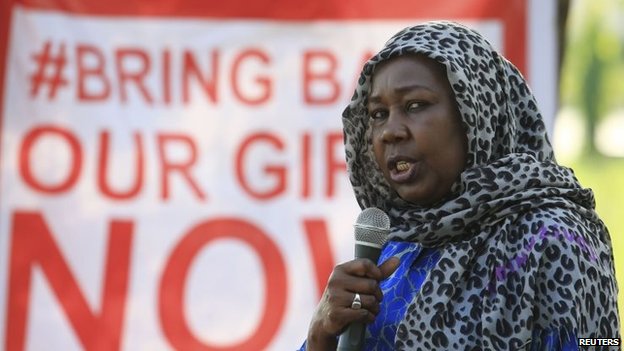 The chances of campaigners seeing an imminent release of the schoolgirls appear to be fading[/caption]
The latest Boko Haram video in which its leader Abubakar Shekau denies any ceasefire talks between his group and Nigerian officials will come as a huge embarrassment to the government, reports the BBC's Africa Security Correspondent Tomi Oladipo.
The militant leader has directly contradicted government claims that the ceasefire would set the stage for the release of more than 200 schoolgirls abducted in April from Chibok town. With the presidential elections just three months away, any chances of having a peaceful vote in north-eastern Nigeria are unlikely. Analysts now suggest it might be time to rethink any diplomatic solution to the crisis and instead concentrate efforts on restoring the stability of the nation.
'Married off'
Shekau's defiance in the video did not come as a surprise to many. In fact it was the government's announcement of a truce that provoked scepticism among Nigerians, even if some of the Chibok community said they were "cautiously optimistic". Much of the handling of the crisis over the last six months has hinged on securing the release of the schoolgirls. While Shekau says the girls have now converted to Islam and been "married off", there might still be the possibility of a swap for Boko Haram members in custody of the government. The insurgent group has long demanded the release of its men from prison. So far, attempts at dialogue have not led to any cessation of violence. Only a few weeks ago, Nigerian government officials seemed certain they had agreed a truce but Boko Haram militants and Nigerian security forces clashed shortly after the announcement.
'Mixed signals'
So where does the government go from here? Veteran diplomat Bolaji Akinyemi suggests that the government needs to rethink its strategy. "We can accept this latest [Boko Haram] video at face value that this group is not willing to talk," he says. "The government needs to stop sending mixed signals about the possibilities and now consider that maybe the solution is a military one. Unfortunately we have to accept that the loss of lives is inevitable and maybe we need to prepare ourselves for that." Mr Akinyemi was part of a presidential committee tasked to come up with recommendations for a solution to the insecurity. One of its findings was that security agencies needed improved training and equipment to stand up to the Boko Haram challenge. *Source
BBC
]]>