Namibia's ruling party seen winning Africa's first electronic vote
<![CDATA[By Wendell Roelf*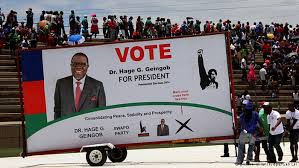 WINDHOEK (Reuters) – Namibians voted on Friday in Africa's first electronic election that is expected see the SWAPO party extend its 24-year rule with people in the mineral-rich country seeking stability in the face of a global commodities downturn.
Namibia has one of Africa's healthiest economies and SWAPO, the former liberation movement that secured independence from South Africa, has maintained its popular support although dissent is growing over inequality and a lack of housing.
Despite an 11th hour challenge from the opposition over the lack of a paper trail from electronic voting, the election commission was using about 4,000 voting machines for the presidential and parliamentary vote instead of paper ballots.
In the booth, voters found a gray electronic device with pictures or logos of the candidates and a green button next to each one. Instead of marking a cross on paper, voters selected their choice by pressing the button.
"It is way better and faster," said voter Sara Isaacs.
While there is no history of electoral fraud in Namibia unlike in many of its neighbors, logistical problems meant the results from the vote in 2009 took a week to emerge. The election commission has this time promised them within 24 hours.
Elections director Paul Isaak said that instead of spending N$20 million ($1.81 million) printing ballots, this year the commission had achieved an "enormous saving" by spending just N$2 million ($181,000) on such paper – one for each voting machine.
More than 1.2 million people were eligible to vote.
Namibia is aiming to become the world's second-largest uranium producer after Kazakhstan with the construction of its Chinese-backed Husab mine, expected to start production in 2015.
The sparsely populated, southern African state has been one of the world's best performing economies and growth is forecast to rise to 5 percent in 2014 from 4.4 percent last year. But lower metal prices, especially for its key export uranium, poses a risk, according to Namibia's central bank.
In signs of discontent, more than 100 protesters called for land distribution last week, and the opposition Democratic Turnhalle Alliance has been attracting more support.
"We want a new president. We also want new changes for everything, more houses, more toilets and we are having a problem with jobs," said Johannes Gabriel, a security guard in the capital Windhoek.
But analysts say any dissent is unlikely to be enough to threaten SWAPO's hold over the presidency and its two-thirds majority in parliament in Namibia where it has ruled since independence from apartheid South Africa in 1990. *Source
Reuters/Yahoo
]]>