The lives of the filthy rich African presidents
<![CDATA[By  ALLAN OLINGO* [caption id="attachment_13647" align="alignleft" width="300"]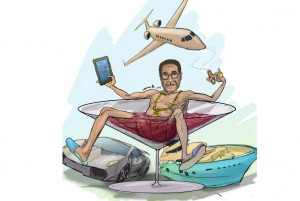 An illustration of Mugabe's lavish lifestyle[/caption] In 2012, US police seized assets belonging to Teodore Nguema Obiang Mangue, the Equatorial Guinea president's son. Among the seized items were a Shs486 billion building in Paris, thought to have 101 rooms. We look at what kind of life our presidents live.
More than 60 per cent of the population lives in poverty, the average cost of health care is about $60 (Shs162,000), average wage is at $186 (Shs500,000) and more than half the population have no access to clean drinking water.
Transparency International, the corruption watchdog, has put Equatorial Guinea on the top 12 of its list of most corrupt states while a US Senate investigation into the Washington-based Riggs Bank found that president Obiang's family had received huge payments from US oil companies such as Exxon Mobil and Amerada Hess.
In 2012, the New York Times reported that US police had seized assets belonging to Teodoro Nguema Obiang Mangue, the president's son. Among the seized items were a $2 million (Shs5.4 billion) wine collection, a $180 million (Shs486 billion) building in Paris, thought to have 101 rooms, including a Turkish bath, a hair salon, two gym clubs, a nightclub, a movie theatre and furniture worth $50 million (Shs135 billion).
Also seized were 11 luxury cars considered to be among the world's most expensive — they included two Bugatti Veyrons, a Maybach, an Aston Martin, a Ferrari Enzo, a Ferrari 599 GTO, a Rolls-Royce Phantom and a Maserati MC12.
As at June 2013, the US justice department claimed that the younger Obiang had spent $315 million (Shs852 billion) on properties and luxury goods between 2004 and 2011, buying private art collections, the world's most expensive wines, a $3.7 million (Shs10 billion) clock, a Gulfstream jet, and spending $2 million (Shs5.4 billion) on Michael Jackson memorabilia.
Her husband The amount Teodoro spends on luxury is equating to three times the country's combined budget for health and education.
In the same neighbourhood, despite Gabon being the third-largest oil producer in sub-Saharan Africa, a third of the country's 1.5 million population live on less than $1 dollar a day, yet president Ali-Ben Bongo and his father, the late Omar Bongo, have amassed wealth running into billions of dollars.
According to the Guardian, president Bongo has dozens of luxury homes in places such as the French Riviera and a $120 million (Shs324 billion) 14-bedroom town house in Paris.
During an investigation with kickbacks-related charges, French prosecutors found the Bongo family owned 33 properties in France alone, including a $27 million (Shs73 billion) villa.
At one time, Ali-Ben Bongo's wife, Inge, appeared on a US reality television show, Really Rich Real Estate, shopping for a $25 million (Shs67 billion) mansion in California.
Before his father's death, president Ali-Ben Bongo was the minister of defence, while his sister, Pascaline was the head of the cabinet. Her husband, Paul Toungui, was minister of finance.
Despite the country's billions of dollars worth of oil revenues, Gabon, is said to have fewer kilometres of tarmac road compared with the thousands of kilometres of oil pipelines, showing how this wealth has been skimmed off the public coffers.
Internationally, Imelda Marcos, former first lady of the Philippines has been synonymous with wealth, greed and excess. According to the BBC, Ms Marcos amassed a huge collection of art, jewellery, property and at least 1,000 pairs of shoes during her husband's 20 years at the helm.
Among her art collections were paintings by Michelangelo, van Gogh, Cezanne, Rembrandt and Rafael. She also owned palatial homes in the US and the Philippines; silver tableware, gold necklaces and diamond tiaras
. By the time her husband was ousted through a revolution in 1986, her estimated wealth stood at $10 billion (Shs27 trillion).
In Zimbabwe, the script is the same with political patronage and lavish spending at the expense of the economy. President Robert Mugabe's birthday has always been marked by fanfare and celebrations, especially within the ruling Zanu-PF party.
This year, during his 90th birthday celebrations, Zimbabwean media reported that the cost of the fete hit $1 million (Shs2.7 billion), in a country where more than half the population lives on less than $1 a day.
On the actual birthday, the state-owned Herald newspaper ran more than 20 pages of advertisements from state enterprises, government ministries and supporters showering praise on the veteran leader.
The event featured a giant birthday cake, multi-course meals and a music gala featuring top Zimbabwean artistes.
The Zimbabwean president addressed a crowd of 45,000 at the event in Marondera. The birthday cake, in keeping with the tradition, increased in weight by one more kilogramme to 90kg.
In monetary terms, the cake represented $1,000 (Shs2.7 million) for every year the octogenarian leader has lived, with sections of the Zimbabwean media reporting that the birthday cake cost Mbada Diamonds, a local diamond mining company, all of $90,000 (Shs243 million).
The event also saw 90 bulls slaughtered to honour the ageing leader. To further show the extravagance of the ruling family, the president's daughter Bona Mugabe's wedding to Simbarashe Chikore, was televised live by the state-owned Zimbabwe Broadcasting Corporation.
The wedding apparently cost $5 million (Shs13.5 billion), and the president gave the newlyweds $100,000 (Shs270 million) as a cash gift and 55 head of cattle, while his longtime friend president Nguema gave the couple $35,000 (Shs94 million). Never mind that 60 per cent of the people of Equatorial Guinea live on less than $1 a day, despite the government earning billions of dollars oil revenue every year.
Zambian leader (recently deceased) Michael Sata gave a gift of $4,000 (Shs10 million), Mbada Diamonds contributed $100,000 (Shs270 million) while the Zimbabwe police, represented by commissioner general Augustine Chihuri, presented the newlyweds with $10,000 (Shs27 million). The function was graced by Congolese crooner Koffi Olomide, South Africa's Zahara and the Soweto String Quartet, who were paid thousands of dollars to provide the entertainment.
Mugabe's former finance minister Simba Makoni recently revealed that local government minister Ignatius Chombo, commissioned two statues of Mugabe to be built by North Korea at a combined cost of $5 million (Shs13.5 billion).
One of the statues will be 30-feet high, made of bronze worth $3.5 million (Shs9.4 billion). It will be erected in the capital Harare; while the second, which will cost $1.5 million (Shs4 billion), will be erected in the proposed $3.8 million (Shs10 billion) museum to be built in Mugabe's rural Zvimba home.
Despite this lavish spending, Zimbabwe is $11 billion (Shs29.7 trillion) in loan arrears, and last month, the president was in China asking for a bailout as the country no longer qualifies for World Bank and International Monetary Fund loans.
Average salary According to Forbes, the average salary in Zimbabwe stands at $250 (Shs676,000), but Cabinet ministers' salaries top $40,000 (Shs108 million) a month. The World Banks' latest poverty index report says 72 per cent of Zimbabweans live on less than a $1 a day, and 60 per cent have no access to clean water, while the economy is shrinking.
In the 2013 UNDP Human Development Index, Zimbabwe was ranked 156 out of 187 countries, and described as a low-income and food-deficit country.
Despite Equatorial Guinea being one of the world's top 30 oil producing countries, a baby born in this country has a slim chance of survival as Unicef estimates that 20 per cent of children die before reaching the age of five. *Source 
monitor.co.ug
]]>