The EU called for the people of Burkina Faso to have the final say in who rules their country.
The crisis is the worst in Burkina Faso since a wave of mutinies shook the country in 2011.
[caption id="attachment_13599" align="alignleft" width="300"]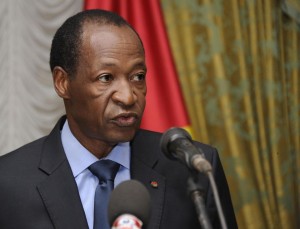 Burkina Faso's President Blaise Compaore speaks at the Presidential Palace in Ouagadougou on July 26, 2014 (AFP Photo/Sia Kambou)[/caption]
Compaore had initially rejected calls to resign. He withdrew plans for a vote on the constitutional changes but vowed to stay in power for another year.
He was only 36 when he seized power in a 1987 coup in which his former friend Thomas Sankara was ousted and assassinated.
His bid to cling to power angered many, particularly young people in a country where 60 percent of the population of almost 17 million is under 25.
Many have spent their entire lives under the leadership of one man and are disillusioned by the establishment running the poor former French colony, which is stagnating at 183rd out of 186 countries on the UN human development index.
The death toll from Thursday's violence — the peak of the unrest — was given as "around 30" by two opposition leaders.
"October 30 is Burkina Faso's 'Black Spring', like the Arab Spring," Emile Pargui Pare, an official from opposition party the Movement of People for Progress, told AFP.
Known in colonial times as Upper Volta, the landlocked country became independent from France in 1960 and its name was changed to Burkina Faso ("the land of upright men") in 1984.