Lieutenant colonel assumes power in Burkina Faso after president flees
<![CDATA[By Romaric Ollo Hien* [caption id="attachment_13597" align="alignleft" width="300"]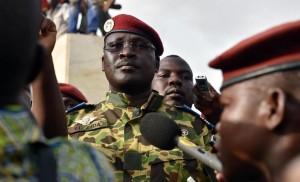 Burkinabe Lieutenant-Colonel Issaac Zida of the presidential guard reads a press release by the army chief after the resignation of Burkina Faso's president in Ouagadougou on October 31, 2014 (AFP Photo/Issouf Sanogo)[/caption] Ouagadougou (Burkina Faso) (AFP) – The second in command of Burkina Faso's presidential guard, Lieutenant Colonel Isaac Zida, said on Saturday he had taken power after deposed President Blaise Compaore reportedly fled the capital.
Zida declared a rival claim by army chief Navere Honore Traore was "obsolete" in a televised speech.
The tussle for power comes after an extraordinary week of violent protest against Compaore's 27-year rule that saw parliament stormed and set ablaze.
Zida, who is leading a group of young army officers, said he had assumed "the responsibilities of head of the transition and of head of state" to ensure a "smooth democratic transition".
"The aspirations for democratic change" of the Burkina youth "will be neither betrayed, nor disappointed," he said.
He told journalists that the former president, who was said to have fled the capital Ougadougou, was "in a safe place" and his "safety and well-being are assured".
Earlier, Zida ordered the closure of the country's borders.
A French diplomatic source told AFP that Compaore was travelling south towards the town of Po near the border with Ghana.
The source said he was still in the country and had not asked for refuge in France, the former colonial power.
The uprising, which has drawn parallels with the Arab Spring, was sparked by plans to change the constitution to allow Compaore to stand once again for elections next year.
Compaore is one of several sub-Saharan African leaders who have stayed in power for decades, and the protests are being closely watched across the continent where at least four heads of state are pressing for similar constitutional changes to cling to power.
– Compaore's 'henchman' –
Army chief Traore stated on Friday that he was assuming power as head of state, a day after he ordered the dissolution of the government and a dusk-to-dawn curfew.
But many protesters are deeply opposed to him taking power, seeing him as a close ally of Compaore.
[caption id="attachment_13598" align="alignright" width="300"]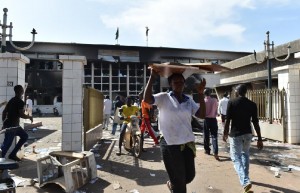 People loot on October 31, 2014 what is salvageable inside the burnt parliament in Ouagadougou a day after it was stormed by protesters (AFP Photo/Issouf Sanogo)[/caption]
"We do not want General Traore in power. We need someone credible. Traore is Blaise Compaore's henchman," said Monou Tapsoaba, an activist with the opposition People's Movement for Progress.
Zida appears to have more legitimacy with civil society. He appeared before large crowds alongside lawyer Guy Herve Kam, leader of the Citizen Broom group that helped lead the demonstrations, in Place de la Nation on Friday.
One opposition leader, Benewende Sankara, described Traore's move as a "coup".
Another opposition chief, Zephirin Diabre, told AFP he hoped the two military factions would forge an agreement.
"We await the army's plans for the transition. We will tell them what we think," he said.
Many of the tens of thousands massed on the streets of the capital have called for retired general and former defence minister Kouame Lougue to take control, shouting: "Lougue in power!"
France's President Francois Hollande vowed that Paris would "contribute to calming" the situation in its former colony, while Washington urged "a transfer of power in accordance with the constitution".
The EU called for the people of Burkina Faso to have the final say in who rules their country.
The crisis is the worst in Burkina Faso since a wave of mutinies shook the country in 2011.
[caption id="attachment_13599" align="alignleft" width="300"]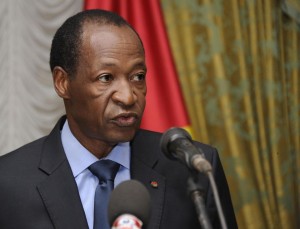 Burkina Faso's President Blaise Compaore speaks at the Presidential Palace in Ouagadougou on July 26, 2014 (AFP Photo/Sia Kambou)[/caption]
Compaore had initially rejected calls to resign. He withdrew plans for a vote on the constitutional changes but vowed to stay in power for another year.
He was only 36 when he seized power in a 1987 coup in which his former friend Thomas Sankara was ousted and assassinated.
His bid to cling to power angered many, particularly young people in a country where 60 percent of the population of almost 17 million is under 25.
Many have spent their entire lives under the leadership of one man and are disillusioned by the establishment running the poor former French colony, which is stagnating at 183rd out of 186 countries on the UN human development index.
The death toll from Thursday's violence — the peak of the unrest — was given as "around 30" by two opposition leaders.
"October 30 is Burkina Faso's 'Black Spring', like the Arab Spring," Emile Pargui Pare, an official from opposition party the Movement of People for Progress, told AFP.
Known in colonial times as Upper Volta, the landlocked country became independent from France in 1960 and its name was changed to Burkina Faso ("the land of upright men") in 1984.
]]>