Jonathan, Mahama, Sall urge Burkina army to hand over power
<![CDATA[
Three west African leaders held talks behind closed doors with Burkina Faso's new military leader Wednesday to pressure him into swiftly handing over power to a civilian government after the fall of president Blaise Compaore. The presidents of Nigeria, Ghana and Senegal flew into Ouagadougou after Canada suspended its aid to the impoverished west African nation and other nations considered similar moves. Lieutenant-Colonel Isaac Zida, the interim leader appointed by Burkina Faso's military, told unions on Tuesday that he would return the country to civilian rule within two weeks, a day after the African Union threatened sanctions if the army failed to relinquish power within that timeframe. The military has filled the power vacuum left by Compaore, who was deposed Friday after 27 years in power by a violent popular uprising that some had likened to the Arab Spring. There was little ceremony as the leaders — Nigeria's Goodluck Jonathan, Ghana's President John Dramani Mahama and Macky Sall of Senegal — were driven to a luxury hotel near the presidential palace for the talks with Zida, an AFP reporter said. The three presidents later met leaders of opposition parties, democracy groups and senior legal officials, with one party leader afterwards calling for a transition government  led by a civil society figure rather than a politician or military chief.
– 'Non-political figure needed' –
Former prime minister Roch Marc Christian Kabore, leader of the Movement of the People for Progress, said: "It's obvious we have to find someone who has no clear political affiliations so as not to have a biased view on the transition." The leaders were also meeting with civil society and religious groups in a bid to find a rapid end to the crisis. The army's decision to take the reins in the aftermath of Compaore's exit sparked angry protests at home and prompted threats of sanctions from abroad. But top brass claimed that "power does not interest us" and pledged to install a unity government with a "broad consensus". Zida has repeated the promise in meetings with opposition and civil society leaders as well as foreign envoys. "If everyone agrees, there is no reason that the transition (from military rule) shouldn't be done within two weeks," Zida said on Tuesday, according to union leader Joseph Tiendrebeogo. Mogho Naba, the "king" of Burkina Faso's leading Mossi tribe, told AFP he had met Zida on Tuesday. "They came to tell us that they would hand back power to civilians," he said. "The country should regain peace and quiet." The army has made similar pledges over the past couple of days, without taking concrete action. Under the constitution, which has been suspended, the parliament speaker was supposed to take over as transitional leader. But the whereabouts of current speaker Soungalo Ouattara, a close Compaore ally, are unknown.
– Handover 'within two weeks' –
French President Francois Hollande said Tuesday that Paris helped evacuate Compaore to prevent a potential "bloodbath". Compaore and his wife are staying in a government mansion in Yamoussoukro, the capital of neighbouring Ivory Coast. Ivorian President Alassane Ouattara has said Compaore "can stay as long as he wishes".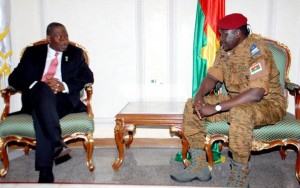 Meanwhile, international donors whose funding is crucial to the impoverished country, are watching the situation with concern. Canada, which provided some $35.6 million (28 million euros) in aid to Burkina Faso between 2012 and 2013, raised the pressure on Tuesday by suspending assistance. It said funding would be restored when a "legitimate and accountable civil authority has been re-established". Washington said it was still "gathering facts" but could yet withdraw its $14 million annual aid package. Opposition leaders have met with international mediators from the United Nations, regional bloc ECOWAS and the African Union, which has named Togo's former prime minister Edem Kodjo as a special envoy to the landlocked west African nation. Not all opposition leaders are against the military playing a role in the transition. "We have to see what model is best for the situation and the context," said the opposition's main leader Zephirin Diabre. The ousted ruling party, the Congress for Democracy and Progress, has also expressed willingness to "work with the transitional authorities". Ouagadougou is largely returning to normal. Last week, thousands of protesters had gone on a rampage against Compaore's bid to extend his rule, setting parliament and other public buildings ablaze. Hospital sources say at least 10 people died and 200 were wounded in the violence. *Source
Vanguard
]]>