Football hero Weah to run for Liberian senate
<![CDATA[
Monrovia (AFP) – African football legend George Weah said on Wednesday he had quit his job as peace ambassador in his native Liberia to run for senator.
[caption id="attachment_14098" align="alignleft" width="300"]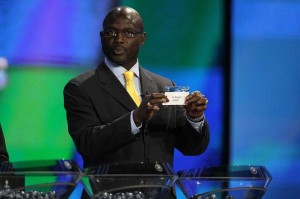 Football legend George Weah says he is running for senator in his native Liberia (AFP Photo/Valery Hache)[/caption]
Weah, widely regarded as Africa's greatest-ever player, gave President Ellen Johnson Sirleaf his resignation letter on Tuesday in preparation to stand in Montserrado county, which includes the capital Monrovia.
"I am running for senior senator of Montserrado and that is my target now," he told AFP.
Weah, the leader of the opposition Congress for Democratic Change, was quoted in a statement from the presidency as thanking Sirleaf for the post, which "enabled him to contribute to the promotion of peace and stability".
The former AC Milan superstar was appointed in December 2012 after Nobel laureate Leymon Gborwee resigned the post, accusing Sirleaf of nepotism.
Weah's job was principally to facilitate the peace process following 14 years of ruinous civil war which ended in 2003 after the deaths of 250,000 people
The role has been complicated by an Ebola epidemic which has devastated Liberia's public services and health infrastructure, killing 5,000 people in west Africa in 11 months.
Nationwide senatorial elections had been due to take place in October but were suspended until December 16, with a mass mobilisation of voters deemed unsafe at the height of the epidemic.
A glamorous figure at home, the rags-to-riches story of the man his compatriots call King George has provided a rare beacon of hope for impoverished people who treat him as an icon.
A member of the Kru ethnic group mired in poverty, Weah was raised by his grandmother on a reclaimed swamp in one of the worst slums of Monrovia.
[caption id="attachment_14099" align="alignright" width="300"]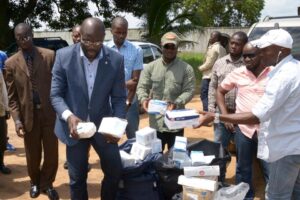 Former Liberian soccer player George Weah, President of the "Ebola Emergency France" association, gives 5,000 pair of gloves to the Elwa hospital on September 8, 2014 in Monrovia (AFP Photo/Dominique Faget)[/caption]
In the 1994-1995 season he was named both African and European player of the year after top scoring in Europe's prime tournament, the Champions League, with eight goals.
Now 48, he has parlayed outstanding spells at Monaco, Paris Saint Germain, Milan and Chelsea into a career in politics, although his two campaigns in the 2005 and 2011 presidential elections were unsuccessful.
His senate bid is widely seen as a step towards another tilt at the presidency in 2017, although he will have to convince his party that he can make it third time lucky.
"For the presidential it is the party that will decide during the convention in 2017," he told AFP.
*Source
Yahoo/AFP
]]>