A Circle of Celebration, Forged in Africa
<![CDATA[Angélique Kidjo's Tribute to Miriam Makeba By JON PARELES* [caption id="attachment_13953" align="alignleft" width="675"]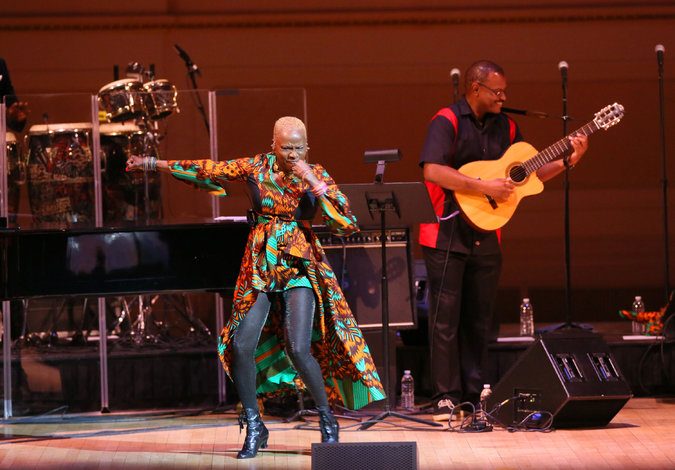 Angelique Kidjo performing with Dominic James on guitar at Carnegie Hall. Credit Ruby Washington/The New York Times[/caption]
One strong African woman honored another at Angélique Kidjo's tribute concert for Miriam Makeba on Wednesday night at Carnegie Hall, where she was joined by Vusi Mahlasela from South Africa, Laura Mvulu from England and Ezra Koenig from the African-influenced New York City band Vampire Weekend. Whoopi Goldberg started the concert with praise for both Makeba, who died in 2008, and Ms. Kidjo.
Wearing brightly patterned dresses, singing with joyful vehemence and dancing with struts and twirls and shoulder shakes, Ms. Kidjo was respectful, yet far from solemn, in a concert drawn almost entirely from the Makeba repertory. It was the finale of Carnegie's Ubuntu festival, marking 20 years since the end of apartheid in South Africa: a cause Makeba devoted herself to through decades of exile after South Africa revoked her passport in 1963.
It was by no means Ms. Kidjo's first acknowledgment of Makeba as her role model. Ms. Kidjo is from Benin, in West Africa, and has lived in Paris and now Brooklyn. Like Makeba, she has drawn deeply on her African heritage while making global fusions; the concert included songs in six languages. She recorded a Makeba standard, the Tanzanian love song "Malaika," for her 1991 album, "Logozo," and sang it on Wednesday night.
Ms. Kidjo is a rawer, more brazen singer than Makeba; with bent notes and raspy peaks, she brings the West African roots of the blues into her songs. What she shares with Makeba is conviction and compassion as she seeks the universal sentiment in songs from particular places: a lullaby from Indonesia ("Suliram"), a song about working in South African mines ("The Retreat Song"), a topical message ("Soweto Blues").
Ms. Kidjo supplemented her regular band, which easily commands a huge variety of African-diaspora styles, with three South African singers — Faith Kekana, Stella Khumalo and Zamo Mbutho — who had backed up Makeba. They brought the lush, precisely swooping harmonies of South African tradition, which were especially striking when they joined Ms. Kidjo for a cappella passages.
But Ms. Kidjo wasn't reproducing the old Makeba sound; she was pushing it harder. "Pole Mze" — a Kenyan song praising that country's first president, Jomo Kenyatta — had a gentle Afro-Cuban lilt in Makeba's version; Ms. Kidjo's band drove it all the way into salsa. Her guests picked up her enthusiasm — especially Mr. Mahlasela, a courageous songwriter during the apartheid era, with a jovial presence and a robust, soaring voice that rose to match Ms. Kidjo's own power.
Carnegie Hall, however, wasn't the right room for the concert. Although Ms. Kidjo's drummer, Yayo Serka, played behind a plastic partition and used a light touch, the music's danceable beats were blurred by the hall's reverberation. But Ms. Kidjo didn't let acoustics impede her. She sang her way through the audience and up into the balcony, illuminated by flashing cellphone cameras, and got the audience on its feet, singing along and dancing to join a song Ms. Kidjo wrote for both Makeba and the continent: "Afirika."
*Source nytimes
]]>