Burkina army, civil groups agree transition pact
<![CDATA[By Romaric Ollo Hien* [caption id="attachment_14106" align="alignleft" width="586"]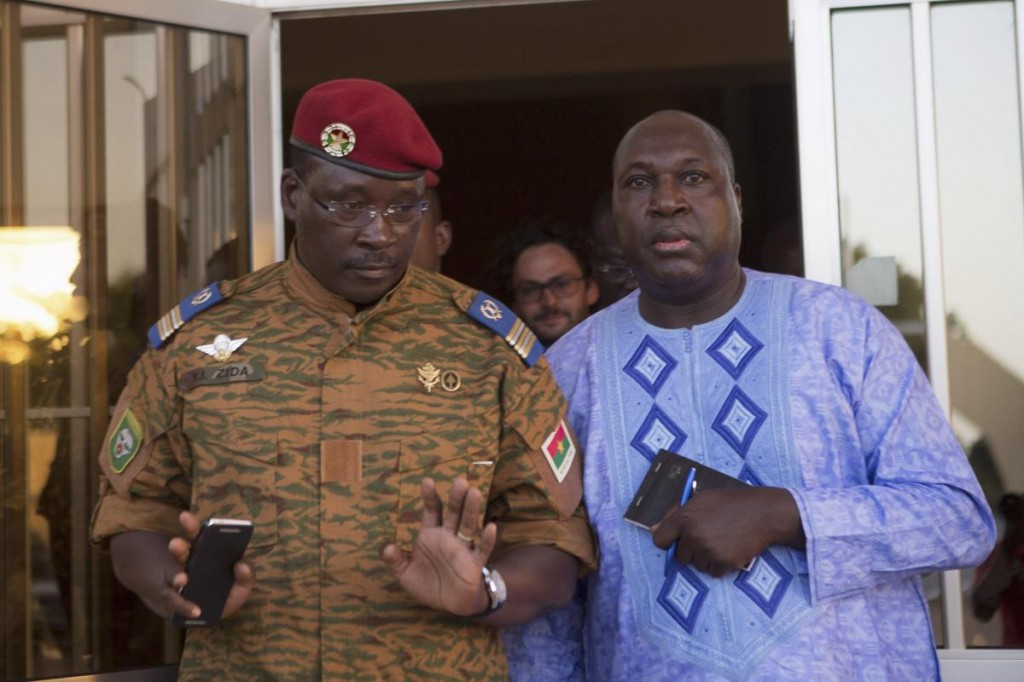 Lieutenant Colonel Yacouba Isaac Zida (L) meets with opposition leader Zephirin Diabre in Ouagadougou, capital of Burkina Faso, November 2, 2014. Burkina Faso's army cleared thousands of protesters from the capital and fired warning shots at state TV headquarters on Sunday as it sought to tighten its grip on power following the resignation of President Blaise Compaore two days ago. REUTERS/Joe Penney (BURKINA FASO – Tags: POLITICS CIVIL UNREST MILITARY)[/caption] Ouagadougou (AFP) – Burkina Faso's army reached an agreement with opposition parties, civil groups and religious leaders for a transition to civilian rule, almost two weeks after the ouster of president Blaise Compaore.
The different factions "unanimously voted" in favour of a transition charter, said Henry Ye, president of the commission representing the main power players in the west African country.
Under the deal, an interim civilian president will be chosen by a special electoral college, delegates at the talks said.
The president will appoint a prime minister, either a civilian or a military figure, who will head a 25-member transitional government.
A civilian will also head a 90-seat parliament, known as the National Transitional Council. News of the deal was greeted with applause and a rendition of the national anthem by those taking part in talks, an AFP journalist observed.
The agreement was immediately backed by some of the country's politicians and leading civil society activists.
Ablasse Ouedraogo, a former social affairs minister, said the future of Burkina Faso had been "protected" and said the deal would open up new opportunities for the young.
Adama Kanazoe, a young politician who heads up the opposition Youth Alliance for the Defence of the Independence of the Republic, said the agreement was a sign of the country's "great maturity".
"They have succeeded where many thought they would fail," said Kanazoe, who also described the day as "extraordinary" and "historical".
Barkissa Konate, a civil activist, spoke of her "pride" of being "a young Burkinabe". "The revolution is on. Now we have a real democracy," she said.
Compaore was forced to quit on October 31, after mass protests against his bid to extend his 27-year rule by changing the constitution.
The army installed Lieutenant-Colonel Isaac Zida, the 49-year-old second-in-command of the presidential guard, as the new leader of the landlocked former French colony of some 17 million people.
But the military has faced mounting international pressure to transfer power to an interim government.
The African Union on November 3 pressed the Burkinabe army to return power to civilians within two weeks or face sanctions. That deadline passes next week.
"We have made a number of concessions taking into account the interests of Burkina," Zida told AFP earlier Thursday.
According to a draft of the transition blueprint, no members of the interim regime would be allowed to stand in the next elections, scheduled for November 2015.
*Source
AFP/Yahoo
]]>