Zimbabwe's Mugabe skirts raging succession battle
<![CDATA[By Cris Chinaka* [caption id="attachment_13406" align="alignleft" width="450"]
Zimbabwe's President Robert Mugabe (2nd R) and his wife Grace arrive to attend a mass for the beatification of former pope Paul VI in St. Peter's square at the Vatican October 19, 2014. REUTERS/Tony Gentile[/caption]
HARARE (Reuters) – Zimbabwe President Robert Mugabe opened parliament on Tuesday, steering clear of a succession struggle raging in his ZANU-PF party following his wife's sensational attempt to force his deputy out of office.
As the 90-year-old addressed the new parliament, dozens of ZANU-PF members sang his praises outside the building, but also taunted each other over factional allegiances in the party that has run Zimbabwe since independence from Britain in 1980.
Mugabe, one of Africa's longest-serving leaders, said he would invest in infrastructure, offer free fertilizer and seed to farmers and revise tax and labor laws to improve an investment climate clouded by his nationalist policies.
He made no direct reference to the succession battle in his party, which went into overdrive this month when his wife, Grace, attacked Vice-President Joice Mujuru and accused her of plotting to oust Mugabe at a party congress in December. Mujuru, Mugabe's deputy both in the party and government for the last 10 years, has been a frontrunner to succeed Mugabe but faces a stiff challenge from Justice Minister Emmerson Mnangagwa, an enduring politician known as "The Crocodile". During more than three decades in power in the southern African country, analysts say Mugabe has neutralized challengers by playing off ZANU-PF factions, and may be doing the same with his wife's sudden emergence into front-line politics. Mujuru, a battle-hardened veteran of the 1970s liberation war with a nom de guerre that means 'Spill Blood', won Mugabe's support for the vice-president post in 2004 but now appears to be in a precarious position ahead of this year's congress. Throughout the ceremony, Grace exchanged no words with Mujuru, who sat next to Mnangagwa, smiling and sharing jokes. She has made no formal response to Grace's accusations. [caption id="attachment_13407" align="alignright" width="300"]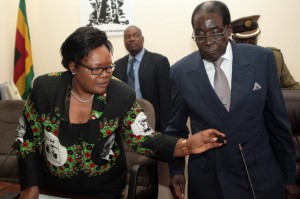 Zimbabwe's President Robert Mugabe and Vice-President Joice Mujuru are seen at a meeting of the ruling ZANU-PF party at its headquarters in Harare on October 24, 2014 (AFP Photo/Jekesai Njikizana)[/caption] The political infighting comes against a backdrop of economic strife, with impoverished Zimbabwe starved of foreign investment and donor funding.
Ambitious election promises made by Mugabe a year ago to create millions of jobs by 2018 and promote the needs of blacks has backfired as a policy to force foreign firms to sell majority stakes to locals has hammered investment and output.
In his 25-minute speech, the veteran leader threatened action against blacks who derailed the empowerment drive – known locally as indigenisation – by acting as fronts for foreigners.
"It is depressing that some of our people have turned themselves into mere fronts for foreign investors, thus defeating the fundamental objective," Mugabe said.
"Decisive action shall indeed be taken to address these negative developments."
*Source
Reuters/Yahoo
]]>