U.S. troops head to Africa for Ebola mission
<![CDATA[
By Andrew Tilghman, Patricia Kime and Michelle Tan*
[caption id="attachment_12558" align="alignleft" width="640"]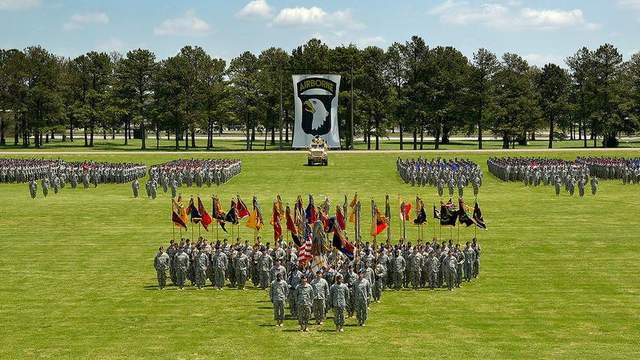 The Army's 101st Airborne Division, based at Fort Campbell, Kentucky, will provide about 700 of the 1,400 troops expected to head to Liberia in October. (Fort Campbell)[/caption]
About 1,400 soldiers will head to Liberia in October to help support the fight against the Ebola virus that is spreading across West Africa, a Pentagon official said Tuesday.
 The Army's 101st Airborne Division, based at Fort Campbell, Kentucky, will provide about 700 of those soldiers, while the other 700 will be mostly combat engineers culled from Army units across the force, Defense Department spokesman Rear Adm. John Kirby told reporters.
 The soldiers will be among the total of 3,000 U.S. troops whom the Pentagon plans to send into West Africa this fall.
 About 300 of the troops from the 101st Airborne will come from the division headquarters, and they will serve as the Joint Force Command for the mission. They are expected to arrive by the end of October.
 "Operation United Assistance is a critical mission," said Maj. Gen. Gary Volesky, commanding general of the 101st Airborne Division, in a statement. We will coordinate all of the Department of Defense resources in Liberia to support USAID and the government of Liberia to contain the Ebola virus and, ultimately, save lives."
 The U.S. military mission will include building 17 100-bed hospital facilities and a health care facility for infected physicians and health care workers.
 U.S. troops will not provide direct care to patients infected with the Ebola virus, according to the Pentagon.
 More than 3,000 people have died in the current Ebola epidemic and at least 6,574 have been infected, according to the World Health Organization.
 Dr. Steve Monroe, deputy director of the National Center for Emerging and Zoonotic Infectious Disease at the Centers for Disease Control and Prevention said during a conference call on Tuesday that the outbreak is considered nearly contained in Nigeria and Senegal, which saw just 20 and 1 case, respectively.
 But in the most affected nations, including Liberia, where troops are heading, and Sierra Leone, the number of cases are doubling roughly every three weeks, he added.
 "The most important thing we can do right now is get cases in isolation so we can stem this outbreak," Monroe said.
 The CDC estimates the disease could affect up to 1.4 million people by January if it's not contained.
 Josh Michaud, associate director of global health policy for the Kaiser Foundation, said more than 300 U.S. government workers are in the affected countries, including 28 employees of the U.S. Agency for International Development, more than 100 CDC workers and roughly 200 military personnel.
 Those troops include Army Maj. Gen. Darryl Williams, commander of U.S. Army Africa and Operation United Assistance, as the deployment is being called, and dozens of Navy Seabees who are laying the foundations for construction of the new Ebola care facilities.
 When the 101st Airborne Division soldiers deploy, Volesky will take over for Williams, who will return to his duties as commander of U.S. Army Africa.
 About 300 soldiers from the division headquarters will deploy to Monrovia, said Lt. Col. Brian DeSantis, the 101st Airborne's spokesman. The rest of the soldiers will come from the division's sustainment brigade and the 86th Combat Support Hospital.
 The remaining 700 or so soldiers, as announced by Kirby, will come from across the Army.
 "It will be very humanitarian-assistance focused," DeSantis said.
 Deploying units will include lift aviation, field hospital assets, transportation soldiers and engineers, he said.
 While deployed, the soldiers will be responsible for building some Ebola treatment units and providing logistical support to USAID.
 "We also have the responsibility of setting up the training for approximately 500 aid workers per week that will go out and actually staff the [Ebola treatment units]," DeSantis said.
 Another priority is force protection, he said.
 "We're making sure all the soldiers who deploy, not just from Fort Campbell but across the Army, get all the training required to protect themselves from Ebola," he said.
 Deploying soldiers should have a "very, very low" risk of contracting Ebola, DeSantis said.
 "If anything, there are other health risks we're more concerned about, and we'll mitigate those," he said.
 One example is malaria, which is more prevalent in Liberia than Iraq or Afghanistan, he said.
 "Protecting the health of our Soldiers is our number one priority," Volesky said in his statement. "Before our Soldiers deploy they will be trained on how to protect themselves from Ebola and all other potential health risks found in Liberia."
 A DoD spokeswoman said last week the department will make "every effort to ensure that U.S. personnel on the ground and all health care workers" are protected.
 Troops will receive regionally specific training on Ebola prevention, malaria prevention and other medical threats and also are required to have immunizations ranging from chickenpox, influenza and hepatitis to yellow fever and pneumococcal vaccines, according to a DoD official.
 The department has been involved in research on Ebola treatments and preventives for more than two decades.
 Defense Secretary Chuck Hagel said last week the Walter Reed Army Institute of Research received approval to begin safety testing of a potential vaccine.
 However, health experts, including Monroe and Sophie Delaunay, executive director of Medecins Sans Frontieres, have cautioned that an effective vaccine is still months from development.
 "In the meantime, we need to increase the access to isolation units," Delaunay said during a web seminar for reporters Tuesday sponsored by the Kaiser Family Foundation.
 The soldiers from the 101st Airborne Division will form a headquarters element for the 3,000-troop mission that is estimated to last about six months.
*Source www.armytimes.com
]]>