South Sudan: Women propose sex strike for peace
<![CDATA[[caption id="attachment_13260" align="alignleft" width="300"]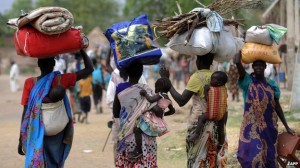 There are more than 1.4 million displaced people in South Sudan[/caption]
Female peace activists in South Sudan have proposed a nationwide sex strike to end the country's civil war.
The activists want women to support the strike in the hope that it encourages men to seek a peaceful settlement to the conflict,
the Sudan Tribune reports.
The idea came about at a meeting of more than 90 women activists, including several MPs, in South Sudan's capital, Juba, the paper says. "A key suggestion was to mobilise all women in South Sudan to deny their husbands conjugal rights until they ensure that peace returns," the meeting's organisers say in a statement. South Sudan's government has been fighting rebel forces since December 2013. Hundreds of thousands of people have fled to neighbouring countries, and 1.4 million are internally displaced as a result of the crisis,
according to the United Nations.
Sex strikes are not unheard of as a peace-seeking tactic. In 2003, Liberian women used the same method as part of their efforts to end the country's brutal 14-year civil war. Leymah Gbowee, who led the strike, was awarded the Nobel Peace Prize in 2011. *Source
BBC
]]>