Sierra Leone's Soccer Team Struggles With Stigma Over Ebola Outbreak
By JERÉ LONGMAN*
YAOUNDÉ, Cameroon — Fans taunt them with chants of "Ebola." Some opponents have hesitated to shake their hands or engage in the traditional swapping of jerseys. Humiliating medical screenings have become routine.
And in Cameroon, when the players on Sierra Leone's exiled national soccer team checked into their hotel to prepare for an important match Saturday, some guests grew alarmed, and the police were called, a team spokesman said.
The Leone Stars (the team's nickname) then moved to a newly built hotel where they remain the only occupants, on the advice of Cameroonian soccer and health officials.
"You feel humiliated, like garbage, and you want to punch someone," John Trye, a reserve goalkeeper, said after hearing "Ebola" shouted at the players during a training session Thursday. "No one wants to have Ebola in their country. Sierra Leone is struggling. And they shove it in our face. That's not fair."
The Ebola crisis that has devastated parts of West Africa and spread fear across several continents is inflicting tangential damage to the Sierra Leone soccer team, which has endured a string of indignities since the disease broke out in May. In August it was barred "until further notice" by African soccer officials from playing in its own stricken country, turning it into an itinerant team that must play every match on the road as it struggles to qualify for the 2015 Africa Cup of Nations, the continent's biennial championship.
At each stop, the fear and stigma of Ebola leads to what players say is demeaning and discouraging treatment.
The Seychelles forfeited a match in July rather than host Sierra Leone, but did not notify the visiting team until it was set to board a connecting flight in Nairobi, Kenya. Last month, while playing a designated "home" game in the group stage in the Democratic Republic of Congo, Sierra Leone was mocked with chants of "Ebola, Ebola" from beginning to end in a 2-0 defeat.
The same derisive chants greeted the Leone Stars as they took the field Saturday in a 0-0 tie against Cameroon, then subsided until late in the game, another "home" match for the team, played more than 1,500 miles from their West African nation.
While facing Cameroon twice in five days, the Stars must submit at breakfast and dinner to temperature screenings for Ebola, even though none play professionally in Sierra Leone or have even traveled to the country since July. After last month's match in Congo, some players were screened four times in a single day as they attempted to return to their club teams in Europe and the United States.
Trye said he was detained Wednesday night for three hours by immigration authorities after flying into Douala, Cameroon. But rather than submit to yet another Ebola screening, he took a four-hour bus ride instead of a 30-minute connecting flight to reach Yaoundé, the capital.
Players understand that countries must guard against the spread of the virus, said Kei Kamara, a Sierra Leone forward who remained with his club team, the Columbus Crew of Major League Soccer, rather than travel to Cameroon. What is disheartening, Kamara said in a telephone interview, is that "we're treated like we're walking around with the disease."
The chaos related to Ebola worsened last week, with infighting between Sierra Leone's soccer federation and its sports ministry; the two have long jousted for control of the national team. The factions appointed separate replacements for the previous coach, who was fired last month.
FIFA, soccer's world governing body, threatened to bar Sierra Leone from future competitions unless the sports ministry quit interfering. The players were caught in the middle, and threatened by the ministry Saturday with nonpayment. The issue was not resolved until 15 minutes before kickoff.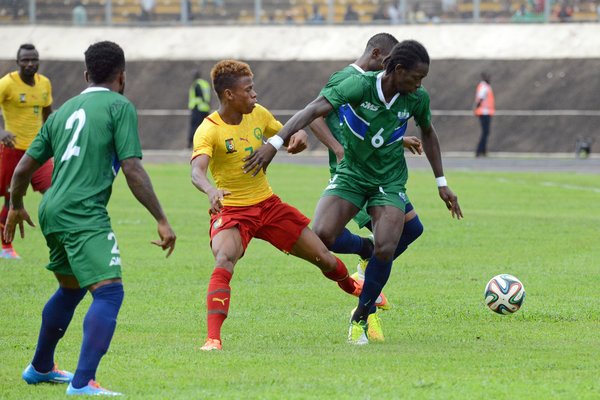 "We have this problem of Ebola," John Jeboh Sherrington, the technical director of Sierra Leone's soccer federation, said to the players in the dressing room. "We cannot add another problem by refusing to play."
Despite the tumult in Cameroon, the players said it did not compare with a demoralizing trip in September to Ivory Coast and, especially, to one to Democratic Republic of Congo. At least here, players received applause and thumbs-up signs after Saturday's match, from spectators who appreciated their perseverance and the difficulty facing any traveling team in Africa, much less a homeless one.
"They shake our hands," said Alie Badara Tarawallie, a Sierra Leone soccer federation official. "They're not afraid of us."
Last month, some players from Ivory Coast gave them fist bumps instead of shaking hands, which upset some of the Sierra Leone players. "Shaking hands is respect," midfielder Khalifa Jabbie said.
*Source nytimes