Rwanda's story now growth, not genocide: president
<![CDATA[
Rwandan President Paul Kagame said Tuesday the central African nation was no longer "just a country of genocide" and now had a positive story to tell about reconciliation and economic growth.
[caption id="attachment_13239" align="alignleft" width="661"]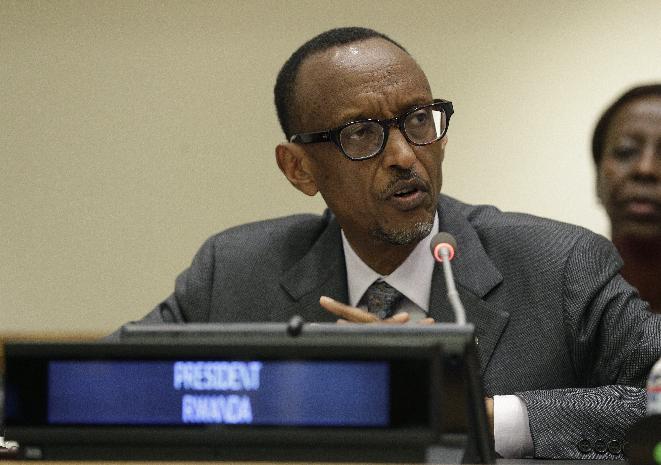 Rwandan President Paul Kagame addresses a High-level Summit on Strengthening International Peace Operations speaks during the 69th session of the United Nations General Assembly on September 26, 2014 at UN headquarters (AFP Photo/Andrew Gombert)[/caption] He warned though of the dangers of dependence on foreign aid and of the failings of international institutions, saying developing countries had to form closer regional links to increase stability.
Speaking at Chatham House, the Royal Institute of International Affairs in London, on Rwanda's role in an emerging Africa and an uncertain world, Kagame said states in which the West had heavily invested had been allowed to fail, shaking confidence in other countries.
"Rwanda is always in the spotlight because our tragic history became closely intertwined with the question of the international system itself," he said, referring to the 1994 genocide by Hutu extremists and the sluggish global response.
He said there could be an "endless blame game" about the past, but there was also a "positive side to the story" that was bringing Rwanda's recovery to wider attention.
"We are finding that our country's story means something positive to people beyond Rwanda. We are no longer just a country of genocide. Perhaps we even have something to offer as a nation to others," he said.
But while Rwanda now has the "trust" of financial markets, "we still have a long way to go compared to the goals we have set for ourselves," he added.
– Arrests outside –
Twenty years on from the genocide, Rwanda ranks 11th out of 52 countries in the 2014 Ibrahim Index of African Governance, coming second in terms of the overall business environment and gender equality.
However, it ranks 45th in terms of participation, and some rights groups say Rwanda is a democracy in name only where all dissent is crushed.
"It is sometimes said that Rwanda's economic and social achievements are somehow offset by a lack of democracy and the popular voice. The truth is exactly the opposite," Kagame insisted in his speech.
"What is commonly perceived as Rwanda's biggest weakness is actually its greatest strength. We would have got nowhere without robust mechanisms that enable many changes, based on popular participation."
Chatham House director Robin Niblett, chairing the session, noted how Kagame had deflected critical questions afterwards from the floor, particularly about rights and external criticism.
And when Niblett asked Kagame if he was happy with the Rwandan constitution, which limits presidents to two terms in office, he replied by saying he was content with many things in it but Rwandans were the "most important factor here and the ones I am most satisfied with".
Outside, around 100 pro-Kagame and 50 anti-Kagame demonstrators gathered, separated by a heavy police presence. Supporters waved placards reading: "We love Kagame", "Rwanda today: zero corruption" and "11 million Rwandans know the truth". Meanwhile anti-Kagame protesters had a blaring sound system, and placards reading: "We reject Kagame the killer", "Congo resources are for Congolese" and "Holocaust in Congo".
At one point, a hail of eggs was hurled at the building by the anti-Kagame camp, plastering the doorway and several invitees.
Police said five arrests were made, for suspected public order and criminal damage offences.
*Source
AFP/Yahoo
]]>