Renamo rejects Mozambique election result, African observers endorse vote
<![CDATA[By Pascal Fletcher and Manuel Mucari* [caption id="attachment_13050" align="alignleft" width="300"]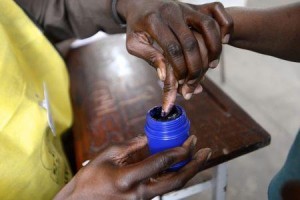 A voter's finger is marked after voting in the general election in Maputo October 15, 2014. REUTERS/Grant Lee Neuenburg[/caption]
MAPUTO (Reuters) – Mozambique's main opposition group Renamo on Friday rejected as fraudulent results showing the ruling Frelimo party had won national elections but African observers endorsed the vote as largely free and acceptable.
"We don't accept the results…the results should be annulled and new elections held," Renamo spokesman Antonio Muchanga told Reuters in Maputo.
Wednesday's vote had been marked by irregularities, such as ballot stuffing, he said. Provisional results released by election authorities show Frelimo and its candidate Filipe Nyusi, 55, headed for victory in the presidential and legislative elections. It was the fifth such vote since the end of the 1975-1992 civil war fought between Frelimo and Renamo following the end of Portuguese colonial rule. The results show Renamo contender Afonso Dhlakama, the former rebel chief who has fought Frelimo in the bush and at the ballot box for more than three decades, trailing Nyusi in second place. A third presidential contender, Daviz Simango of the Mozambique Democratic Movement, is placed well behind in third Muchanga said there had been too many cases of ballot papers already marked for Nyusi turning up outside polling stations and this made the vote unacceptable.
INSTABILITY FEARED AMID GAS RUSH
The elections are seen as crucial for Mozambique's stability as it prepares to reap revenues from large offshore gas deposits being developed by foreign investors. The opposition party's allegations of fraud contrasted with preliminary assessments given by observer missions from the African Union and the Southern African Development Community (SADC), which includes regional power South Africa. "Based on its observations, the SADC observer mission concluded that the 2014 presidential, legislative and provincial assembly elections in the Republic of Mozambique were generally peaceful, transparent, free, fair and credible," SADC said in a statement read in Maputo by South African Foreign Minister Maite Nkoana-Mashabane. In a similar initial report by its observers, the African Union also endorsed the elections as "largely peaceful and free from intimidation". A spokesman for Mozambique's national electoral commission said Renamo should direct any complaints it might have through legal channels set up to deal with them. Renamo parliament deputies had already accused police in the second city of Beira and in Nampula in the north of intimidating voters to influence the outcome of the vote in Frelimo's favour. Frelimo has rejected these allegations as "bad faith". Resource-rich but impoverished Mozambique is high on investor radar screens, with brisk annual economic growth rates of 8 percent fuelled by discoveries of coal and natural gas. [caption id="attachment_13051" align="alignright" width="300"]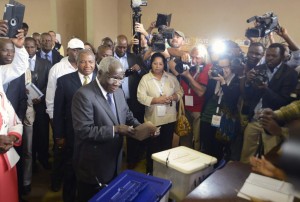 Presidential candidate Afonso Dhlakama of the Mozambican Resistance Movement (RENAMO) votes in Maputo October 15, 2014. Mozambicans voted on Wednesday in elections expected to return the ruling Frelimo party to power in one of Africa's fastest-growing economies, which is looking to escape years of poverty and conflict by tapping into its huge energy resources. REUTERS/Grant Lee Neuenburg[/caption] The new president will oversee the bringing into production of large-scale offshore natural gas and oil projects in the north already being developed by investors such as U.S. oil major Anadarko Petroleum Corp and Italy's Eni. When Dhlakama voted on Wednesday, he urged the electoral authorities to ensure that the outcome be credible and transparent "for the first time". He has lost every election to Frelimo over the last two decades, alleging fraud every time. In their campaigns, Renamo's Dhlakama and MDM's Simango attacked what they say is the stranglehold Frelimo has long maintained over political and economic power in Mozambique. In the two years before the vote, Dhlakama's armed Renamo partisans clashed sporadically with government troops and police and ambushed traffic on a north-south highway, triggering some concerns Mozambique could slide back into civil war.
The former guerrilla leader, who is 61, emerged from a bush hideout only last month to ratify a deal with outgoing Frelimo President Armando Guebuza reaffirming the 1992 peace pact. Guebuza is barred by the constitution from standing for a third term.
*Source
Reuters
]]>