President Jonathan recalls Keshi
President Goodluck Jonathan has ordered the immediate reinstatement of former Super Eagles coach, Stephen Okechukwu Keshi.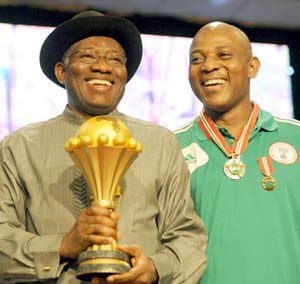 Keshi's contract with the Nigeria Football Federation was not renewed after the World Cup in Brazil. But in a twist of fate, Sports Minister and Chairman of the National Sports Commission, Tammy Danagogo invited the Afcon winning coach to return to the team and prosecute the first phase of the 2015 Africa Cup of Nations qualifiers against Congo, South Africa and Sudan.
The campaign has been a near disaster as the Eagles could only garner 4 points from a possible 12. Nigerians were enraged and called for the head of the coach. Keshi was subsequently asked to go by the new NFF board.
President Jonathan's order for the reinstatement of the embattled coach was not unexpected as there were reports of a strong lobby group comprising people from high places campaigning for the return of the former Hawks of Togo coach.
The former international said he was not angry against those who relieved him of his assignment but admitted he was ready to return as a sign of respect to Mr President.
"If the number one citizen of this country asked me to stay back I wouldn't want to think any other team because this is the team I captained for 14 years and have coached for some years too but sometimes you do have mixed feelings because of what is on ground".
Concerning the must win second leg tie of the 2015 African Cup of Nations (AFCON) qualifier against Congo, Keshi said there is nothing to worry about because he still has his team intact.
He however, complained complained that Nigerians don't seem to appreciate what he and his players were doing for the country.
*Source Vanguard