Platini, African confederation in spat over Ebola
By By GERALD IMRAY*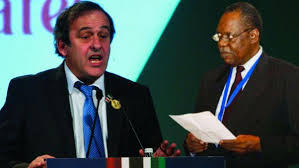 UEFA President Michel Platini became involved in a spat with the Confederation of African Football over Ebola on Wednesday, with the Frenchman demanding an apology from CAF for getting comments he made in a television interview wrong and "insulting" him.
The row revolves around a weekend interview where Platini was asked about next year's troubled African Cup of Nations and if the tournament should still be held in January and February despite the threat from the West African Ebola outbreak.
Morocco, the host nation, says it wants it postponed because of Ebola. CAF, the African Cup organizer, has insisted it should go ahead or it will find another country.
CAF issued a statement late Tuesday saying the European football head had interfered in its affairs by questioning in the interview its decision to go ahead with the African Cup.
In a strongly-worded letter to CAF President Issa Hayatou on Wednesday, Platini denied that and provided a transcript of the interview, where he said Morocco's Ebola concerns were valid but repeatedly stressed it was CAF's decision when to hold the cup.
"I now expect an immediate reaction of the statement in question, as well as a formal apology from the author of that statement," Platini wrote in his letter to Hayatou. "Otherwise, I will react accordingly."
Platini said CAF's criticism of him was "unfair, unwarranted and even insulting" and was based on "inaccurate information."
CAF's statement claiming its "sovereignty" was threatened by Platini rather underlines the pressure the African body is under within its own continent to postpone next year's Cup of Nations while Ebola still rages.
CAF used some of its statement on Platini to justify why Africa's top football tournament could still go ahead.
Morocco's government has insisted it will not host it on the current dates of Jan. 17-Feb. 8 because of the deadly virus, which has killed over 4,500 people in West Africa, almost all in the three worst-affected countries of Liberia, Sierra Leone and Guinea. The outbreak is not yet contained.
Scrambling to find a backup plan, CAF has approached seven countries to see if they would be willing to replace Morocco.
However, no one may want the tournament. At least two of those countries have said they are unwilling, partly because of Ebola and the dangers associated with allowing large numbers of fans and others to travel from West Africa for the matches. South Africa's sports ministry said last week the country would not be willing to host and Sudan ruled itself out on Wednesday.
"Hosting the African Cup of Nations means that huge numbers of national teams and their fans from African countries will enter our country and stay for the whole championship," said Abdullah Al Fadel, an official with Sudan's health ministry, adding there was a "danger of spreading the virus."
*Source AP/Yahoo