Pioneer American ambassadors and their reports on Obote, Amin
<![CDATA[By Henry Lubega*
[caption id="attachment_13324" align="alignleft" width="595"]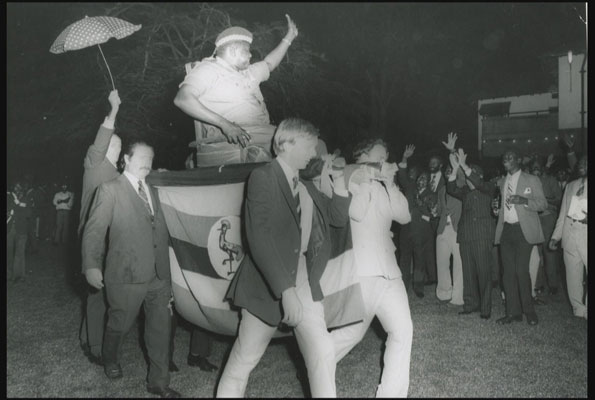 White diplomats carry Ugandan president Idi Amin in Kampala in the 1970s. Ambassador Robert V. Keeley says he became the courier of the several telegrams by Amin to US president Nixon. Right is former president Milton Obote. FILE PHOTO[/caption] Have you ever wondered why the American Embassy in Uganda has CD02 as its registration plate? Besides Britain, America was the second foreign country to pick interest in Uganda. Different American ambassadors have been accredited to Uganda; during their tour of duty, they had different impressions of the political, social and economic situation in Uganda. AS the wave of independence rocked the African boat, America, having not been a coloniser, wanted to have a presence in the new independent Africa. In 1957, they established their presence in Uganda with a consul office which was upgraded to embassy status in 1962 when Uganda became independent. Stephen Low was the Deputy Chief of Mission (DCM), deputising Peter Hopper. Low's first observation of Uganda was a mixture of both scepticism and optimism. "It is a fascinating country, distinguished from Tanzania and Kenya by the fact that non-natives were not permitted to own land. As a result, there are fewer racial problems than in the other two countries. On the other hand, in many ways, it is less developed than the other two – wealthier because of coffee, but less developed," he said, adding that having come before independence, the British seemed not happy to have another power in their courtyard.
Strained US-British relations "Relations between us and the British were sometimes a little strained. At one point, the British Chief Secretary, second to the Governor, called me to his office in Entebbe and said he understood that I had been quoted as being in favour of early Ugandan independence. I remember him shaking a bony finger in my face saying, 'Young man, this country is not going to be independent for at least 25 years,' and added, 'We are not going to make any concessions by bringing Ugandans into government until they fully merit it." Despite that, Low says there were good social interracial interactions. "There was a fair amount of interracial socialising, we were having square dances at the house which allowed us to make some good friends among both the African and the British community," he said. According to Low, the Americans spotted talented and bright Ugandans as soon as they set foot in Uganda and ensured these people got chance to better training. "We began our exchange programme, sending some of them to the United States. I picked Milton Obote and sent him to the United States as one of the first recipients of the 'Leader Grants' from Uganda," the DCM said. From Low's perspective, the British did not prepare Ugandans for leadership towards independence. "Sir Andrew Cohen was a very political Labourite, but his successor governor Crawford, was a little old-fashioned and seemed to slow things down as much as possible. They really didn't do nearly enough to prepare the Africans for the responsibilities they were going to have to assume very soon. That was unfortunate," he said.
Robert V. Keeley Ambassador Robert V. Keeley was the Deputy Head of Mission from 1971 until 1973, soon after the 1971 coup. "My bad luck was that in January 1971 Idi Amin took over Uganda. I picked up The New York Times and read that some guy named Idi Amin had become the President of Uganda. I was briefed that tribalism, a major problem throughout African, was probably more severe and savage in Uganda than anywhere else, including Nigeria," he said. According to Ambassador Keeley, the British, the Americans and the Israelis welcomed Amin's coup because they were not happy with some of Obote's policies. "The British, the Americans, and the Israelis were, if not delirious, at least quite happy because they were very unhappy with Milton Obote; the major players in Uganda were deploring the tribal favouritism and persecution—that was being practiced by Obote. He had established more or less a one party system; he had dictated an increasingly leftist economic policy, with socialism and nationalisation of private property. Amin's coup was initially seen as a welcomed change." The new change was, however, a blow to the plans of establishing a Jewish settlement in Uganda. By 1971, there were many Jews working in Uganda with Israel construction companies, and the idea of setting up a settlement had been mooted earlier on. "Many African countries like Arab states had broken their relations with Israel. Uganda had a different attitude, it was a place the Israelis were more welcomed. At one point; some elements of the Zionist movement had considered the idea of establishing a homeland for the Jews in Uganda. It was seriously considered also by the British, but was later rejected. There may have been a sentimental connection of some kind for the Israelis with Uganda, which might have been their home if matters had worked out differently from the way they did," he said. Surprisingly, much as the Americans were happy with the coup, they never had many interests in Uganda, according to Low. "We didn't have major interests in Uganda; we were still playing second fiddle to the British. We were major purchasers of coffee from there, and had a large number of American missionaries working there and as conditions deteriorated; their well-being emerged as a more serious interest on our part. But we didn't have any major interests," he said. Keeley says Amin was not recognising many of these missionaries from different religious groups. "Amin finally targeted the missionaries for his failures. Many represented evangelical churches with odd names that meant nothing to Amin. Many missionaries are difficult to deal with. They believe they are doing 'God's work' and couldn't worry about temporal matters," Low said. Ambassador Keeley became the courier of the several telegrams by Amin to US president Nixon during the Watergate scandal. "I had encounters with Amin every two weeks because of his penchant for sending nasty messages to president Nixon. I would duly send them with my comments. I would then receive an instruction to call on Amin to complain. I would then get an appointment and before I could complain about his last message, he would give me a new one, worse than the previous one. I would take it, because that was the only thing I could do, and then complain about the previous letter." At the end of January, 1973, after the Vietnam ceasefire agreement, messages from world leaders poured into the White House congratulating Nixon. One message deploring Kissinger's efforts came from Idi Amin. He told Nixon that it served him right to be defeated by 'those small, yellow people who carried spears against your mighty military machine'. "Sometimes Amin would change his tune and send Nixon a 'Get Well' message; once he bid him 'a speedy recovery from Watergate,' which was about the worst message he could have sent– Nixon didn't need to be reminded of that problem. When pressure on Nixon to resign increased, Amin sent him a message saying he shouldn't resign, he should show his bravery and courage by staring down his opponents. He wrote that message while I was outside his office waiting to see him," Keeley said. The last straw in the America-Uganda relations came in 1973 with the simmering war in the Middle East, when he threatened to deal with the Americans if they got involved on the side of the Israelis. The State Department took the matter very seriously; the last thing they wanted was to have some of its diplomats put behind barbed wire by Idi Amin. "When the war started, Amin kicked out our six Marine security guards: calling them American 'military force' in Uganda, giving them 24 hours to get out. This was the last straw, we were ordered to close the embassy and leave the country. I was literally given 48 hours to do that," said Keeley.
Thomas P. Melady The time Keeley was the Deputy Chief of Mission, Thomas P. Melady was the ambassador but he found himself back in America earlier than anticipated, leaving Keeley to hold the fort. But the times Melady was in Uganda, he had his own encounters with Amin. "It took me several days to meet Amin at the Command House, where he went into a long tirade about the Jews, then grabbed me by the necktie, and asked, 'Mr Ambassador, how many Jews do you have on your staff?' I said, 'Your Excellency, my government doesn't allow me to reveal the racial, ethnic, of my staff people.' He said, 'I know you have CIA on your staff. We don't like Jews, we don't like CIA," said Melady. "In February 1973, the situation got worse and there were worse things, and there was some fear about my own security. The American ambassador to Sudan, Cleo Noel, was kidnapped by the Black September group who were headquartered in Uganda as Amin protected them." When ambassador Melady left Uganda, he and his wife co-authored a book Idi Amin Dada: Hitler in Africa. When it was reviewed by the BBC, Amin threatened to go for the authors wherever they may be. After almost seven years without a mission in Kampala, the American embassy was reopened in 1979 with the full ambassador, Gordon R. Beyer, coming back in 1980. Having come during the times of the military commission, he recorded having asked the American government to help towards the 1980 election by providing the ballot boxes.
Olcott H. Deming
Olcott H. Deming was the first American Ambassador to Uganda having come to Uganda in 1962 as a Counsel General and became a full ambassador in 1963. In his dispatches, he referred to Obote as a brilliant fellow who was faced with tribal problems. "He is from the Lango tribe in the north, while the King of Buganda, Frederick Mutesa II, also the president, is from the south. When I presented my credentials, I presented them to the President not to the Prime Minister; this situation caused strong tension from the beginning," he said. According to Deming, less than two years after independence, the relationship between Obote and the Baganda became strained. "Relations with the Kabaka and the people deteriorated badly and a struggle for power began. Obote had a deep hatred for the Buganda people who had been favoured by the British during the protectorate period. The people of Buganda were withholding their cooperation from the central government, showing their loyalty to the Kabaka, this infuriated Obote," Deming said. Deming observed that Obote was determined to get Uganda out of the East African Federation against America's wish. "When I told him of America's position, he said: 'Is your government trying to bribe me?' I said, 'No, we are talking about steps which we think would be helpful to all the three countries.' Obote replied, 'I am not interested in strengthening the federation, before long there will be only one representative at the United Nations for the East African Federation; and he will not come from Uganda." After the 1966 crisis, Deming's tour of duty expired and he left Uganda, which he said was worse off than when he had found it due to political instability.
Profile
Scott DeLisi, Current US Ambassador to Uganda
Background: Ambassador Scott DeLisi presented his credentials on July 18, 2012, as the US Ambassador to Uganda. Education. Ambassador DeLisi is a graduate of the University of Minnesota, earned the degree of Juris Doctor from the University of Minnesota Law School, and is an alumnus of the Hubert H Humphrey School of Public Affairs. Work experience. He is a career member of the Senior Foreign Service with 33 years of service as a diplomat. He served as Ambassador to the Federal Democratic Republic of Nepal, from March 2010 to July 2012, and previously as Ambassador to the State of Eritrea and as Deputy Chief of Mission of the American Embassy in Gaborone, Botswana. Ambassador DeLisi has also served as the Director of Career Development and Assignments in the State Department's Bureau of Human Resources and as the Director for Entry-Level Programs in the same bureau. *Source 
monitor.co.ug
]]>