Nigeria's game of thrones
<![CDATA[By Tolu Ogunlesi in Lagos and Patrick Smith* [caption id="attachment_13434" align="alignleft" width="710"]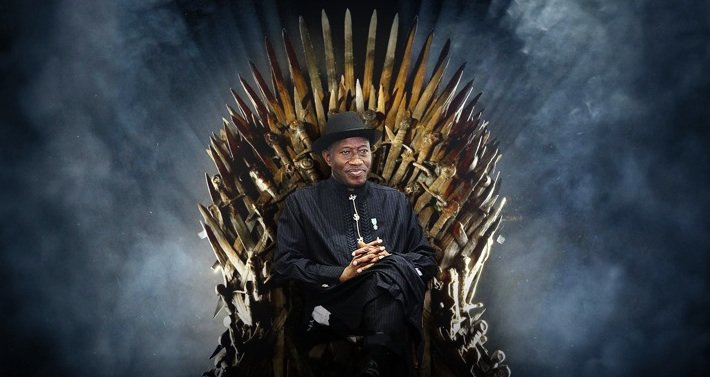 Photo© Afolabi Sotunde/Reuters/Photo Montage: Christian Kasongo for TAR[/caption] Veteran politicians regard national elections as monumental, epoch-changing events, often reaching into history for parallels such as power struggles in the Yoruba kingdoms or Shakespeare's history plays. This time they are not exaggerating, judging by the build up to the Nigerian elections due next February. Against the backdrop of Nigeria's worst conflict since the civil war in the 1960s, billions of Naira are sluicing through the political system, thousands of activists are on the street and the two main parties are beset by high level intrigues. Much will depend on the election outcome and how it is achieved. Will it reaffirm support for national unity and pluralism or will it fire up divisions and deepen regional rivalries? The poll will resonate far beyond Nigeria's borders. Nigeria is the newly crowned largest economy in Africa, so what happens there matters more than ever. Until now there has been a strange disconnect between commercial opportunities and political realities. Suddenly, companies planning to invest billions in electric power, retail chains and food production are looking more critically at developments. "It's good that people are trying to understand our politics better," said one of President Goodluck Jonathan's political allies attending the US-Africa Leaders' summit in Washington DC in August. "They can at least see the complexities. He [Jonathan] can't snap his fingers and make things happen. There is this myth of the all-powerful president sitting in Aso Rock, and the trouble is everyone believes it until you work here," he explained. Power at the centre "In fact, some of President Jonathan's greatest successes have been getting the government out of the way," he added, pointing to the US investors' interest in Nigerian business. "We now have a private electricity industry with an incentive to deliver, we have our own major private oil companies and we want to see more of that in agriculture and manufacturing. We would make more progress if politicians and officials were less fixated on power at the centre." The focus on power at the centre, however, is relentless and more fiercely partisan. In February 2015, Nigerians are to elect a president, 369 federal legislators, and governors and legislators in at least 29 of the 36 states. For the first time since the return of civilian rule in 1999, the ruling People's Democratic Party (PDP) faces a national opposition party, the All Progressives Congress (APC), formed in 2013 when the four largest opposition parties merged. Since the APC's founding, political sentiment has been yo-yoing. Initially, the opposition coalition seemed to be making all the right calls: its ranks were quickly swelled by leading PDP members such as former vice-president Atiku Abubakar and five state governors including those of Kano, Nigeria's second most populous state, and oil-rich Rivers State – both key strongholds for the ruling party. Until the beginning of this year, the PDP and the government were on the back foot, consumed by internal divisions and failing to respond to heightening claims of grand corruption in the oil industry and worsening insurgency in the north. But, under Adamu Mu'azu, its new national chairman, the PDP has fought back aggressively this year, hitting at the opposition's weaknesses and using its power of incumbency to the hilt. "This will be the most expensive election ever in Nigeria," says Nasir el-Rufai, a former minister and leading stalwart of the APC. "The PDP is offering billions to us to defect. It's about misspending the people's money, not policy or strategy." Next year's contest still looks more evenly matched – and more unpredictable – than any of the past five national elections. The PDP has solid support in the oil-rich south-south states and the south-east. The APC has strong backing in the south-west and the north-west. Loyalties are fluid in the Middle Belt. Some doubt elections can be held in the north-east, where Boko Haram insurgents continue to launch attacks and claim to control territory. Godswill Akpabio, governor of Akwa Ibom, told The Africa Report that there was no question of postponing national elections: "This terrorism is an international crisis. We have seen it here before and we have dealt with it. We won't stop elections. We are organising state elections in Adamawa in October. The terrorists will have no veto." Yet terrorism and the threat of violence have ramped up the political rhetoric on both sides. APC leaders accuse Jonathan's government of incompetence and a disregard for northerners in its handling of the Boko Haram Islamist insurgency. "I have heard one of the president's advisers say that the insurgency is seen in Abuja as a fight among northerners, not a concern for the government," says El-Rufai. "The question they have to answer is how do they let a ragtag insurgency defeat the biggest army in Africa – 100,000 strong – that is why we hear about so many conspiracy theories." Attacked in london

In an extraordinary meeting at the House of Commons in London on 8 September, El-Rufai and Lai Mohammed, the APC's national publicity secretary, called on the Jonathan government to investigate claims that former chief of army staff Lieutenant General Azubuike Ihejirika and senator Ali Modu Sheriff had been financing Boko Haram. Dr Stephen Davis, an Australian security consultant who worked with major oil companies and regional governments, made those claims in early September. "If the government is unwilling to investigate and, if necessary, prosecute these people, we want these cases to be taken to the International Criminal Court at the Hague," Lai Mohammed told the British members of parliament. "In view of the fact that the alleged Boko Haram sponsors are either members of the ruling party or friends of the president, it is clear the PDP-led federal government is unwilling and unable to try them." Mohammed went on to accuse the Jonathan government and the PDP of exploiting the insurgency to win kudos from attending international security summits, boosting the security budget to $7bn this year and selectively declaring emergency laws in APC- ruled states. Some of the ferocity of this attack seems to have been triggered by the government's attempts to label the APC as a party of Islamists and Boko Haram sympathisers. Indeed, at the Westminster meeting one Nigerian speaker accused the APC of being dominated by Muslims. Another suggested that it had some responsibility, direct or indirect, for Boko Haram's jihadist insurgency. Certainly, the APC's two main national figures – General (retired) Muhammadu Buhari and Bola Tinubu – are Muslim, as are 11 of its 14 state governors. Buhari, from the northern state of Katsina, has a reputation in the south for sympathies towards fundamentalism. This is des- pite his choice of a Christian pastor for his running mate in the 2011 elections. A shot at Hillary Clinton A report by American academic Jacob Zenn for the Bow Group, a lobby group within the ruling Conservative Party, echoed those views, describing the APC as "an Islamist-leaning political party founded in 2013 for the purpose of challenging President Jonathan in Nigeria's 2015 presidential elections." The report heavily criticised US presidential hopeful Hillary Clinton, criticising her failure to put Boko Haram on the US terrorist list. Zenn concluded that "a US government that continues to be led by the Democratic Party would welcome the rise of the APC in Nigeria – as it initially did with Egypt's Muslim Brotherhood." Outgoing Ekiti State governor Kayode Fayemi, a Catholic, dismissed such labels as "grotesque" in an interview with The Africa Report in July. "I do not believe APC is a religious party. I am sufficiently senior in APC to know if we are running a religious organisation. As a matter of fact, some of us are quite resentful of the idea of bringing religion at all into the politics of nationhood and development," he said. After losing a state election and with its loyalists being targeted for impeachment, the APC has lost momentum. As it struggles to hold together its component parts, it has to face a bigger question: Is it really so different from the ruling party? Many of the APC's senior figures seem united by little more than a desire to unseat Jonathan. The PDP, also an uneasy coalition of rival interests, benefits from the centripetal force of presidential power. As long as Jonathan can secure the presidential nomination and pacify the party's sceptics in the north, he can rely on a formidable national organisation and billions of naira of patronage. The PDP has turned the tables on its opponents. Apart from winning the Ekiti governorship election in June, which gave it a foothold in the APC-dominated south-west, the PDP has benefited from a string of high-level defections.
A recent polling found that 51% survey by firm NOI of people in Nigeria reported improved domestic electricity supply
Jonathan's team has also been hyping improvements made to electricity provision over the past few months. A recent survey by the Gallup-affiliated NOI Polls found that 51% of respondents "experienced an improved state of power supply to their households".
Candidates for the throne
Both parties have to choose their presidential candidates and quieten the malcontents. An advocacy group with backing from powerful figures within the government has been holding large rallies canvassing signatures urging Jonathan to run for a second term. Governor Akpabio has no doubts: "President Jonathan will run. The people want him to run and he will win next February." The APC is more taciturn about its favourites for the presidential ticket, but it is likely to field a northerner. Frontrunners include Buhari, Abubakar, Kano State governor Rabiu Kwankwaso and former Kwara State governor Bukola Saraki. Its handling of the primaries will be critical for the cohesion of the opposition coalition. "There's an assumption we are going to have a strong [APC] candidate. But that will only be valid in the event of successful primaries that do not lead to a walkout by those who lose," says Jibrin Ibrahim, director of the Abuja-based Centre for Democracy and Development. For Omano Edigheji, a Nigerian political economist and consultant for TrustAfrica, there are grave risks should the election be reduced to a north-south contest: "If President Jonathan wins, it'll be more difficult to quell Boko Haram. If a northern candidate wins the elections, the Niger Delta [militants] are likely to take up arms again." For Edigheji, the best approach at this point would be to ratchet down the regional rivalries and agree on "an inclusive government" rather than the winner-takes-all model, giving strong executive powers to the presidency in Abuja and the 36 state governors. But as election fever starts to envelop the country, power-sharing looks even less likely than a rancour-free vote.● *Source 
theafricareport
]]>