Nigeria: Nollywood to Release Film "October 1" for Nigeria's Anniversary
<![CDATA[Abuja - The Nigerian film industry, 'Nollywood', on Monday said it would release "a must watch film", titled titled "October 1", a dark psychological thriller film for Nigeria's independence anniversary.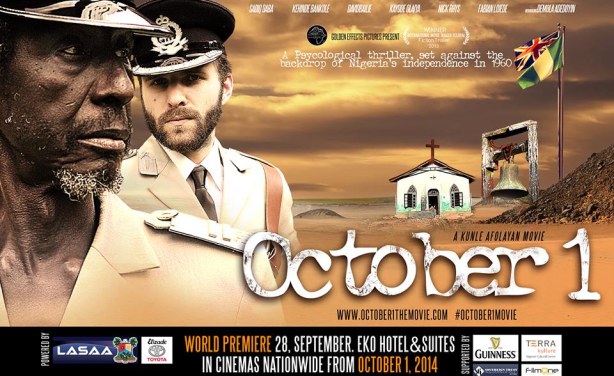 The movie "October 1", is slated to be released and featured in Nigerian theatres, cinemas and viewing locations from Oct. 1, which is Nigeria's 54th anniversary. The film "October 1", premiered on Sept. 28, was written by Tunde Babalola, produced and directed by Kunle Afolayan, talks about Nigeria and the verge of independence from British colonial rule. "This masterpiece, which was directed by Mr Kunle Afolayan, was reportedly made with over N200 million and was shot in Lagos and Ondo states for over forty days, after four months on pre-production. "Mr Afolayan believes strongly that there is so much potential for this kind of film and that people will start believing in indigenous film projects after watching 'October 1'. "One thing is crystal clear; Nigerians and non-Nigerians alike are waiting enthusiastically for the release of October 1. "It will swarm the cinemas to watch the movie that is poised to leave a long lasting positive impression on all who see it," a statement on its website; en.wikipedia.org/wiki/October _1_(film) said. "Afolayan, who was also an award winner of African Magic Viewer Choice Award and popular filmmaker, pointed out that 'October 1' is not just an entertainment film, but also informative. "For the older generation, especially those who were part of independence, they will be able to see themselves in this film. "For the younger generation it's a platform for many of them who don't know the story of Nigeria.
"We want the younger generation to know where we are coming from and the older generation to see if we are moving in the right direction," it explained. The statement also said: "The film had received sponsorships from Lagos State Government, Toyota, Elizade Motors and Sovereign Trust Insurance. "The producer though didn't want to do massive budget projects at the time with the script original name 'dust' because it was acted on dusty ground. "He knew he had no choice, as he wanted to interpret the writer's vision adequately because it is a 'national film with a universal appeal'." The News Agency of Nigeria (NAN) reports that some key Nollywood actors made up the cast crew of the film 'October1'. Some of the actors are Kanayo O. Kanayo, who acted as Okafor; Bimbo Manuel, as Canon Kuforiji; Kehinde Bankole as Miss Tawa, and Kayode Aderupoko as Inspector Afonja. Others include the famous veteran actor and broadcaster, Sadiq Daba, who play lead character Inspector DanWaziri, while Deola Sagoe of Haute Couteur plays the legendary Funmilayo Ransom Kuti, among others. Kunle Afolayan, who was not left out in the cast like in his previous films, featured in 'October 1' as a farmer with the name Agbekoya. (NAN) *Source 
allafrica.com
]]>