Exclusive:Chad says Nigeria deal with Boko Haram to free girls still on
<![CDATA[By Emma Farge and Moumine Ngarmbassa*
N'DJAMENA (Reuters) – Chad said it believed Nigeria's secret deal with Boko Haram Islamists to free more than 200 kidnapped Nigerian schoolgirls would go ahead despite the breakdown of a truce, and revealed that the key to the agreement was a prisoner swap.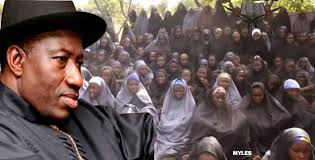 The accord mediated by Chad for the release of the girls seized from Chibok in northeast Nigeria in April has been called into question since it was announced by the Nigerian military last week. A ceasefire supposed to be part of the agreement has been broken, and a further 25 girls were abducted this week.
    Moussa Mahamat Dago, the No. 2 official at Chad's foreign ministry, said it appeared some Boko Haram factions were refusing to abide by the deal, brokered by the Chadian foreign minister with two representatives of the Islamist group and two Nigerian negotiators at meetings in Chad on Sept. 14 and 30. "Quite possibly those who are fighting are dissidents that even they (Boko Haram) aren't able to control. So far, there is no reason for others to doubt this agreement," Dago told Reuters late on Thursday in the Chadian capital N'Djamena. "What I can say is that those that negotiated with the Nigerian government did so in good faith … We are waiting for the next phase which is the release of the girls."
    Dago said the two sides agreed verbally to a series of points summarized in a document he had seen, including the release of the schoolgirls and of jailed Boko Haram fighters.
The Nigerian insurgent group, which has fought a bloody five-year revolt mostly in the northeast, has said it wants to carve out an Islamist enclave in the religiously-mixed nation, Africa's top oil producer and biggest economy.
"The starting condition of Boko Haram was the liberation of some of their members … That is the compensation," Dago said, adding that the specifics on the names and number of Boko Haram fighters still to be released had not yet been agreed. Dago said he still expected the girls to be freed, without giving a time frame. The Boko Haram negotiators were no longer in Chad although they had agreed to return in October after freeing the girls to hold more talks, he added. The first stage of the agreement made was the release of a group of 27 Chinese and Cameroonian hostages by Boko Haram two weeks ago in northern Cameroon, Dago said. [ID:nnL6N0S603O] "We remain optimistic. The two sides agreed to find a negotiated solution and to show their good faith they already freed some hostages and announced a ceasefire," he said. Dago admitted it would be embarrassing for Chadian President Idriss Deby's government, which has taken a leading role in security and diplomacy in Africa's turbulent Sahel region in recent years, if the girls were not freed. "It would be very disappointing. We are engaged in this now. If this negotiation doesn't succeed that would be damaging for Chad's facilitating role," he said. COMING NIGERIA ELECTION [caption id="attachment_13284" align="alignright" width="450"]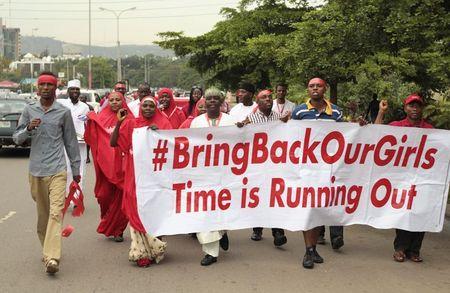 Campaigners from "#Bring Back Our Girls" march during a rally calling for the release of the Abuja school girls who were abducted by Boko Haram militants, in Abuja October 17, 2014. REUTERS/Afolabi Sotunde[/caption] The release of the girls would be a boost for Nigerian President Goodluck Jonathan, who faces an election in February and has been pilloried at home and abroad for his slow response to the kidnapping and his inability to quell the insurgency. Boko Haram has not yet commented on the ceasefire. Its fighters have killed thousands of people in raids mostly in Nigeria's northeast but have also claimed sporadic bomb attacks in the federal capital Abuja and the commercial hub Lagos. Dago said he was confident that the negotiators had the authority to speak on behalf of Boko Haram's mercurial and reclusive leader Abubakar Shekau, whom Nigeria's military has more than once claimed to have killed. "They are envoys who answer to their leader Shekau who himself confirmed that these emissaries spoke on his behalf. That was confirmed in writing to the Chadian government," he said, confirming local press reports that the negotiators were named Cheikh Goni Hassane and Cheikh Boukar Umarou.
    Chad does not know where the abducted Chibok girls are being held, but Dago said it was likely they were outside of Chad and spread out over a wide area.
    The Chinese hostages freed earlier under the agreement were found scattered across northern Cameroon, he said. "They (Boko Haram) gave us guarantees that the girls are well but we don't know physically where they are," he said.
    "But they have certainly dispersed them like the Chinese hostages, who were spread out over a large area."
    The two parties planned to meet again for a third time in Chad after the release of the schoolgirls to draft a roadmap to tackle more fundamental issues, Dago said.
"For the next stage of negotiations, the girls need to be freed. We cannot go into details as long as this question remains and it is a requirement of Chad that the girls are released before we start the next stage of talks," he said.
*Source
Reuters/Yahoo
]]>