Ebola crisis: Sierra Leone revamps response team
<![CDATA[
Sierra Leone President Ernest Bai Koroma has announced a major shake-up of the body in charge of fighting the Ebola outbreak in the country.
[caption id="attachment_13066" align="alignleft" width="624"]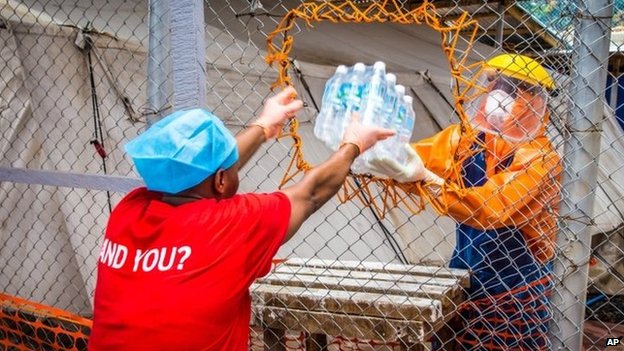 People are being kept in isolation at Ebola treatment centres in Sierra Leone[/caption] He said his defence minister would head a new national response centre and report directly to him. The previous team was headed by the health minister. Mr Koroma said people were dying and quick decisions had to be taken. The latest Ebola outbreak has killed about 1,200 people in Sierra Leone, and more than 4,500 across West Africa. In the worst-affected countries – Liberia, Guinea and Sierra Leone – 9,191 people have been found to have the virus, which kills 70% of those infected, according to the latest WHO figures. Mr Koroma's office said Sierra Leone's new National Ebola Response Centre was replacing the previous body – the National Operations Centre – "with immediate effect". The statement said the new centre would be headed by Defence Minister Paolo Conteh, and would have full powers to combat the disease and ensure a more effective use of aid. The latest crisis in West Africa is the worst-ever Ebola outbreak. The virus was first discovered in the Democratic Republic of Congo in 1976. It spreads between humans by direct contact with infected blood, bodily fluids or organs, or indirectly through contact with contaminated environments. International donors have given almost $400m (£250m) to UN agencies and aid organisations, following an appeal launched in September for $988m.
On Friday, a damning internal report emerged from the UN's health agency, the World Health Organization (WHO). It found that the organisation had failed to respond in time to a "perfect storm". The
report seen by AP
states: "Nearly everyone involved in the outbreak response failed to see some fairly plain writing on the wall. A perfect storm was brewing, ready to burst open in full force." It says that experts should have realised that traditional methods of containing infectious disease would not work in a region with porous borders and poor health systems. Issues highlighted by
unnamed WHO sources who spoke to Bloomberg news agency
include
Delays in WHO experts in the field sending reports to headquarters in Geneva
Bureaucratic hurdles preventing $500,000 (£311,000) reaching the response effort in Guinea
Virus contact tracers (tasked with identifying people who may have come into contact with sufferers) refusing to work out of concern they would not get paid
[caption id="attachment_13067" align="alignright" width="624"]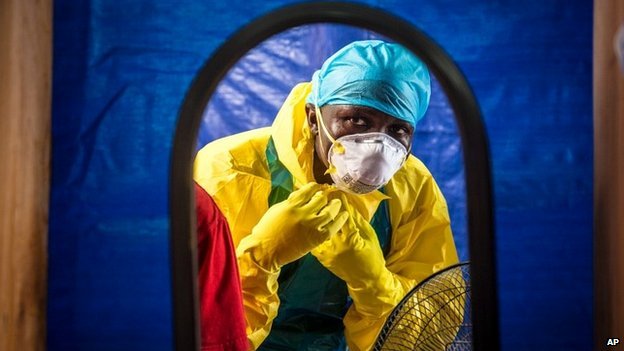 A medical worker dons protective gear before entering an Ebola treatment centre in Freetown, Sierra Leone – 16 October 2014
The World Health Organization is ramping up efforts to stop Ebola from spreading elsewhere in Africa[/caption] The WHO said the document seen by AP was incomplete and had not been checked. A full analysis of its actions would only be completed once the outbreak was under control, it added. The UN's special envoy for Ebola, David Nabarro, told the BBC that plans were on course to provide 4,000 beds for Ebola patients by next month, compared with 300 at the end of August. "We are putting in place the foundations of a very powerful response," he said, in response to criticism of the UN's work.
How not to catch Ebola
:
Avoid direct contact with sick patients as the virus is spread through contaminated body fluids
Wear goggles to protect eyes
Clothing and clinical waste should be incinerated and any medical equipment that needs to be kept should be decontaminated
People who recover from Ebola should abstain from sex or use condoms for three months
Protective Ebola suit

Surgical cap

The cap forms part of a protective hood covering the head and neck. It offers medical workers an added layer of protection, ensuring that they cannot touch any part of their face whilst in the treatment centre.

Goggles

Goggles, or eye visors, are used to provide cover to the eyes, protecting them from splashes. The goggles are sprayed with an anti-fogging solution before being worn.

Medical mask

Covers the mouth to protect from sprays of blood or body fluids from patients. When wearing a respirator, the medical worker must tear this outer mask to allow the respirator through.

Respirator

A respirator is worn to protect the wearer from a patient's coughs. According to guidelines from the medical charity Medecins Sans Frontieres (MSF), the respirator should be put on second, right after donning the overalls.

Medical Scrubs

A surgical scrub suit, durable hospital clothing that absorbs liquid and is easily cleaned, is worn as a baselayer underneath the overalls. It is normally tucked into rubber boots to ensure no skin is exposed.

Overalls

The overalls are placed on top of the scrubs. These suits are similar to hazardous material (hazmat) suits worn in toxic environments. The team member supervising the process should check that the equipment is not damaged.

Double gloves

A minimum two sets of gloves are required, covering the suit cuff. When putting on the gloves, care must be taken to ensure that no skin is exposed and that they are worn in such a way that any fluid on the sleeve will run off the suit and glove. Medical workers must change gloves between patients, performing thorough hand hygiene before donning a new pair. Heavy duty gloves are used whenever workers need to handle infectious waste.

Apron

A waterproof apron is placed on top of the overalls as a final layer of protective clothing.

Boots

Ebola health workers typically wear rubber boots, with the scrubs tucked into the footwear. If boots are unavailable, workers must wear closed, puncture and fluid-resistant shoes. *Source

BBC
]]>