Dozens released Ebola-free from Sierra Leone site
<![CDATA[By KABBA KARGBO and CLARENCE ROY-MACAULAY*
FREETOWN, Sierra Leone (AP) — Dozens of Ebola survivors have been discharged from a treatment center near Sierra Leone's capital and told they were virus-free, as police and residents clashed in other areas of the West African country.
Assistant inspector police general Karrow Kamara said Wednesday a curfew had been imposed in the eastern diamond-rich Kono district after protests [caption id="attachment_13219" align="alignleft" width="300"]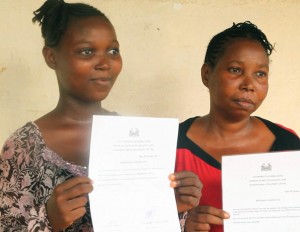 In this grab from video provided by Associated Press Television on Wednesday, Oct. 22, 2014, Ebola survivors Hawanatu Turay, left and an unidentified woman, display their certificates, after being given the all clear, at a treatment centre at Hastings, near Freetown, Sierra Leone. Dozens of Ebola survivors were discharged from a treatment center near Sierra Leone's capital on Wednesday and told they were virus-free. The third group released from the Hastings Treatment center, which included 45 patients, were also issued with health certificates they proudly held up. (AP Photo/Associated Press Television)[/caption]
Tuesday. Police fired tear gas to disperse crowds who had gathered with sticks and machetes in support of an opposition figure who wanted to stop health officials from taking blood samples from his mother. Kamara said he was traveling to the area to get more information.
At the Hastings Treatment center near Freetown on Tuesday, 45 patients were issued with health certificates claiming they were Ebola-free, and proudly held them up as they were released.
Hawanatu Turay, 14, said she was happy to be feeling healthy again. "I feel good because nothing hurts me anymore and I am feeling fine, I can do anything I want to do. I am happy, I can eat fine, my stomach hurts no more, my head aches no more and also my neck, nothing hurts and I have no more pains," Turay said. She is among only 130 patients who have been treated and released from the facility, which is run by Sierra Leone doctors and nurses and started operating on Sept. 19.
Such releases are glimmers of hope in an outbreak that has infected some 9,900 people and killed more than 4,800 in the hardest hit countries in West Africa — Sierra Leone, Liberia and Guinea.
Dr. Sankoh, a lieutenant from the Sierra Leone Army, said the release of the patients is a clear indication that the treatment center is helping.
"This is a clear manifestation that we cure a good number of Ebola patients in this center," he said. He did not give another name. Many patients come in unstable, and some unconscious, he said.
"We are actually doing a good job here, we discharge, we treat patients and also do follow up treatment, not only treating them, but we also make sure that they have their full dose of combinations that they need," he said. That follow up and treatment is why, he said, they recover in large numbers and quickly at the center.
[caption id="attachment_13220" align="alignright" width="300"]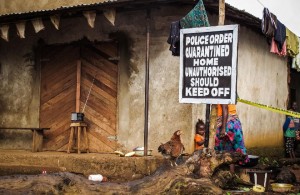 A child, center, stands next to a signboard reading 'Police order quarantined home unauthorised should keep off' as a family home is placed under quarantine due to the Ebola virus in Port Loko, Sierra Leone, Wednesday, Oct. 22, 2014. U.S. authorities said Wednesday that everyone traveling into the U.S. from Ebola-stricken nations will be monitored for symptoms for 21 days. That includes returning American aid workers, federal health employees and journalists, as well as West African travelers. The program will start Monday in six states that represent 70 percent of people arriving from Liberia, Sierra Leone and New Guinea, said the Centers for Disease Control and Prevention. (AP Photo/ Michael Duff)[/caption]
"Some people just came in here about a week ago and they have been discharged today," he said.
British International Development Secretary Justine Greening noted that training is key for health care workers who are risking their lives. "One of the worst aspects of what's happened here in Sierra Leone is a breakdown of the health care system. We've seen health care workers really on the front line and also being many of the people who have lost their lives," Greening said Tuesday while visiting a U.K.-funded Ebola treatment and training center. More than 400 health workers have contracted the disease in West Africa.
African Union chief Nkosazana Dlamini-Zuma will travel to Guinea, Sierra Leone and Liberia "to assess the situation first hand", her spokesman said in a statement Wednesday.
She arrived in the Ghanaian capital Accra on Wednesday, the base of the United Nations Mission on Ebola Emergency Response, and is expected to travel on to Liberia on Thursday.
*Source
AP/Yahoo
]]>