Cynicism dies hard in Ebola-hit Liberian slum
<![CDATA[By Marc Bastian*
Monrovia (AFP) – In the narrow, gloomy alleyways of one of west Africa's largest slums, Liberian teenagers explain the dangers of Ebola to their neighbours — but the message is falling on deaf ears.
[caption id="attachment_12643" align="alignleft" width="960"]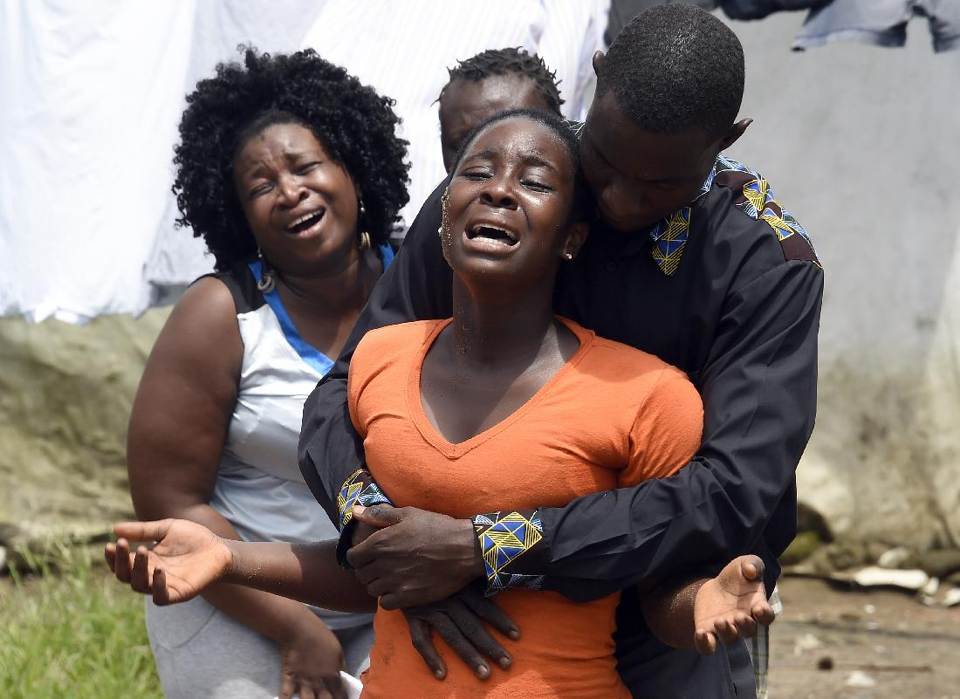 A woman (C) reacts after her husband is suspected of dying from the Ebola virus, in the Liberian capital Monrovia, on October 4, 2014 (AFP Photo/Pascal Guyot)[/caption]
West Point, a squalid township of 75,000 jutting from Liberia's capital Monrovia into the Atlantic Ocean, has been awash with cynicism since being quarantined at gunpoint after riots in August.
The population density in the byzantine network of tin-roofed shanties is staggering. People live cheek-by-jowl, touching, jostling — and presenting the perfect opportunity for proliferation of a virus that many residents even refuse to believe exists.
"It's one of the worst communities in Liberia. There are a lot of bad guys, a lot of violence and criminality," says social worker Prezton Vaye.
A group of young girls in West Point are on the front line of the fight against an epidemic which has killed 2,000 Liberians, with an initiative they call "A-Life", or "Adolescents Leading the Intense Fight against Ebola".
They have received training to deliver information from UNICEF and a local charity called Think on preventing the spread of the tropical pathogen. The girls have a shared history: A-Life is the second iteration of a community support group they formed to combat sexual violence.
They were persuaded Ebola was an even more pressing concern however when an armed mob attacked and looted an isolation centre in the slum, sparking a national panic when a group of infected patients escaped.
The government's response to the incident was swift and brutal. On August 20 the slum's residents were surrounded by a cordon of soldiers and heavily armed police.
A riot ensued, with the inhabitants pelting security forces with stones and provoking return fire. A teenager, Siafa Kamara, was fatally wounded. The lockdown stayed in place for ten days and, by the time it was lifted, many residents had decided there was no Ebola in West Point at all, heightening their sense of injustice at having been penned in.
– 'People don't listen' –
"I want to help my fellow citizens. There are a lot of sick people in West Point, but the people here still don't believe Ebola is real, because they don't see (anyone) die," says Jessica Neufville, 16.
Twice a week, around 60 teenagers in sky blue T-shirts fan out through West Point's alleys, going from door to door, or opening to opening where no doors have been installed. "We tell people how they can protect themselves: no shaking hands, avoid body fluid contact. We tell them that if someone in the family is sick, one particular person should take care of the sick, in a specific room," Jessica tells AFP. The response, she says, is often mistrust, or blank faces at best. "People don't want to listen, they say it's not true," she tells AFP.
President Ellen Johnson Sirleaf echoed Jessica's frustration at the launch of an international youth coalition against Ebola in Monrovia on Thursday, speaking out against Liberians failing to accept the reality of the epidemic.
"We can build Ebola treatment units across the country, establish testing centres, bring in all the medication and personal protective equipment, but if the behaviour of Liberians is not changed, the virus will continue to spread," she said.
In a lane about 1.5 metres (five feet) wide, three mothers sit on a small wooden bench, leaning against a wall. The girls surround them, one delivering the well-rehearsed message. One mother hides her face in her hands, embarrassed or perhaps hostile. The other two never deign to look up or speak, busying themselves instead with plaiting their hair. The day's canvassing passes without incident or impediment, but things don't always go so smoothly, says Vaye, the social worker. "People don't want to hear about Ebola. They say the government is lying, it's a way to take our money," he tells AFP.
Among those least open to being educated on Ebola are the most destitute residents of a community where penury was a way of life even before the epidemic destroyed the black market economy.
The A-Life girls collar another mother on their rounds but find that health concerns are not among her priorities.
"I want work. Since Ebola, there's nothing. I want work," she says.
*Source
Yahoo/AFP
]]>