Congo's Dr Denis Mukwege Treated 30,000 Victims Of War Rape… He's Still Waiting For A Nobel Prize
<![CDATA[
Dr Denis Mukwege has been tipped for the Nobel Prize five-times-running, but you have probably never heard of the Congolese gynecologist, who has treated more than 30,00 victims of sexual violence in war. [caption id="attachment_12819" align="alignleft" width="570"]
Doctor Denis Mukwege, founder of a pioneering rape victims clinic in the Democratic Republic of Congo[/caption] Norwegian lawmaker Bard Soljhell tipped him for the prize this year, calling him "worthy", and his odds had been further shortened by the agenda-setting summit on sexual violence in conflict hosted by William Hague and Angelina Jolie, throwing the spotlight on the horrors that Mukwege had campaigned on for decades. But this year the prize went two other worthy winners, Pakistani schoolgirl and Taliban target Malala Yousafzai, for her campaign on girls' education, and Kailash Satyarthi, a noted Indian anti-child labour activist. Mukwage had something in common with both winners. Like Yousafzai, who was perceived as being passed over last year for the prize, which went to the Organisation for the Prohibition of Chemical Weapons, Mukwege has been named as a prizewinner-in-waiting since 2009. And like Satyarthi, he is still relatively unknown, unlike the celebrity nominees on the list like Pope Francis and NSA leaker Edward Snowden. Mukwege's Panzi Hospital clinic in Bukavu has pioneered a holistic approach to treating traumatised women who have often been the victim of brutal gang rape, during the civil war in the country. He has been known to work 18-hour days, performing up to 10 surgeries every day on women's shattered internal organs after their ordeals. The DRC was dubbed the "worst place to be a woman" in 2013 by the American Journal of Public Health. Among girls and women aged 15-49, approximately 1,152 raped every day, averaging 48 rapes per hour. Originally training as a gynecologist in France with the aim of helping to improve birth survival rates in his home country, some of his patients were shot dead in their beds by rebels as the violence in DRC worsened. Mukwege had expected to spend his life helping mothers-to-be, but the first patient to turn up at the makeshift hospital in Bukavu was a rape survivor who had her vagina and rectum full of bullets. He was appalled, and the whole direction of his focus changed.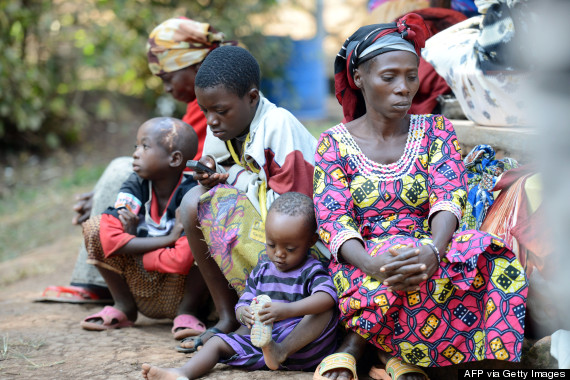 Women and children sit in the Panzi Hospital, run by Mukwege
"I thought that was a barbaric act of war, but the real shock came three months later. Forty-five women came to us with the same story, they were all saying: 'People came into my village and raped me, tortured me'," Mukwege told the BBC, describing how he had also treated survivors with chemical burns on their genitals. Now his clinic treats 3,000 women a year, many of them unable to return home to be cared for by families who reject them due to the stigma of gang rape. After surgery, many would have otherwise been forced to live on the streets, but the clinic now provides transitional housing, education, job skills training, small grants and psychological care. Women who have been treated by Mukwege say he has given them some of their life back. "When I was 13 I was kidnapped by rebels on my way to the market,"
Mateso, one of Panzi's patients described
. "They kept me for one year, raped me, and made me pregnant. When the baby was born, the soldiers used a knife to deliver it. It was dead. Then they locked me in a room and forced me to drink their urine. There were flies swarming around my injuries. "The soldiers never suspected that I might escape, but I found the strength to flee and managed to walk for three nights, hiding during the day. I have been living at Panzi Hospital since then and have had many surgeries. One day I hope to return to my village." "The perpetrators of these crimes destroy life at its entry point," Mukwege has said. "The women can no longer have children. Often they get infected with AIDS and will spread the disease. Their men are humiliated. So the perpetrators destroy the entire social fabric of their enemies, their communities, their future generations, without even killing the woman."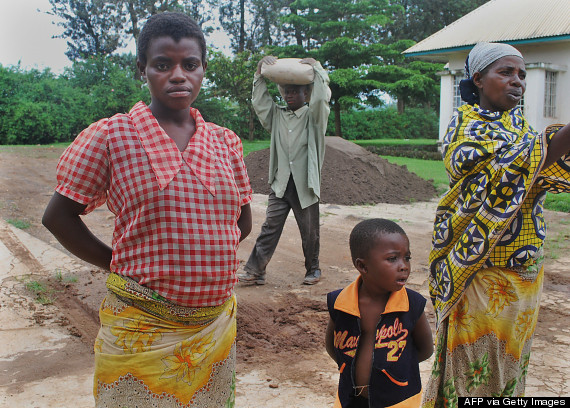 A pregnant teenage patient at Panzi hospital in Bukavu, eastern Democratic Republic of Congo
A harsh critic of the West's perceived indifference to the violence in the Congo, Mukwege gave a blistering speech to the United Nations in 2012, saying the international community had stood by for 16 years and done nothing. "I would have liked to say 'I have the honour of taking part in the international community that you represent here'. But I cannot," he told the assembly. "How can I say this to you, representing the international community, when the international community has shown its fear and lack of courage during these 16 years in the DRC. I would have liked to say, 'I have the honour of representing my country', but I cannot. "In effect, how can one be proud of belonging to a nation without defence, fighting itself, completely pillaged and powerless in the face of 500,000 of its girls raped during 16 years; 6,000,000 of its sons and daughters killed during 16 years without any lasting solution in sight. No, I do not have the honour, nor the privilege to be here today. My heart is heavy." Mukwege paid a heavy price for his outspokenness. His home was attacked by a gang of men who kept his daughters hostage, and lay in wait for his return. As Mukwege arrived home, his guard was shot dead by the gang, but the bullet missed Mukwege. The assassination attempt forced the doctor to flee the country with his family, seeking asylum in Sweden. But he returned to the DRC within three months, buoyed by the efforts of former patients who worked selling fruit and onions in order to buy him a ticket back to the country. "I was inspired to return by the determination of Congolese women to fight these atrocities,"
he told the BBC.
"These women have taken the courage to protest about my attack to the authorities. They even grouped together to pay for my ticket home – these are women who do not have anything, they live on less than a dollar a day. After that gesture, I couldn't really say no." In less than a decade, the clinic claims to have tripled the number of DRC women accessing supportive housing, job skills training and reintegration services, provided homes for more than 180 women stigmatised and shunned by their rape experience and established the Congo Coffee Project, a Fairtrade coffee business run by survivors. *Source
Huffington Post
]]>