Congo lends a hand to fight Ebola, urges African solidarity
<![CDATA[By Aaron Ross*
KINSHASA (Reuters) – Democratic Republic of Congo plans to train more than 1,000 volunteers to help fight an Ebola epidemic raging across West Africa, even as it battles the last traces of an outbreak at home.
[caption id="attachment_13123" align="alignleft" width="622"]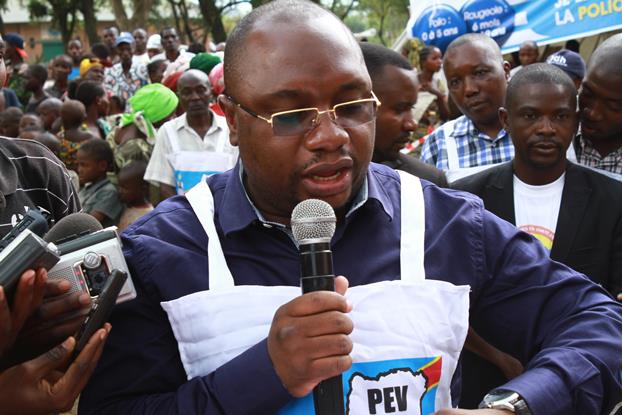 Congolese Health Minister Felix Kabange launching a health campaign[/caption]
Having endured six previous outbreaks of the deadly virus in 40 years, Congolese officials say they are eager to share their expertise with countries suffering from the worst epidemic in history, which has already killed more than 4,500 people.
Congo's Health Minister Felix Kabange said he hoped to inspire "African solidarity" in the Ebola fight and invited other countries to send volunteers to new training centers in the capital Kinshasa.
The World Health Organization has criticized African countries for closing borders to Ebola countries, saying this has worsened their suffering by cutting off supplies. "We have seen how the international community mobilized by deploying the means to intervene in West Africa. But Congo said, Africa has to mobilize," Kabange told Reuters. "We have made here what we call African solidarity in action," he said. An initial workshop, run in collaboration with the U.N. children's fund UNICEF, the World Health Organization and Johns Hopkins University, began this week to prepare 56 public health experts to train other volunteers who may ultimately be sent to Guinea, Liberia and Sierra Leone. The program aims to teach some 1,057 volunteers — all of them health professionals — although some could stay behind to contain Ebola locally. A recruitment drive has already begun in Kinshasa to assemble an initial pool of 600 volunteers to start training at the end of the month, according to Susie Villeneuve, a senior health specialist for UNICEF.
Three teams of 30 could be ready for deployment to West Africa by as early as mid-November, she said.
"There is a capacity that exists in this country for fighting this illness," said Barbara Bentein, UNICEF representative in Congo.
Congo already sent a five-man medical team to Liberia in August to help support the country's health workers who have been badly hit by the virus.
BUILDING TRUST Experts say that local suspicions of healthworkers has expedited the transmission of West Africa's first Ebola outbreak, which began in the forests of Guinea last December and then spread to Liberia and Sierra Leone. Unlike past outbreaks in Congo, the West Africa epidemic quickly spread to densely populated urban centers, prompting governments to apply controversial emergency measures such as community quarantine in Liberia and a lockdown in Sierra Leone. Kabange said Congo had succeeded in containing the country's past outbreaks through building trust with affected communities by working closely with local political and traditional leaders. "We say everyday that as long as the community does not take charge of itself, does not participate itself in the fight against Ebola, Ebola won't be stopped," the minister said. The deadly hemorrhagic fever was first detected in the dense tropical forests of Congo in 1976. Scientists named the illness after the nearby river Ebola.
The latest outbreak in Congo was thought to have started in August in the remote northern Equateur province after a hunter brought home an infected bush animal carcass. Since then, 49 people have died in the province among 69 cases.
But there has been a two-week lull in new confirmed cases, with the last one reported on Oct. 4. The outbreak could be declared over by the health ministry by mid-November if no additional cases are confirmed.
*Source
Reuters/Yahoo
]]>