Burkina Faso opposition rejects referendum plan, calls for protests
<![CDATA[
Opposition parties in Burkina Faso accused President Blaise Compaore on Wednesday of preparing a "constitutional coup d'etat" and called for nationwide protests against moves to remove a two-term limit for the presidency.
In power for over 27 years, Compaore has positioned himself as a senior regional mediator and his country is an important base for Western counter-terrorism operations in West Africa. However, the referendum plan has split his landlocked nation.
Opposition leader Zephirin Diabre urged people across Burkina Faso to close market stalls and walk out of private and public sector jobs on Oct. 28 to mark the beginning of a civil disobedience campaign to prevent a referendum being organized.
There were pockets of unrest in the capital Ouagadougou late on Tuesday after the government said it would submit a bill for parliament to call a referendum on constitutional changes to allow the president to stand for re-election next year.
The streets were calm on Wednesday. There is concern that other leaders in West and Central Africa may be tempted to seek constitutional changes to prolong their mandates in the coming years, and events in Burkina Faso are being closely watched abroad.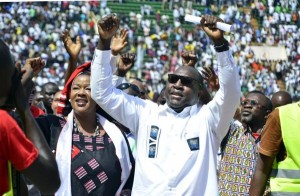 "The government is in the process of carrying out a constitutional coup d'etat," Diabre told a news conference, flanked by leaders of Burkina Faso's main opposition parties.
"Burkina Faso's political opposition reiterates its rejection of a referendum," Diabre said. He accused the government of preparing to pay off members of the National Assembly to vote in favor of a referendum.
A government spokesman was not immediately available for comment. The government has not yet said when it will table the bill in the assembly, where it needs a simple majority to pass. Compaore has not publicly said he wants to stand for re-election but his party has. The proposed constitutional revision has raised political tensions in the cotton and gold-producing nation of 17 million people, living on the edge of the Sahara. Compaore, who took power in a 1987 military coup, won 81 percent of the vote in the last election in 2010 but was confronted by protests by the usually loyal military in 2011. He has seen dozens of members of his party defect to the opposition this year, underscoring the potential for crisis.
*Source Reuters/Yahoo
]]>