Botswana's ruling Democratic Party wins general elections
<![CDATA[[caption id="attachment_13320" align="alignleft" width="624"]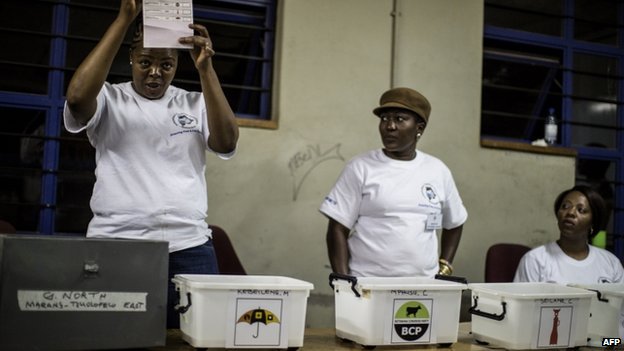 Vote counting got off to a bad start due to delays in delivery of ballots to counting stations[/caption]
The ruling Botswana Democratic Party (BDP) has won the general elections for the world's largest diamond producer.
It secured at least 33 of the 57 parliamentary seats being contested, the national electoral commission says. A party needs 29 seats to take power. Opposition group Umbrella for Democratic Change has won 14 seats. The BDP party of President Ian Khama has been in power since Botswana gained independence in 1966. But it has been battling to gain support in urban areas where opposition parties have made recent inroads. Botswana is seen as one of Africa's most stable and democratic countries.
Urban centres
Three parties competed to win over the 824,000 registered voters who directly elected the 57 members of parliament. Vote counting is still under way. However, the
Twitter account of Botswana's independent election commission
said on Saturday that the BDP had already won 33 seats of the 57 contested, followed by the Umbrella for Democratic Change (UDC) with 14. The Botswana Congress Party (BCP) is in third place with just two seats. A further four members of the 63-member assembly will be chosen by the new parliament, with the president and the attorney general filling the remaining two seats. [caption id="attachment_13321" align="alignleft" width="624"]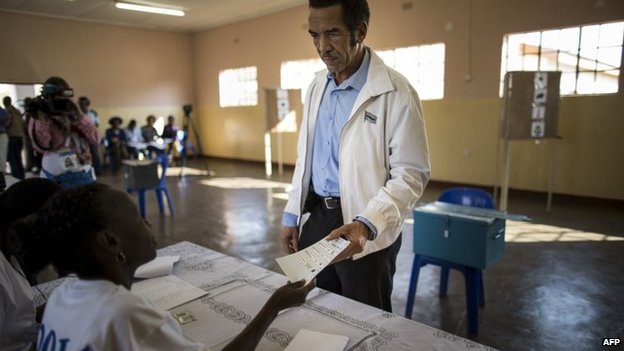 President Khama is expected to serve a second term[/caption] Preliminary results for local council elections also showed a strong showing for the two opposition parties in Botswana's urban centres, including the capital of Gaborone, Associated Press reports. Once elected, the MPs will then choose the leader. President Khama, the son of the country's first president, is likely to get a second term in office. He has faced challenges in urban areas, amid a worsening economic climate. Despite being a middle-income country, Botswana continues to grapple with unequal distribution of wealth, high levels of poverty, unemployment and HIV,
according to the African Development Bank
. The unemployment rate stands at 17.8% and it has an HIV/Aids prevalence of 23.4%, it says.
A survey this month by the research group Afrobarometer
reported that 58% of people in Botswana considered unemployment the most important problem facing the country. *Source
BBC
]]>