Beating of African Students by Mob in India Prompts Soul-Searching on Race
<![CDATA[By ROBERT MACKEY* [caption id="attachment_12657" align="alignleft" width="550"]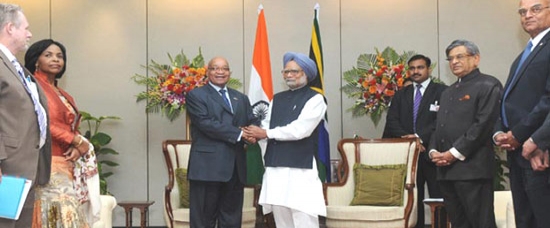 Former Prime Minister of India Dr Manmohan Singh with South African President Jacob Zuma during a visit[/caption] As India's prime minister visited the Martin Luther King Jr. Memorial with President Obama in Washington on Tuesday, a debate about racism was taking shape in the Indian news media, prompted by video of an angry mobbeating three African students in a New Delhi metro station this week. http://www.youtube.com/watch?v=0XHBOE93Oks Video of three African students being beaten in a New Delhi metro station on Sunday. Gowsick 19, via YouTube The video clips show that the men unsuccessfully sought cover inside and on top of a glass booth in the station used by the Delhi Police, who were notably absent for at least five minutes as the students were beaten with sticks and fists. http://www.youtube.com/watch?v=slPw7_wNfy0 Video of the attack on the three African students in New Delhi on Sunday. Arvind Ranjan, via YouTube
"Delhi's ugly face — racist and without a trace of humanity or compassion — was visible at Rajiv Chowk Metro station on Sunday evening," The Times of India editorialized. "That an entirely avoidable situation with racial overtones was allowed to develop so easily must sit heavy on the conscience of this city."
As the Indian website Scroll reported, "The video shows what looks startlingly like a lynch mob beating the black men with sticks while yelling, 'Bharat Mata Ki Jai,' " or "Victory for Mother India."
http://www.youtube.com/watch?v=egQtjIdLxtc
Video of Delhi police officers with three African students after they were assaulted on Sunday. Sachin Kaushik, via YouTube
Some of the footage of the attack was posted on YouTube with racist descriptions of the African students, who are from Gabon and Burkina Faso.
Although it is not clear what, if anything, the men had done to incite the attack, one of at least four witnesses who posted video of the incident on YouTube wrote that they were accused of "misbehaving with female passengers," by making lewd comments to a woman on a train.
According to the police, however, no such complaint was filed against the students, who denied sexually harassing anyone. Other witnesses reportedly told the police that one of the men had made an "anti-India" comment of some sort, "which led to the ruckus."
After they were eventually rescued by police officers, the students were taken to a hospital, where one of them had a gash in his neck stitched up and spent the night. The authorities are reportedly studying surveillance footage from the station as they consider charging members of the crowd there with rioting.
The video evidence prompted anger and introspection from Indians on social networks and a discussion in the media of the racism experienced by Africans in India that is common but usually goes unreported.
*Source nytimes
]]>