Apartheid's evictions: Can they be overturned?
Many South Africans are still fighting to reclaim land taken away from them during apartheid. The BBC's Sophie Ribstein spoke to a family about its ordeal.
It is a beautiful piece of land, a windswept nature reserve just above the bay of Simon's Town. Walking through lush vegetation, you can see the wild rocky hilltops of the Cape peninsula in the distance.
But the magnificent mountain landscape, bathed in light, has been the theatre of a troubled history.
At the far end of the African continent, Redhill was once a village, home to more than 70 predominantly mixed-race (or coloured, as they are referred to in South Africa) families.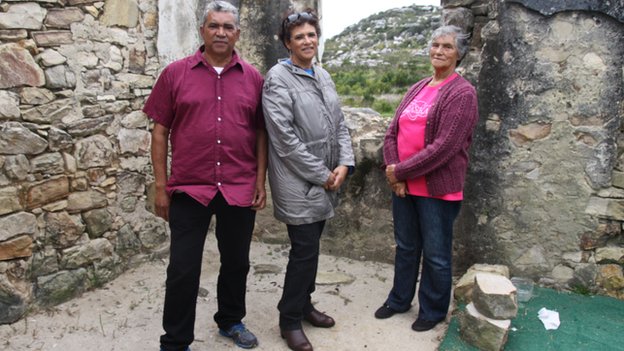 Today, the ruins of their houses are a refuge for baboons. Roofs and windows have been destroyed, blown away by the passing of time.
But stone walls are still standing, reminders of a precious past for those who were forcibly removed in the late 1960s by South Africa's white minority regime.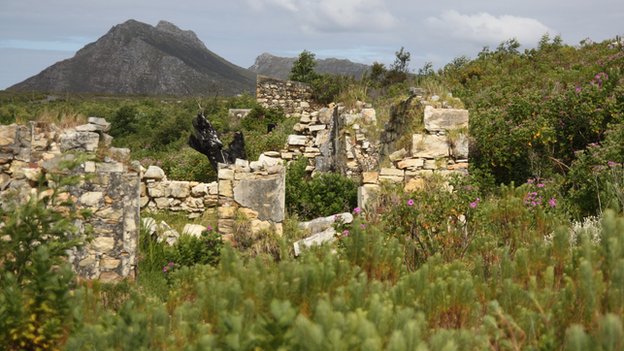 "Here was the lounge and this used to be the kitchen with a fireplace and the small bedroom at the back," says 78-year-old Lily Lawrence, walking through the old stones which were once her home.
What was apartheid?
Introduced in 1948 by the Afrikaner-led National Party government
Black people regarded as inferior
Only white people allowed to vote
Races segregated in all aspects of life, including housing and schools
Prevented black people from owning land in most of South Africa
Reserved most skilled jobs for white people
Banned sexual relations between black and white people
Scrapped in 1994 with the election of Nelson Mandela as first black president
The Group Areas Act, passed in 1950, was a pillar of the brutal apartheid regime.
Among other things, it led to the removal of non-whites from real estate considered desirable by the government. Over the following decades, thousands of families were forced to leave their homes and relocate to barren land.
'Heirlooms'
The effects of this policy have yet to be reversed. Even in post-apartheid South Africa, much of the most fertile territory is still in the hands of a few thousand white commercial farmers.
The pace of reform has long been criticised as too slow.