Africa's future depends on empowering its people today
ByJAY NAIDOO*
African countries need to work together to build economic growth with social inclusion and public accountability, writes Jay Naidoo.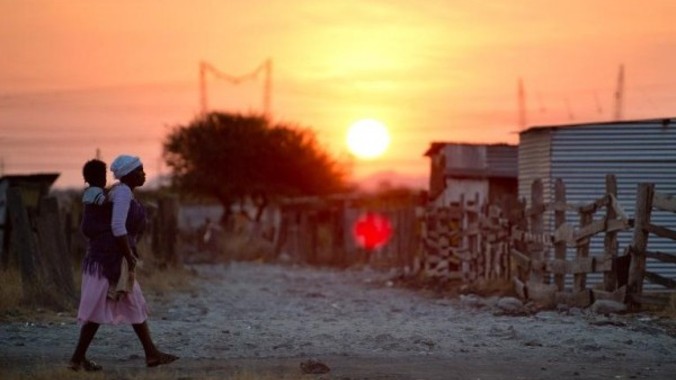 "If Africa is rising, why are we so poor? We walk on gold, platinum, diamonds. Our mineral wealth powers up the global economy. We hold two-thirds of the remaining arable land in the world, with over 15% of its forests and 20% of the land surface. Our oceans are a global hub of rich marine resources that mainly benefit large industrialised nations' trawling fleets. But we, the African people, remain poor."
This is the narrative I am hearing in the villages and slums that I visit across Africa.
Undoubtedly, governance has improved across Africa in the last 14 years. The recently released 2014 Mo Ibrahim Foundation Governance Index combines 130 variables from 34 independent African and global sources. It is the first African foundation to build a composite index to measure the delivery of public goods that our governments have a legal obligation to provide and that citizens have a right to demand.
As Mo Ibrahim said at the launch, "Africa is progressing but the story is complex and does not fit into stereotypes. Even if the overall picture looks good, we must all remain vigilant and not get complacent."
The past global economic boom created more investment in infrastructure and the African economies grew faster than trends in the rest of the world. It did mean more countries invested in infrastructure and this drove sustainable economic opportunity. Given the global economic climate in the last five years, this improvement stalled.
Today Africa stands at a crucial crossroads. The choice is simple. How do we stop acting as 54 separate autonomous countries and embrace regional integration and build economic growth on the basis of social inclusion and public accountability? How do we build an African market that positions us competitively in the global economy but also meets the basic needs of our one-billion citizens?
Clearly, more has to be done to build the leadership and political will to connect our energy, transport and other infrastructure grids. More has to be done to enable the free flow of people, goods and services. Instead, we see more countries introducing restrictions and erecting more trade barriers. In South Africa, we occasionally hear the rumblings of xenophobia that explode into open violence.
But we could also take a positive road and embrace our youth dividend: we can harness the telecommunications economic success that has seen Africa becoming the fastest growing market in the world with over 800-million mobile phones and harness this technological revolution to change how we deliver health, education and skills that grow livelihoods and entrepreneurs. This would reverse the stagnant growth we have seen in sustainable economic opportunity. We are exporting millions of jobs because we export our commodities without adding any value to many of our raw materials.
What we need is a strategy of industrialisation that is regionally co-ordinated.
There are some seriously worrying signs. National security may have improved dramatically as cross border violence between states has dropped, but the failure within countries to manage diversity, the rising inequality and joblessness has heightened domestic conflict and violence. Our young generations, half of which are under the age of 19, feel marginalized and locked out from pathways of hope and opportunity. They feel they are growing up in an environment of exclusion and political frustration, where the status quo rules, and which is viewed as only enriching the economic and political elites. This is fertile ground for the emergence of extremism in the form of Boko Haram and Al Shabaab, and the rise in criminal gangs that are terrorising their poor neighbourhoods.
Even the continent's best-governed countries, Mauritius, Cape Verde, Botswana, South Africa and the Seychelles, show worrying signs. In the 2013 report, 12 countries showed their weakest performance since 2000 in the category of safety and the rule of law.
We must also reflect on North Africa and the 'Arab spring'. Data shows that the management of transition has a dramatic impact on governance. Egypt dropped 14 places in the overall rankings (from 12th to 26th) and Libya dropped 15 places (from 27th to 43rd). But Tunisia, which has managed its transition more smoothly, has remained in the top 10.
The lesson for South Africa is that,while we have progressed up to fourth position in the overall ranking, we have also seen a decline in the categories of participation and human rights and safety and the rule of law. The issue of personal safety, the handling of public protests and the weakness of civil society organisations that are able to represent legitimate grievances that residents have over the delivery of public services, all fuel political dissatisfaction. The examples of the Marikana massacre and the public debacle over Nkandla are alarming indicators that public accountability is backsliding.
"Even if overall governance trends are positive, contrasting performance in the 2014 Governance Index is of concern. The strength and sustainability of Africa's future prosperity will be defined by the continent's commitment to all governance dimensions, including safety, security, and the rule of law," according to Salim Ahmed Salim, chairperson of the Mo Ibrahim prize committee.
The data also throws up some surprises. Countries in the bottom half of the rankings register the largest improvements over the past five years. Côte d'Ivoire, Guinea and Niger have changed course since 2009, from having negative trajectories to becoming the biggest improvers on the continent. This progress has been driven in large part by gains in participation and human rights.
"With a growing electorate that has demonstrated a desire to be heard, the results of the 2014 Governance Index confirm that participation and human rights is a crucial aspect of governance that governments cannot ignore", said Mary Robinson, board member of the Mo Ibrahim Foundation.
Human development has remained a consistently shown positive movement, albeit from a low base. All sub-categories and 41 out of 52 countries have seen an improvement over the past five years, with a quarter of these having improved by more than five points. Health in the last five years, in all its underlying indicators, which measure issues such as maternal mortality, immunization and undernourishment, have registered progress. But what the Ebola crisis has shown is that not enough has been invested in building public health systems.
"The 2014 Governance Index underscores the need to focus on building equitable and efficient institutions, such as health systems, accountability mechanisms and statistical offices. Without these, we will not be able to meet the challenges we face – from strengthening the rule of law to managing shocks such as the Ebola virus," concluded Hadeel Ibrahim, founding executive director of foundation.
The message from the 2014 Mo Ibrahim Governance Index is clear. Good leadership and good governance is what drives accountability, transparency and social cohesion and the economic and political success of Africa. The narrative and reality of Africa rising still lies in our hands.
*Sourcemg.co.za