Why African leaders should seek treatment at home, and serve more than 8 years – predicting presidential demise
<![CDATA[By CHRISTINE MUNGAI* [caption id="attachment_13551" align="alignleft" width="633"]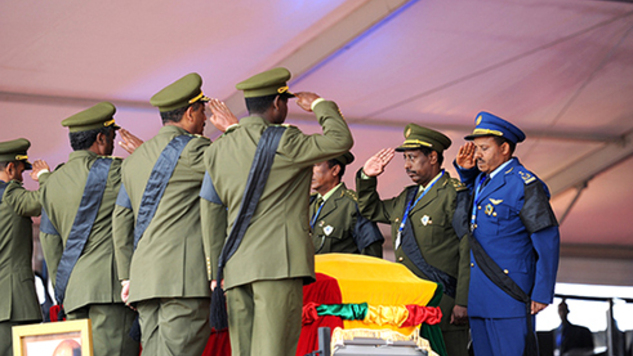 Soldiers salute coffin with the body of Ethiopia's Meles Zenawi who died in 2012.There are some curious coincidences in the passage of African leaders.Photo PK/Flickr[/caption] THERE has been a wave of presidential demises in Africa over the past few years; since 2008, eleven African leaders have died in office, including this week's death of Zambian president Michael Sata. 2012 was the worst, with four sitting African leaders dying in that year alone. By contrast, in that same time frame, just five heads of state or government have died in office in the rest of the world combined –Lech Kaczynski of Poland and David Thomson of Barbados in 2010, Kim Jong-Il of North Korea in 2011, and Hugo Chávez of Venezuela and Zillur Rahman of Bangladesh last year. This article by the BBC tried to figure out why African leaders were dying with such alarming frequency, postulating that maybe African presidents were older than average, or that the life expectancy in Africa is generally low – 60 years or less, compared to the world average of 70 – so by the time a leader becomes president he is basically on his last leg. That poverty background One interesting explanation was that even though African presidents live in luxury compared to their fellow citizens, they are likely to have had a poor and disadvantaged childhood, which inevitably catches up with them as they grow older. Still, one good thing is that the old stereotype of African presidents clinging to power till they drop is becoming a rarity. Of the eleven recent deaths, just two were long-ruling autocratic types: Omar Bongo of Gabon, who died in 2009 after 41 years in office, and Muammar Gaddafi of Libya who was killed in 2011 after ruling for 42 years. In fact, seven of the eleven leaders died after eight years or less, and four of them – Malam Bacai Sanhá of Guinea-Bissau, Umaru Musa Yar'Adua of Nigeria, John Atta Mills of Ghana and Zambia's Sata – died after just three years in office. Is there any common thread among the presidents who have died so far? One obvious one is that African leaders tend to die away from home – a hospital bed in a rich Western country is usually where they take their last breath. Of the eleven, nine have died either away from home, or very shortly after returning home from getting medical treatment abroad, in what critics see as an indictment of the shambolic health care systems in most African countries, that leaders are content to side-step because they have the resources to go to "proper" hospitals anywhere in the world.
| | | | |
| --- | --- | --- | --- |
| Country | Name of president | Year/ Place of death | Number of years in office |
| Zambia | Levy Mwanawasa | 2008/ Paris | 6 |
| Guinea | Lasana Conté | 2008/ Conakry* | 24 |
| Guinea- Bissau | João Bernardo Vieira | 2009/ Bissau | 23 |
| Gabon | Omar Bongo | 2009/ Barcelona | 41 |
| Nigeria | Umaru Yar'Adua | 2010/ Abuja* | 3 |
| Libya | Muammar Gaddafi | 2011/ Sirte | 42 |
| Malawi | Bingu wa Mutharika | 2012/ Lilongwe* | 8 |
| Guinea- Bissau | Malam Bacai Sanhá | 2012/ Paris | 3 |
| Ghana | John Atta Mills | 2012/ Accra* | 3 |
| Ethiopia | Meles Zenawi | 2012/ Brussels | 17 |
| Zambia | Michael Sata | 2014/ London | 3 |
A star indicates that although the leader died at home, he had taken several health-related trips abroad prior to his death
Malawi president Bingu wa Mutharika's case is particularly farcical – he suffered a heart attack and was rushed to Lilongwe state hospital, where he was pronounced dead on arrival. But even in death, he was still flown to South African because a power crisis in the capital was so bad that Lilongwe state hospital would have been "unable to carry out a proper autopsy or even keep his body refrigerated", according to 
this Reuters story.
The two presidents who died in their home countries – Gaddafi and João Bernardo Vieira of Guinea-Bissau were actually assassinated. No wonder rumours of death swirl whenever an African president boards a plane to seek "further treatment".
The curse of term limits tampering
The other (unscientific) "risk factor" to a leader dying in office is whether there has been an attempt at fiddling with presidential term limits, whether successful or not. Of the eleven countries, nine have had an experience of a sitting president trying to extend constitutional term limits (READ: 
The real democracy rankings; or why African presidents rarely lose elections
). Zambia, Malawi and Nigeria all have a history of their leaders attempt, and fail, to stay in office. In Nigeria's case, the president who died, Yar'Adua, had suffered ill health from the onset – leading critics to speculate that Olusegun Obasanjo, whose extension was foiled, actually "installed" Yar'Adua knowing he was in poor health, in order to continue pulling the strings. Libya and Gabon, whose recently deceased presidents served for more than 80 years combined, obviously did not have any concept of term limits. In Guinea Bissau's case, one president, Vieira, was assassinated in a coup in 2009, and his successor Sanhá died soon after from complications of diabetes. But it also had no term limits. And for Guinea, when former president Lasana Conté first came into power through a coup in 1984, he abolished the constitution, but by 1990, sensing the "wind of change" that was sweeping through Africa, he installed what many at that point considered the best constitution in West Africa, limiting presidential terms, allowing multi-party elections and creating a framework for the devolution of power. But over the next few years, he systematically butchered all the progressive elements of the constitution, and by the early 2000s, had become a cruel, ruthless despot. Of the eleven, only Ghana and Ethiopia, which have not had an experience with constitution fiddling.
Zambia and Guinea-Bissau worlds apart
Intriguingly, the two countries which have had more than one president die in office over the past few years, Zambia and Guinea-Bissau, could not be more different. Zambia is ranked first in Africa in its "supply of democracy" by Afrobarometer, corruption is relatively low (at least by African standards) according to Transparency International and has long enjoyed a largely peaceful democracy. On the other hand, Guinea-Bissau has been wracked by coups and counter-coups, long-running instability and repressive regimes. In conclusion: Sitting African presidents are most likely to die away from home, after serving less than eight years, in a country where a president once tried –or succeeded – in doing away with term limits. But don't take our word for it – Africa is unpredictable. *Source 
mgafrica
]]>