Africa Union chief to visit Ebola-hit nations
<![CDATA[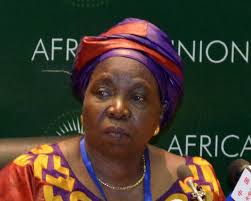 African Union chief Nkosazana Dlamini-Zuma will travel to three west African nations worst hit by the Ebola crisis, one of the most senior officials to do so since the outbreak, her spokesman said Wednesday.

AU Commission chair Dlamini-Zuma will visit Guinea, Sierra Leone and Liberia "to assess the situation first hand", her spokesman said in a statement.

She arrived in the Ghanian capital Accra on Wednesday, her spokesman said, the base of the United Nations Mission on Ebola Emergency Response (UNMEER), and is expected to travel on to Liberia on Thursday.

"We remain committed and in solidarity with our sisters and brothers in west Africa to put the Ebola epidemic under control," Dlamini-Zuma said in the statement.

"We commend the ongoing continental and global efforts, but frankly, a lot more needs to be done to raise the needed resources considering the magnitude and rate of increase of the epidemic."

She is accompanied by UN Economic Commission for Africa (UNECA) chief Carlos Lopes, as well as the African Development Bank (AfDB) president Donald Kaberuka.

The deadliest-ever outbreak of Ebola has claimed more than 4,500 lives in west Africa, and experts warn the rate of infections could reach 10,000 a week by early December.
]]>