Uganda to earn Shs9 trillion from oil annually – Tullow
<![CDATA[By Martin Luther Oketch*
ENTEBBE. 
[caption id="attachment_12046" align="alignleft" width="595"]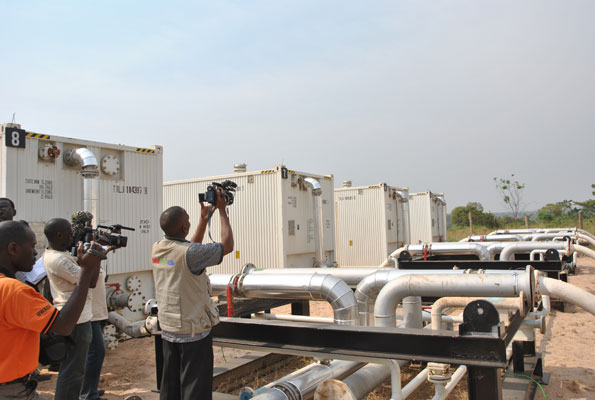 A journalist films oil pipes in Buliisa District in 2012. PHOTO BY Martin Ssebuyiira[/caption] The Uganda government will earn $3.6 billion (about Shs9.378 trillion) annually from the oil and gas industry when the country starts production, which is projected to start by 2018, the latest calculation by Tullow Uganda Operation Pty Limited shows.
Uganda's current annual national Budget is Shs15 trillion. Presenting a paper titled Opportunities in the Oil and Gas Industry in Uganda during the 19th annual seminar of the Institute of Certified Public Accountants (ICPAU) in Entebbe on September 10, the general manager and director of operations at Tullow Uganda, Mr Jimmy Mugerwa, said the oil and gas industry is going to play a great role in developing Uganda's economy.
"The annual upstream revenue to the government from oil and gas is $3.6 billion, this is almost the size of Uganda's annual Budget," he said.
Uganda's oil is going to last 25 years before depletion. Mr Mugerwa said during this period the government will earn $96 billion (about Shs250 trillion) in the current net presence value.
The revenue accruing from the oil and gas proceeds is going to be the highest source of revenue for the government than any other natural resource the country has.
"This project (oil and gas) can transform Uganda's economy forever if the money is well managed; we are not concerned about how government is going to manage the money accruing from oil and gas industry," he said.
In terms of employment, Mr Mugerwa said the oil and gas industry will provide 150,000 jobs in the period when the country will be in full scale production.
Tullow is involved in exploration of oil in Ghana, Uganda and Kenya. Mr Mugerwa said its oil exploration in Uganda has been the most successful, standing at 84 per cent compared to 20 per cent in the other countries. He said Uganda's oil production is expected to start in 2018/2019. However, he said Uganda's oil is waxy, meaning it is difficult to pump and expensive to refine.
The ICPAU chief executive officer, Mr Derick Nkajja, said revenue accruing from oil and gas should be used on agriculture transformation because it remains the critical sector of Uganda's economy.
HISTORY
Over Tullow's 10-year operation period in Uganda, the firm has invested about Shs7.8 trillion of its required investment of between Shs39 trillion and Shs52 trillion. A journalist films oil pipes in Buliisa District in 2012. *Source 
monitor
]]>