Is TB Joshua feeding the spiritual hunger in Africa?
By KWANELE SOSIBO*
Kwanele Sosibo asks whether the spiritual healer has capitalised on his 'talent' by the increasing need for a more renewed approach to Christianity.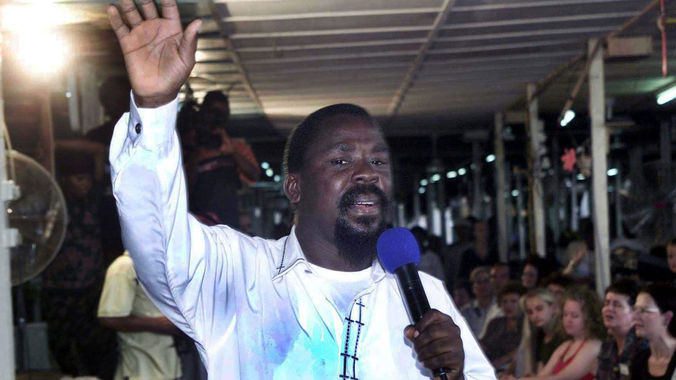 Two days after the tragic collapse of a six-storey hostel in Lagos housing followers of Nigerian preacher TB Joshua, he did not seem particularly shaken as he conducted a service at his colossal Synagogue Church of All Nations (Scoan) building. "Don't be afraid. You are not the target, I am."
Joshua did not give full details of the accident, believed to have resulted in the deaths of at least 84 South Africans so far. He focused instead on a plane repeatedly flying low above the building an hour before its collapse and read out a message from a supposed Boko Haram would-be bomber seeking conversion. Joshua, famous for performing ritualistic "miracle" healings, attracts a large South African following that has included visits from South African politicians such as Winnie Madkizela-Mandela and Julius Malema, to sports stars such as Ruben Kruger and the late Wium Basson.
'Neo-Pentecostalism'
Stephen Hayes, a Pretoria-based missiologist calls TB Joshua a manifestation of the third wave of Pentecostalism (1980 to 2010), which he describes as neo-Pentecostalism. "[This wave] gathered people who were frustrated by the opposition to the charismatic renewal movement in the mainline churches," he said via email.  "The main emphasis shifted away from speaking in tongues to healing and exorcism, and, in some instances an emphasis on material prosperity … Joshua's [Scoan] seems to be one of this type."
Nigerian sociologist of religion Asonzeh Ukah describes Lagos, Nigeria as the world capital of Pentecostalism. Nigeria, however, did not have a "socially visible Christianity" up until 1970, he said in an interview with German professor Joseph Vogl from the University of Humboldt. This, he says, was after the Biafran War, when an Arab oil trade embargo to the West was in place. The oil-rich Nigeria picked up the slack, which lead to economic growth, a rise in its middle class and the influx of consumer goods. Importantly, Ukah adds, "you can see the impact of Lagos everywhere [in the African diaspora] and the role it plays will not diminish because it has the population."
In July this year, an article in The Economist declared that Pentecostal church attendance in Britain grew by 25% between 2008 and 2013, with some 430 000 people attending West African and Brazilian Pentecostal churches. The Redeemed Christian Church of God run by Nigerian Enoch Adeboye has 670 churches in Britain, and claims branches in over 100 countries. These, to some extent, have altered practices by traditional churches, The Economist writes, with the Anglican Church in England (under Ugandan-born Archbishop of York John Sentamu) taking to outdoor adult baptisms.
Wealth
In 2011, Joshua was third on the Forbes list of Nigeria's five richest pastors, coming in behind David Odeyepo of Living Faith World Outreach Ministry (estimated net worth of $150-million) and Chris Oyakhilome of Christ Embassy (estimated net worth of $30-million to $50-million).
Joshua's net worth was approximated at close to $15-million. On the line from Cape Town, Ukah argues, however that the controversial Joshua, whose net worth was approximated at between $10-million and $15-million, can't be understood as a Christian enterprise. "He has improved as a performer from when he started many years ago [in 1989]," says Ukah on the phone from Cape Town. "In the early Nineties, his performance could be characterised as that of a magician, an entertainer in the mould of popular street performers. He has refined his practice. Now he can speak for a long time in fairly good English.
"In the early Nineties, he could not preach a sermon because he couldn't speak English. But he remains controversial in his mode of practice. He does not have a theology. In that way, he lacks intellectual refinement."
Ironically, it was pressure from the Pentecostal Fellowship of Nigeria that allowed Joshua to flourish even further and set up Emmanuel TV. On April 30 2004, a law by the National Broadcasting Commission (NBC) came into effect, making it illegal to broadcast material containing the performance of miracles, which have not been verified before the broadcast.
"It was instigated by the Pentecostal Fellowship of Nigeria, with the NBC acting as a gatekeeper," says Ukah. "[The then-president Olusegun] Obasanjo saw himself as a Pentecostal pastor, he fraternised with Pentecostal pastors and moved from church to church. The law forced TB [Joshua] to set up Emmanuel TV [which operates out of Johannesburg] and it forced Chris [Oyakhilome] out of Nigeria. Oyakhilome has scores of churches in South Africa, and also has bases in the United Kingdom and America. Scoan has a church in Cape Town, but a local Facebook page appears to primarily punt Joshua's brand of "anointed" water.
Miracles
On whether Joshua performs miracles, Ukah says: "There are things that science does not have the final word on, which is human experience. From the perspective of belief they can be called miracles. But then it can be asked: "If those are miracles, why did Joshua not go to Liberia to heal people suffering from ebola? Those that don't receive healing, how are they accounted for?"
Leepo Modise, a senior lecturer in systematic theology at Unisa's department of philosophy said, "Economy teaches us that you put something in to get something out. The people he attracts have a spiritual hunger, but it manifested itself through physical needs. A street kid in Pretoria would not be able to afford to go Lagos, which is why he attracts the middle classes and the black diamonds. But TB Joshua attracted a large number of white pastors hoping to adapt their ministries in his vein."
*Source mg