South African game breeders rake in big bucks
<![CDATA[By Stephanie FINDLAY* [caption id="attachment_11822" align="alignleft" width="300"]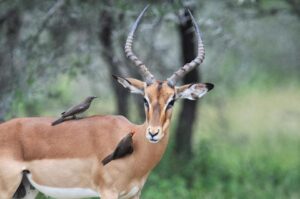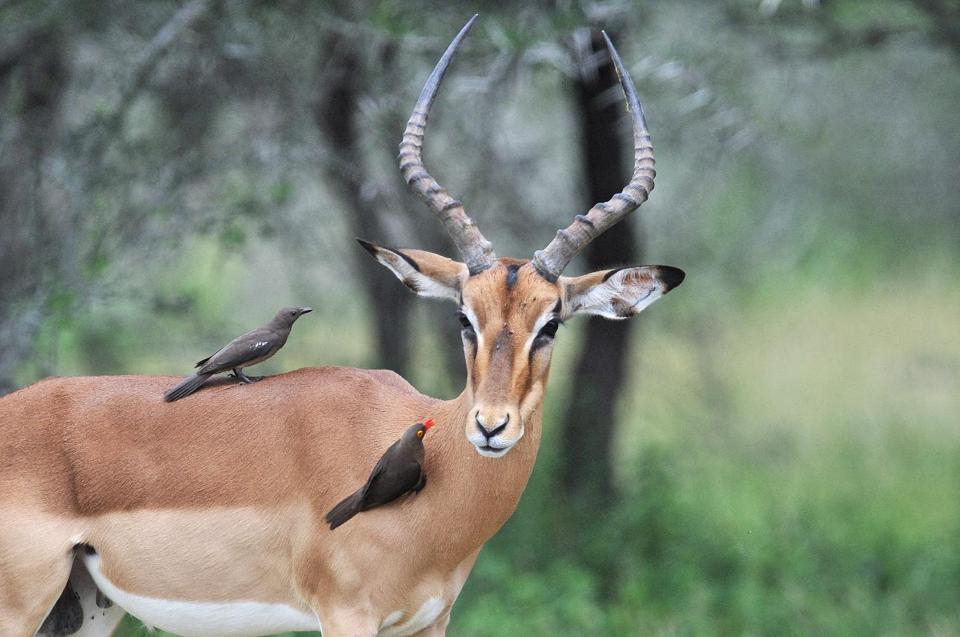 An impala is seen at the Kruger National Park, near Nelspruit, South Africa, on February 6, 2013 (AFP Photo/Issouf Sanogo)[/caption]
Bela-Bela (South Africa) (AFP) – When South Africa's deputy president bid on a two million dollar buffalo in 2012, he was criticized for being extravagant in a country suffering from widespread poverty.
Two years later, Cyril Ramaphosa is more active than ever in the game breeding industry, raking in over $2.6 million dollars for three of his white-flanked impala sold at an auction at the weekend.
The private game breeding industry sees tens of millions of dollars spent yearly by an elite group of farm owners on African animals including buffalo, sable antelope, impala and wildebeest.
Some animals are used for trophy hunting, but the best are kept for breeding — which farmers describe as a better investment than property or stock.
Ramaphosa, dressed in khaki from head to toe, arrived with his wife, Tshepo, on a sunny Saturday morning in a Bell 407 helicopter at the Stud Game Breeders auction held at Mbizi Lodge in Limpopo province, where he was selling his prize animals for the first time.
In his opening remarks, the 61-year-old politician weighed in on the country's contentious land ownership debate, defending the right of the white private game breeders to own South African land.
"What I can say to you is continue investing in your farms, in your lands, because the constitution is there as a black and white document to guarantee the rights of all of us," he said.
The audience, a well-heeled crowd of overwhelmingly white, khaki-clad men and women with Louis Vuitton bags slung over their shoulders, broke into loud applause and whistles.
Twenty years after the end of apartheid, South Africa is struggling to redress a racist system of land ownership which saw most of the best farmland in the hands of the white minority.
"You should not stop investing because through investment you are creating jobs," said Ramaphosa, "you are creating opportunities."
[caption id="attachment_11823" align="alignright" width="300"]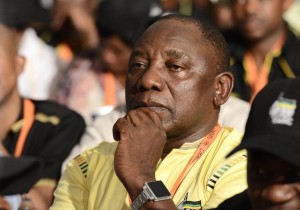 South Africa's deputy president Cyril Ramaphosa, pictured during the 53rd national conference of the ruling African National Congress, in Bloemfontein, on December 17, 2012 (AFP Photo/Stephane de Sakutin)[/caption]
The game breeding industry is controversial for its financial display — this auction alone brought in more than $22 million — but analysts say high prices help protected animals in the face of rising poaching and habitat destruction.
With their exceptional means, private game breeders are able to rebuild the populations of animals that have been depleted over the centuries.
"I've got more sable than Kruger National Park," said Norman Adami, owner of Nyumbu Game farm, referring to a species of antelope with long curved horns
The breeding is not only to increase numbers, it is about the quality of the specimen, with the size, colour and disposition of an animal all factored into its price.
"As long as eight years ago, a 15 inch sable — a sable with 15 inch horns — was a big sable," explains Adami, leaning back into a wicker couch at his farm.
"Now you're seeing sable with 50 inches. In 10 years, it's going to be 60 inches. Those magnificent specimens are being recreated."
Adami, chairman of SABMiller's operations in South Africa, says he doesn't expect prices of the animals to depreciate in his lifetime.
"I've never had nightmares, I've just had dreams," he said. "This industry has performed exceptionally well, better than the stock market."
The rise of the industry is a result of South African legislation giving a private landowner total control over his animals.
"The game farming industry and trophy hunting is a form of eco-tourism," said Brian Reilly, nature conservation professor at the Tshwane University of Technology in Pretoria, the country's administrative capital.
"It's the highest form of eco-tourism."
While conservationists may take issue with the breeders emphasizing unnatural coat colours — such as Ramaphosa's ghostly white impala -— many concede that the industry is helping their cause by increasing the number of animals and by protecting them.
– 'Lesser of any evils' –
[caption id="attachment_11824" align="alignleft" width="300"]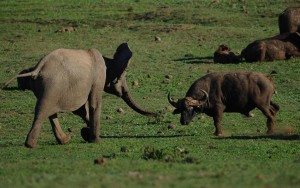 An Elephant faces a buffalo at Addos Elephant national park in South Africa, 70 km from Port Elisabeth, on July 1, 2010 (AFP Photo/Christophe Simon)[/caption]
"It's certainly the lesser of any of the evils, if you consider mining, forestry, or commercial agriculture," said Reilly.
Now the government needs to find a way to reward the private farms for prioritizing conservation and biodiversity, he said. "What's happening in South Africa is there is a transfer of the social responsibility of conservation to the private sector, but the game industry isn't getting anything for it," said Reilly. "There should be some system of saying if we're going to achieve our biodiversity goals, let's give the land owners some form of compensation," he said. "We've got to find a working model for that."
Until then, the private game breeders will keep making up the rules of their lucrative industry as they go.
Ramaphosa would not say how much he made in total as a seller at auction for the first time.
But, after the blockbuster sale of his impala, he ended with the day with a big smile.
"For me, a first time seller, it was a good auction," he said.
*Source
Yahoo/AFP
]]>