Why President Jonathan Will Win In 2015
By Sonala Olumhense*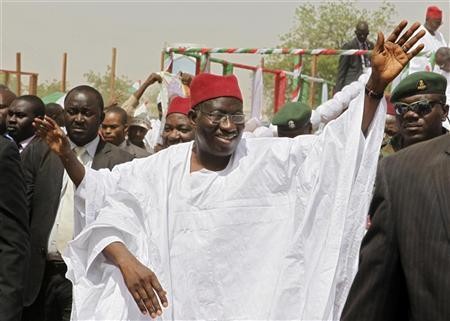 With less than six months to Nigeria's 2015 presidential contest, I predict that one Goodluck Ebele Jonathan will win it.  He already holds the job, and many cite the power of incumbency to back up that belief.
They are wrong; in a normal democracy, incumbency would be a serious handicap because the candidate can be handcuffed to his record.  Not in Nigeria, and there are really two reasons Mr. Jonathan stands poised to take his third oath of presidential office next May.
The first is that he is a man of great understanding.  Mr. Jonathan understands that Nigeria is an abandoned project, literally and figuratively.  Nigerians do not care.  They do not care about themselves.  And they care still less about Nigeria.
Nigerians are curiously insulted if you say something "negative" about someone of their ethnicity, but they do not react the same way if you insult Nigeria.  Nigerians are more offended if you insult their government than they are if you insult their country.  The same Nigerians are not offended when their government makes their country look like a bad joke.
The second reason Mr. Jonathan holds the aces as we approach February 2015 is that Nigerians are very forgetful, and hate to question.  A Nigerian reads the most scandalous story about Nigeria, and just shrugs.  A Nigerian journalist leaves home for his journalism job, but gets there and becomes a civil servant.
Since his ascendancy to the top of the ladder in 2007, Mr. Jonathan has reached this understanding.  He has found Nigeria a boring and easy game anyone can do in their sleep, not the challenge he was hearing about on television.
Most of all, the Nigeria ruler knows Nigerians are happy to keep Nigeria that way.  This is why he is poised to win in 2015.
A few weeks ago, "Mr. Fix-It" Tony Anenih, who chairs the Board of Trustees of the Peoples Democratic Party (PDP) disclosed that Mr. Jonathan will run for office next year, a decision known only in the inner circles, and one the president ought to announce by himself.
That fact confirmed the power relations within the presidency, and the nature of Anenih's presence in it.  "Mr. Fix-It," by the way, doubles as the chairman of the board of the Nigeria Ports Authority (NPA).  The NPA and the Ministry of Petroleum Resources are reported to form a formidable power couple when it comes to financial backing for the president's electoral ambitions.  The Ministry, remember, has become the personal fiefdom of Diezani Alison-Madueke, the ethics of whom are routinely questioned by many Nigerians.  But she is a pretty lady, and Mr. Jonathan does not argue with great beauty.
Mr. Jonathan is poised to win in 2015 because the Nigerian people understand that he is their Master, in office to serve his own will.  As a result, he is not answerable to the very people who put him in office.
Those people include the Boko-Haram abducted children of Chibok, in Borno State, who have become a byword for historic government irresponsibility.  They and their suffering families are an abandoned project that would have embarrassed a military dictatorship.
It is difficult to accept that the States of Borno, Adamawa and Yobe are under a state of emergency, given the success that the militants are enjoying there, treating Nigerian soldiers like amateurs.  The military now appear lost…or abandoned.
Last week, as official denials came to an end and the insurgents assumed firm control of Bama, soldiers were reported to be removing their families from Maiduguri, as Boko Haram distributed fliers announcing it intends to seize the city.
That is a good sign for Mr. Jonathan's re-election. No, he did not create Boko Haram, but he has promised to deal with them. Earlier in August, he promised to "lead Nigerians" to defeat the militants.  Those who were paying attention would have recognized the joke: In March 2012, in South Korea, he told the Yonhap News Agency he would end the Boko Haram challenge within three months, stressing that Nigeria's security forces would take "total control" of the areas in contest.  The August 2014 renewal of the joke is a punch in the nose for those who say Mr. Jonathan in military fatigues looks like a Nollywood actor.
But he is deathly serious, reminding Nigerians that the problem with asking him to rescue the Chibok girls is that he is caught between using force and endangering their lives, or undermining the sovereignty of Nigeria by succumbing to the terms of the terrorists.  He does not accept responsibility for letting the militants get away with 276 girls in the first place.
In other words, despite all the promises published so far, the abducted girls had better plan their own escape as some of them have done, or they are on their own.  There is a presidential election to win.
Enthusiastic Nigerian voters will recall that in January 2011, the Presidential Advisory Committee, submitting its report, drew attention to ongoing and severe depletion of the country's Excess Crude Account, from $20b in 2007 to under $400m in September 2010.  The Theophilus Danjuma-led group criticized the alarming cost of running the government, citing "an army of special advisers and assistants."
Mr. Jonathan promised to implement the committee's recommendations, but just week after receiving its report, he appointed three new advisers.
The signs of re-election come from as far back as the last election.  As recorded by the International Press Centre in collaboration with the Institute for War and Peace, here are Mr. Jonathan's 91 electoral promises from 2011.  One week before his inauguration, in May 2011, I also documented "A Mountain Of Promises."  Next February, Nigerians will vote for Mr. Jonathan overwhelmingly, in exchange for a longer list of promises.
On July 14, 2011, six weeks after he assumed office, Mr. Jonathan said he was starting an anti-corruption "war," beginning with a comprehensive audit of the financial transactions of all Federal Government ministries, departments and agencies and with effect from 2007.   Abandoned.
Beginning on January 8, 2011, the Abuja-based Leadership Newspaper ran a series it called, "Nigeria: The Country's White Elephant Projects," demonstrating just how pervasive uncompleted projects were at all levels of government.
In a follow-up, two months later, Mr. Jonathan set up a Presidential Projects Assessment Committee to look into the issue of uncompleted federal projects.   The group reported at least 11,886, with many more unidentified!  Mr. Jonathan took the report, made suitable promises, and then abandoned the report.
I could carry on, for hours.  The point was to demonstrate that Mr. Jonathan has all the credentials to be re-elected, easily, in 2015.  It is an abandoned country, and the only thing Nigerians are prepared to do about it is abuse anyone who says they should do something about it.
Let us pray.
*Source Sahara Reporters, the author can be reached at sonala.olumhense@gmail.com,Twitter: @SonalaOlumhense,