Obama to Africans: Don't touch Ebola corpses
By Justin Sink*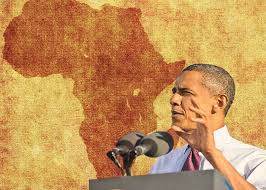 President Obama urged West Africans in areas affected by the Ebola virus not to touch the corpses of loved ones who had succumbed to the deadly disease in a public service announcement released by the State Department on Tuesday.
"When burying someone who has died from this terrible disease, it's important to not directly touch their body," Obama says. "You can respect your traditions and honor your loved ones without risking the lives of the living."
Public health officials in Africa have expressed concern that death rituals on the continent — which can include washing, touching, and kissing the dead — have helped spread the deadly disease.
The World Health Organization warned last week that the outbreak was accelerating and could affect some 20,000 people before being brought under control. Already, more than 1,500 people have died from Ebola in Guinea, Liberia, Sierra Leone and Nigeria.
In the video, Obama offers the prayers of the American people to "those of you who have lost loved ones during this terrible outbreak of Ebola." But he also pledges American assistance to West African governments grappling with the disease.
"You are not alone," Obama says. "Together we can treat those who are sick with respect and dignity."
The focus though of the president's video is prevention techniques. The president urges those in the affected region to seek immediate medical care if they suspect they have contracted Ebola, noting half of those who do so survive the virus.
"If you feel sick with a high fever, you should get help right away," Obama said.
The president also looked to dispel common myths about how the disease is spread — again encouraging extra caution around the sick and remains of the deceased.
"The most common way you can get Ebola is by touching the body fluids of someone who is sick or who has died from it," Obama says. "Like their sweat, saliva or blood. Or through a contaminated item like a needle."
The president's video comes as the WHO says West African countries are "struggling to control the escalating outbreak against a backdrop of severely compromised health systems, significant deficits in capacity and rampant fear."
"The 2014 Ebola virus disease outbreak continues to evolve in alarming ways," the international health organization warned.
*Source The Hill