Nigeria's former vice-president announces presidency bid
<![CDATA[[caption id="attachment_11691" align="alignleft" width="300"]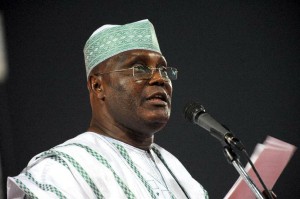 Atiku Abubakar campaigns for votes during the presidential primaries of the ruling Peoples Democratic Party in Abuja early January 14, 2011 (AFP Photo/Pius Utomi Ekpei)[/caption]
Nigeria's former vice-president Atiku Abubakar on Friday became the first high profile politician to announce his candidacy for the presidency at next year's general elections.
Abubakar, who was deputy to Olusegun Obasanjo from 1999 to 2007, is seeking to be the main opposition All Progressives Congress's candidate (APC) at the February 14, 2015 vote.
A formal declaration will be made on September 24, his spokesman, Garba Shehu, said in an emailed statement.
Primaries for the parties' candidates begin in October, according to an election commission timetable.
"This is not about me, it is about our young people. It is about Nigerians," the 67-year-old Abubakar said.
"It is their future, not the past. It is about reforming government, securing the people and reconciling the nation."
Abubakar, from the northeastern state of Adamawa, was in government as a member of the Peoples Democratic Party (PDP) and made two unsuccessful bids for the presidency in 2007 and 2011.
He announced in February that he was joining the APC because he said the PDP of President Goodluck Jonathan "cannot be redeemed", as it had not improved governance or tackled corruption.
"We need leadership focused on our people, on creating jobs (and) providing security. That's why I am joining the APC," he said at the time.
Divisions along religious, ethnic and regional lines had increased "for political gains" and the ruling party had abandoned ordinary Nigerians. The APC in contrast was "a party of change", he added.
Political analysts have said that the PDP, never out of power since Nigeria returned to civilian rule in 1999, faces a strong challenge from the opposition at next year's vote.
The APC ranks have been strengthened by the defection of powerful state governors and lawmakers, many of them from the Muslim-majority north, unhappy that Jonathan may run again.
They claim that Jonathan, a southern Christian who has not yet outlined his intentions, reneged on a promise to serve only one term.
*Source AFP/Yahoo
]]>